MARK SAMANI, D.M.D. JIN HA JOUNG, D.M.D.
RIDGEWOOD DENTAL ASSOCIATES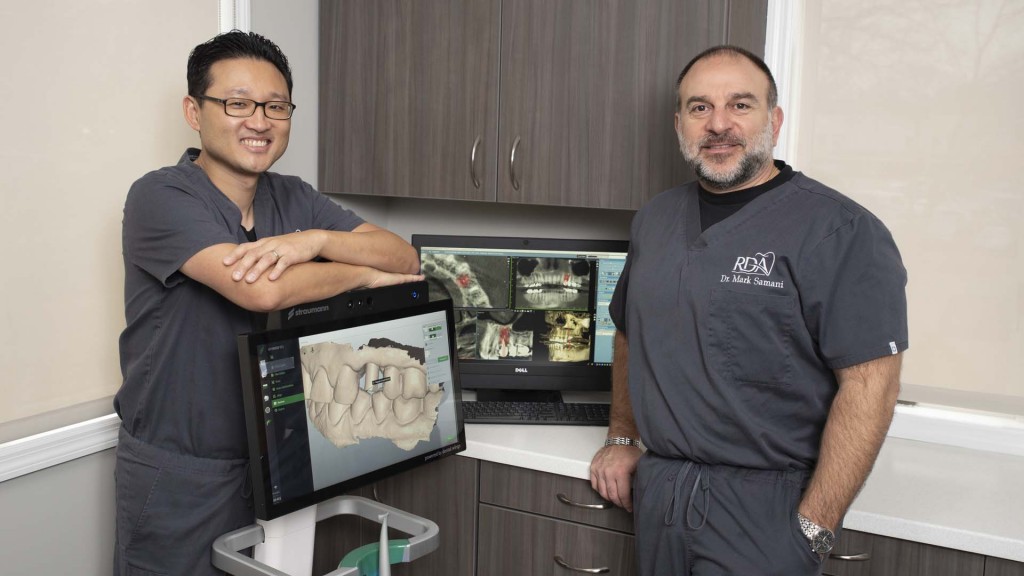 RIDGEWOOD DENTAL ASSOCIATES is proud to announce a complete interior office renovation that fulfills patient's needs into the 21st century and beyond. This unique practice delivers restorative, periodontal, prosthodontic and implant dentistry as well as TMJ and Sleep Apnea treatment transforming the beauty of a smile through the innovative combination of art and science of dentistry along with cutting-edge technology. With a combined 35 years in practice, Drs. Mark Samani and Jin Ha Joung also realize a responsibility to further the profession and educate local dentists about digital implant dentistry.
In tandem with the brand new office is the official launch of the Ridgewood Implant Institute, where local dentists now have access to an exceptional educational facility with an integrated surgical suite where patients can opt to be treated in an educational environment at reduced fees. "It's the realization of a dream as the two components of our practice converge to create what we have envisioned; it is a privilege to now bring the digital workflow to patients and dentists alike," says Dr. Mark Samani. "Our office renovation was done with our patients in mind every step of the way to deliver a comfortable and inviting environment."
"All the best and latest technology without sound dental techniques and high personal standards are useless," states Dr. Jin Ha Joung. "We wanted the digital workflow to enhance the dental experience for our patients and ensure the best final result possible. Neither are mutually exclusive and with our new office renovation and educational institute, we are improving oral health and changing lives along the way." "We are excited about the future of our practice — both the new Ridgewood Dental Associates and the Ridgewood Implant Institute — and continuing to provide the very latest in dental expertise to patients."
166 Franklin Ave., Ridgewood, NJ 07450 • 201.652.2474 • ridgewooddental.com