Mark Samani, D.M.D. • Jin Ha Joung, D.M.D.
Ridgewood Dental Associates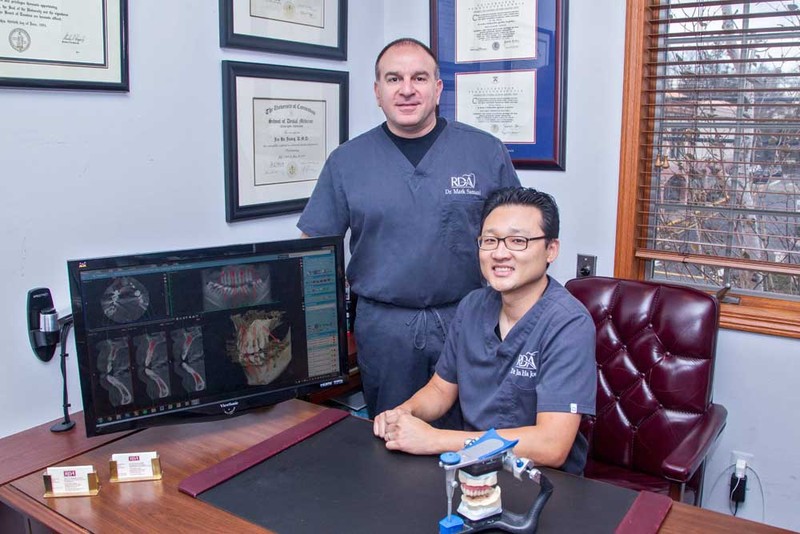 "DIGITAL TECHNOLOGY IS THE future of dentistry.We are proud to bring the digital workflow to you now," says Dr. Mark Samani. "Our Planmeca Digital Cone Beam CT scan allows for the precise evaluation of bone. The Straumann Intraoral Scanner provides accurate digital impressions. Combining these two digital forms in the Straumann Cares CAD/CAM software allows us to print surgical guides and models with a Formlabs 3D printer, and create the final restorations with the Straumann M Series full arch milling station."
"All the best and latest technology without sound dental techniques and high personal standards are useless," states Dr. Jin Ha Joung. "We wanted the digital workflow to enhance the dental experience for our patients and ensure a better final result. With what we have added to our practice, we have accomplished both."
"We also took a hard look at our physical office, not only the equipment contained within. Our patients come first and providing a comfortable and inviting environment is our primary goal. At the same time, we want local dentists to have the opportunity to learn about digital implant dentistry in the same comfortable environment. That is why we are moving the practice to a brand new state-of-the-art facility where we can better deliver restorative, periodontal, prosthodontic and implant dentistry as well as TMJ and Sleep Apnea treatment. The Ridgewood Implant Institute will have a 12-person conference room with an integrated surgical suite where local dentists will have access to an excellent educational facility and patients can be treated in an educational environment with reduced fees," noted the doctors.
"We are excited about this new initiative we are bringing to Bergen County, both the new Ridgewood Dental Associates and the Ridgewood Implant Institute."
Drs. Samani and Joung provide a combined 35 years of adult restorative, prosthetic, periodontal and implant dentistry to patients in Bergen County.
166 Franklin Ave., Ridgewood, NJ 0745 • 201.652.247 • ridgewooddental.com