Medicine Gets Personal
The age of genetics-driven health care is here, and one hospital is stepping up to meet the challenge.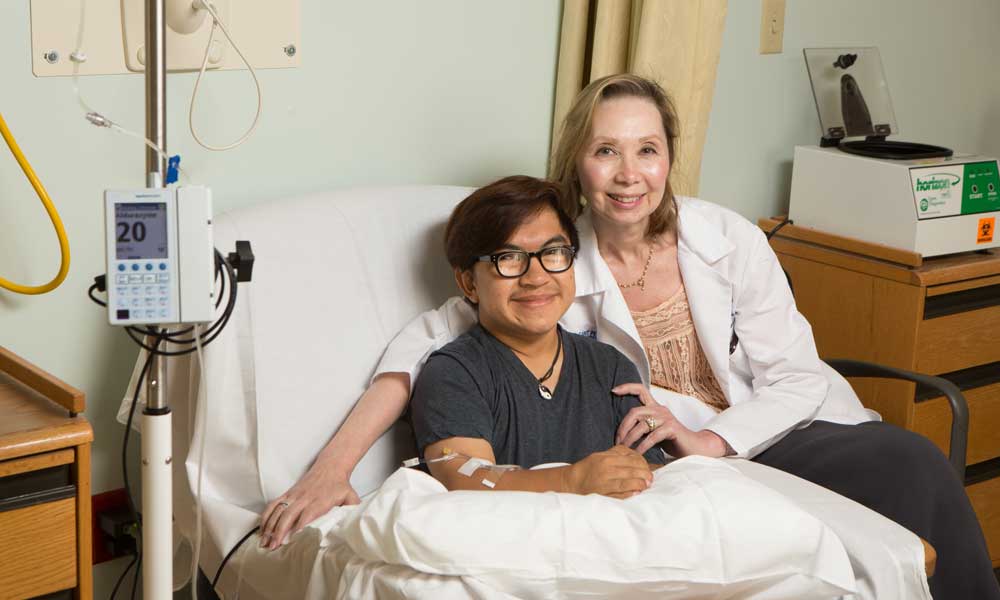 After every baby born in New Jersey—more than 100,000 of them, on average, each year—is washed, weighed, measured and swaddled, he or she also gets tested for 54 genetic conditions, hearing loss and "critical congenital heart defects" (CCHD). Newborn screening is an essential preventive public health program that provides early identification of rare genetic, metabolic and hormonal disorders in infants and follow-up care for those affected. And the number of genetic conditions that will be tested for is scheduled to expand to more than 60 in the spring of 2016.
Many of the babies diagnosed with a genetic condition will turn to one place for care: The Department of Medical Genetics and Genomic Medicine at Saint Peter's University Hospital. So will older children and adults who are dealing with a medical condition for which a genetic component is known or suspected. The department provides comprehensive clinical genetic services, including counseling, diagnosis, management and treatment. Its healthcare team comprises medical geneticists, genetics counselors, nurses, a pediatrician and a pediatric metabolic/genetics nutritionist. Together they offer more than just medical care. They also provide education and support for families coping with rare inherited conditions.
The department is growing rapidly to provide services for those who will be diagnosed through the expanded screenings in New Jersey, which has "one of the most extensive menus in the country," says Debra-Lynn Day-Salvatore, M.D., Ph.D., chair of the department. She anticipates that one of every 2,000 to 3,000 newborns will be diagnosed with a disorder because of these additional screenings. While the department's services cover all types of rare diseases, of which about 80 percent are genetic in nature, "we also cover more common conditions such as Down syndrome, breast cancer, cleft palate, cardiomyopathy and autism, as well as the 'medical mysteries,'" she says.
Though the overall number of patients they treat is relatively small compared with the numbers in other fields of medicine, their patients typically have enormous healthcare needs. "The patients we see are very complicated," Dr. Day-Salvatore says. "Their disorders tend to be systemic, meaning many organ systems are involved. We ultimately become their medical home, because their care is so time- and labor-intensive and their primary care physician or pediatrician may have difficulty coordinating all of their healthcare needs." For that reason, "we don't shuffle patients through every 15 minutes," says Reena Jethva, M.D., a geneticist who specializes in metabolic disorders. "Our evaluations need to be comprehensive and detailed."
Care often starts with the department's Regional Center for Newborn Screening and Genetic Services, supported in part by funding from the state Department of Health. That's where previous screening or diagnostic testing from around the state is reviewed and patients first learn about management, treatment, education and counseling services for all of the disorders screened for in New Jersey. In addition, the department provides evaluation, diagnosis, management, treatment and counseling for a variety of genetically influenced conditions including birth defects, autism spectrum disorder, cancer, cardiac abnormalities and intellectual disability.
For most patients and their families, the first visit typically begins with a genetic counselor, such as Michele Horner. "Our role varies depending on the patient, but in general we work as the liaison between physicians and families to help them understand their diagnosis, how it is genetically transmitted, and the testing and treatment options available," she says. "We also help families adjust to the diagnosis and find appropriate assistance through information and support groups." That adjustment, as you would expect, can be challenging. "Some cases are very difficult," she says. "In some cases, a newborn baby may look healthy, but we are telling the parents their child will need lifelong medical management, even though they are not seeing any issues yet. On the other hand, some families have been searching for answers to their child's health problems for years, and when we finally put it together and find the cause, they are often relieved and grateful."
Once a diagnosis has been made, the department's physicians and staff coordinate care with many of the hospital's other departments to treat the patient. They work with oncologists, for example, as genetic testing has improved treatment options for both common and rare cancers. "We work with Maternal-Fetal Medicine to assist in providing screening options and managing women or fetuses with known genetic conditions during and after the pregnancy," Dr. Day-Salvatore says. "A new field, pharmacogenomics, evaluates patients for their ability to metabolize certain drugs," she adds, helping physicians target the perfect medicine for each individual's genetic makeup or adjust dosage of their existing medications to prevent unwanted side effects and optimize therapeutic benefits.
Phase 2 and 3 human trials of some of those drugs are in fact performed in the department. "We participate in clinical trials for drugs for specific genetic conditions and in other research studies, particularly registries for rare diseases that analyze longitudinal data to see if modifications need to be made to treatment guidelines," she says.
As part of a teaching hospital, the department is educating physicians and genetics counselors of tomorrow with rotations for students from high school through medical residency. "The wonderful thing about genetics is that it is part of almost every field now," says Dr. Jethva. "We are continually learning about how genetic predisposition and causes for systemic disorders may be integral to an individual's diagnostic workup and management." Those in the department are more than happy to share their knowledge. "Here at Saint Peter's, we make ourselves available to discuss any questions or concerns with our patients, house staff and attending and community physicians," she says. "Many physicians are uncertain as to when to refer patients or who would benefit from a genetics evaluation, and we can help." Patients and/or their parents should also discuss any concerns they have about family history or potential genetic susceptibilities with their primary care physician, as this may prompt an appropriate referral.
Our center is unique in that it houses all types of genetics services (metabolic, dysmorphology and birth defects, cancer, prenatal, lysosomal) in one department rather than having services dispersed and siloed among several different departments and divisions. This is important as patients and families may have more than one indication for genetic services, which can be recognized and coordinated by the same staff. "There are very few hospitalbased genetics departments nationwide," Dr. Day-Salvatore says. While patients have received genetics services for 25 years at Saint Peter's, in 2013 the Department of Medical Genetics and Genomic Medicine became the first new department added to the hospital's roster in its more than 100-year history "because of the increasing importance of genetics to the future of medicine," she says.
"This is an incredible resource for the citizens of New Jersey," she adds. "Saint Peter's has been committed to providing this service for 25 years, and we continue to seek out ways not only to support our existing services, but to expand them to meet an ever-increasing demand."
Touching many lives
New Jersey has screened 2.4 million babies over the past 20 years. Of those, 6,463 were identified with a biochemical or genetic condition. Hearing loss was detected in another 1,106 babies between 2002 and 2011.
A leader in lysosomal therapy
New Jersey is expanding its menu of newborn genetic screenings in 2016 to include lysosomal storage disorders (LSDs). Nearly 50 types and subtypes of LSDs have been identified to date and new types continue to be identified. These individually rare inherited diseases, caused by a deficiency of specific enzymes normally required to break down certain complex carbohydrates, affect multiple systems, including the central nervous system, lungs, heart, spleen, liver and skeleton. One of the largest and most comprehensive lysosomal therapy centers in the United States is located at Saint Peter's University Hospital's Department of Medical Genetics and Genomic Medicine.
"We are uniquely qualified to care for patients with these diseases," says Debra- Lynn Day-Salvatore, M.D., Ph.D., chair of the department. "We have been involved in clinical trials for the drugs used to treat LSDs and have been managing and treating LSD patients for more than 20 years. We are also part of the ongoing designs for evaluating and treating these infants, children and adults."
For more information on LSDs, visit lysosomallearning.com.
To find out more about services available for you or your family in the Department of Medical Genetics and Genomic Medicine at Saint Peter's University Hospital, please call 732.745.6659 or visit saintpetershcs.com/genetics.