Michael W. Klotz, D.M.D., M.DENT.SC., F.A.C.P.
Prosthodontics of Ho-Ho-Kus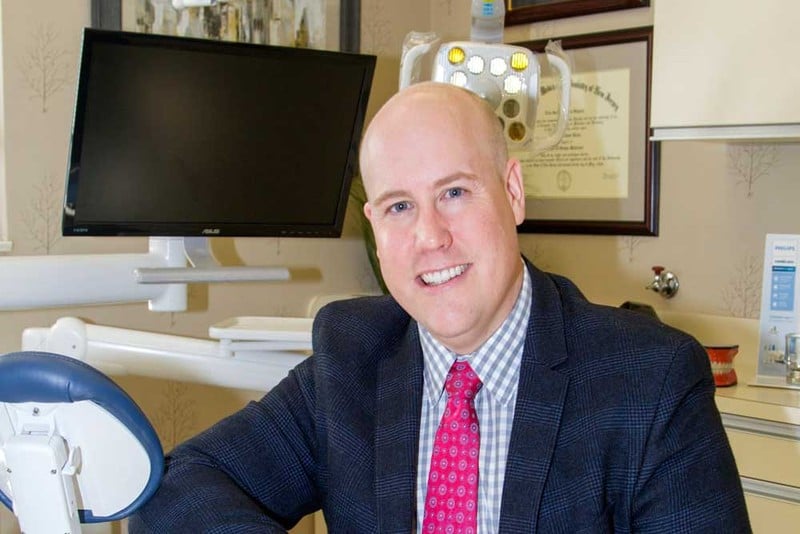 DR. MICHAEL KLOTZ welcomes a good challenge. After earning his Doctorate of Dental Medicine degree at the University of Medicine and Dentistry of New Jersey (UMDNJ), Dr. Klotz went on to study Prosthodontics, the dental specialty pertaining to implant, aesthetic and reconstructive dentistry. He was accepted into a competitive three-year residency program in Prosthodontics at the University of Connecticut Health Center. During his post graduate training, he obtained a Master's Degree in Dental Science (M.Dent.Sc), concentrating his studies on research involving dental implants. Dr. Klotz continued his education with a fellowship in Maxillofacial Prosthetics at Memorial Sloan-Kettering Cancer Center. While at MSKCC, he completed board certification in Prosthodontics, the highest honor in the specialty.
Using his advanced training, Dr. Klotz does not shy away from the most complex dental situations. "I chose Prosthodontics as a way to help my patients with difficult dental issues as well as satisfy my passion for aesthetic dentistry," says Dr. Klotz. "For me it was the perfect blend."
Seven years in practice, Dr. Klotz and his team pride themselves on honesty, integrity and giving patients all of their options. An in-house laboratory allows Dr. Klotz to offer the highest standard in Prosthodontics —functional, comfortable and aesthetic dental restorations.
With multiple fellowships including a Fellow of the American College of Prosthodontists (F.A.C.P.), a Fellow of the Greater New York Academy of Prosthodontics, a Fellow of the American Academy of Maxillofacial Prosthetics and a Fellow of the International Team for Implantology (ITI), other dentists often consult with Dr. Klotz on their most difficult cases. Dr. Klotz has published in peer reviewed dental journals and has lectured nationally on various topics in Prosthodontics and Implant dentistry. His greatest reward is completing life-changing dentistry and making long-lasting relationships with his patients.
312 Warren Ave., Suite #1, Ho-Ho-Kus, NJ 07423 • 201.444.9777 • smilehhk.com