Modern Majesty
Nestled in the Pennsylvania wilderness lies Fallingwater, the iconic house by Frank Lloyd Wright.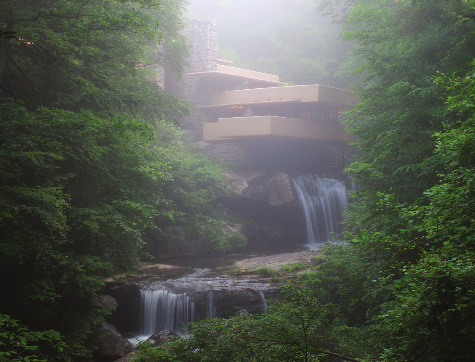 When renowned architect Philip Johnson was at Fallingwater to celebrate his 85th birthday, he stood on its west terrace gazing at the tower window and declared, "It is the greatest house of the twentieth century." When a staff member asked if he could be quoted, he responded, "Certainly not. I've designed a few buildings myself, you know."
The amusing anecdote is recounted by Fallingwater's director, Lynda Waggoner, in the introduction to the new book Fallingwater (Rizzoli New York), published to commemorate the 75th anniversary of the legendary house built by architect Frank Lloyd Wright in 1936, which dramatically hovers over a 30-foot waterfall.
This 75th anniversary year is an ideal time to visit the iconic modernist house located in the Pennsylvania mountains about 90 minutes from downtown Pittsburgh. Celebratory events culminate in the 75th anniversary gala on Saturday, September 17, featuring drinks, dinner and a light installation on the building. "It's going to be a wonderfully magical event with a forest theme," says Waggoner. (Visit fallingwater.org for tickets.)
Much has been written about Fallingwater, which was designed as a weekend home for the family of Pittsburgh department store owner Edgar J. Kaufmann. And although you can read about Wright's concept of organic architecture— the harmonious union of art and nature—nothing beats seeing the embodiment of this concept for yourself.
"It has a profound impact on you when you see it," says Waggoner, who has been working at Fallingwater since 1965. "I think there's something within everyone that wants to connect back to nature. Being in Fallingwater is almost like being in a tree house. There's a delight about this building that few other buildings can aspire to. Once you see it, you'll never forget it."
Fallingwater belonged to the Kaufmann family until 1963, when the house, its contents and its grounds were entrusted to the Western Pennsylvania Conservancy by Edgar Kaufmann Jr., and it is the only major Wright work to come into the public domain with its setting, original furnishings and artwork intact. Various tours (from the regular one-hour version to the special sunset tour complete with hors d'oeuvres) are held daily (except Wednesday) from March through Thanksgiving, and advance reservations are essential.
In fact, the rise in attendance has been the biggest change at Fallingwater over the years, according to Waggoner. "At the dedication ceremony, one of the speakers speculated that one day perhaps as many as 25,000 people each year would find their way to this remote mountain location, and now it's 160,000."