Mom Deserves the Best
New facility at Monmouth Medical Center is first in state dedicated to comprehensive perinatal care.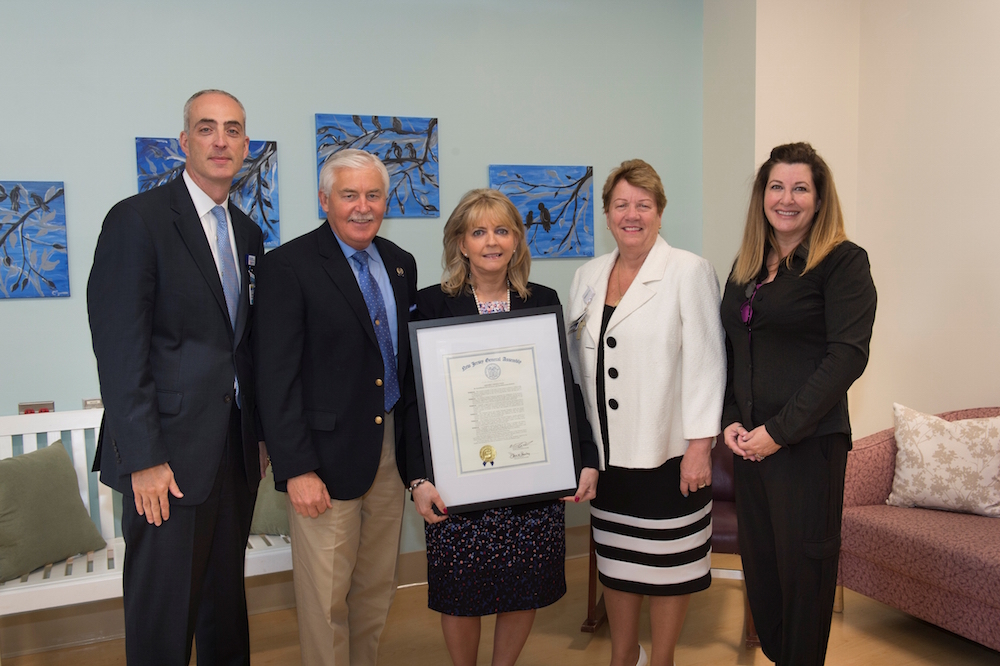 ONE IN SEVEN WOMEN MAY BE AFFECTED by perinatal mood and anxiety disorder (PMAD). Although temporary and treatable, it is the most common complication of childbirth with symptoms ranging from mild to severe. For this reason, on May 4, Monmouth Medical Center hosted the grand opening of its Center for Perinatal Mood and Anxiety Disorders making it the first and only hospital in New Jersey to offer a dedicated treatment center where new and expectant mothers can receive comprehensive care for PMAD.
Initially formed as a support group in 2011, Monmouth Medical Center established a designated perinatal mood and anxiety disorder program in 2015, which led to the development of a dedicated center this year. Since its inception, the program has screened more than 800 women and has treated more than 500 patients from all over New Jersey and bordering states. The center's wide patient reach is attributed to the great need and severe lack of services available to treat PMAD in New Jersey as well as other states.
With much help and support from Mary Jo Codey, former First Lady of New Jersey, in 2006 New Jersey became the first state to enact a law that every new mom must be screened for PMAD prior to leaving the hospital after giving birth. Codey attended and spoke at the event, sharing her own personal struggle with PMAD and highlighting the need for a safe, welcoming place for women to seek treatment.
"This center was formed to let our patients know that our commitment to them and their families doesn't stop with the delivery. We know that for many women adjusting to the birth of their baby can be challenging, but we want women to know that they aren't alone and that there is help," says Lisa Tremayne, director of the Center for Perinatal Mood and Anxiety Disorders at Monmouth Medical Center. "We know that the best treatment is delivered through a combination of approaches, which is why we offer individual therapy, medication and support group services and tailor each woman's treatment plan to meet her unique needs. We want women to know that the sooner you contact us for help, the sooner you will start to feel better."
The Center for Perinatal Mood and Anxiety Disorders offers free group support as well as evidence-based psychotherapy. Patients are supported by a multidisciplinary team of experts, including psychiatry, nursing and social work, and all the center's clinicians are certified by Postpartum Support International.
"Monmouth Medical Center has built one of the safest obstetrical and gynecologic services in the nation, and we are at the forefront for women's health care needs," says Eric Carney, chief operating officer at Monmouth Medical Center. "The creation of this center is the result of a pressing need for services available to treat perinatal mood and anxiety disorders. As a part of our comprehensive continuum of care for expectant and new moms and babies, we're proud to be the first hospital in New Jersey to open a PMAD Center offering a safe and welcoming space that provides the highest level of care rivaling any other hospital in the nation."
It's important for women to know that PMAD is very common and not their fault, says Robert Graebe, M.D., FACOG, director of the Department of Obstetrics and Gynecology at Monmouth Medical Center. "It is equally important that they receive the proper care so they can get better."
To learn more about the center for perinatal mood and anxiety disorders at Monmouth Medical Center, call 732.923.5573.