Monmouth Heart and Vascular Sets Gold Standard
The Eatontown facility receives international Vein Center accreditation for high-quality patient care.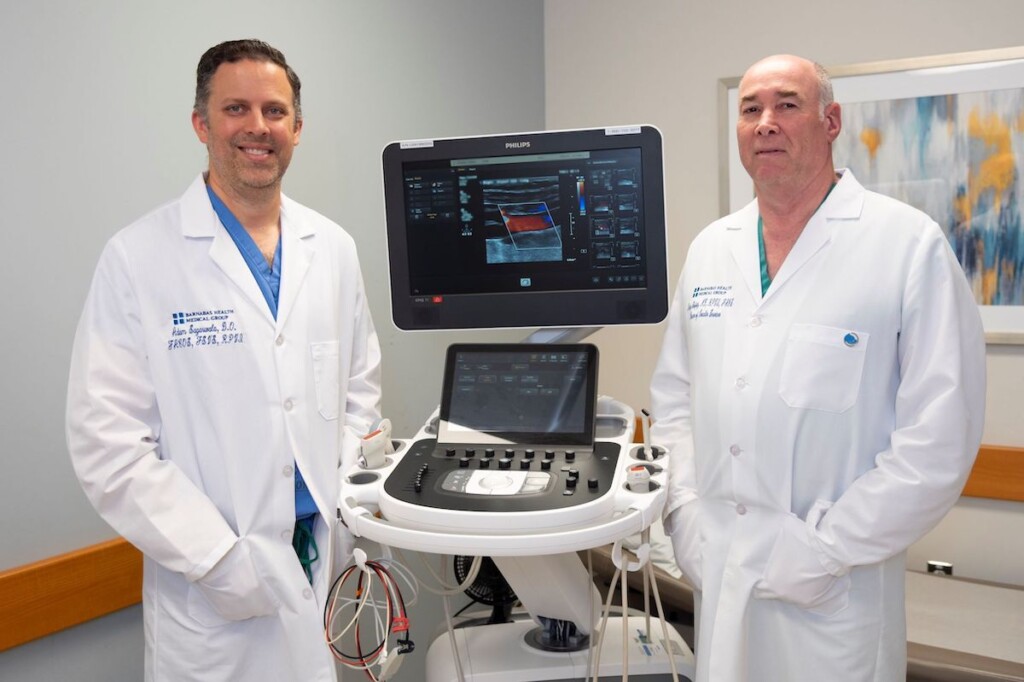 Monmouth Heart and Vascular Specialists has been designated an Accredited Vein Center, an achievement few centers treating venous disease have reached. An RWJBarnabas Health Medical Group interdisciplinary cardiology and vascular surgery practice located in Eatontown, Monmouth Heart and Vascular is accredited by the IAC as both a Non-Invasive Vascular Lab and a Vein Center, setting the gold standard in vascular imaging and treatment of venous diseases.
Accreditation by IAC shows that the Vein Center has undergone an intensive application and review process, demonstrating a commitment to quality patient care in the management and treatment of patients with venous disease, ranging from varicose and spider veins to treatment of deep venous thrombosis and wounds related to venous disease. IAC, the leading accreditation entity, sets standards of care and accreditation pathways for vascular testing, management and treatment of venous disease, and non-invasive cardiac testing, all of which have now been achieved by the Monmouth Heart and Vascular Group.
"We have the ability to provide both non-invasive diagnostic testing and minimally invasive treatment in our outpatient Vein Center. Our vein program includes a customized approach to each patient, improving efficiency, patient satisfaction and, most importantly, patient outcomes," says Randy Shafritz, M.D., FACS, Chief of Vascular Surgery at Monmouth Medical Center. "This new accreditation assures patients that our Vein Center is dedicated to delivering high-quality patient care that meets the standards of a center of excellence."
Monmouth Heart and Vascular provides a wide range of therapies to treat the vast scope of vascular conditions with a multidisciplinary team that works collaboratively to determine individualized treatment plans for each patient. Monmouth's vascular specialists offer expertise in the combined use of endovascular and open surgical techniques in treating patients with abdominal/thoracic aortic aneurysms (AAA, TAA), carotid arterial disease, mesenteric arterial/venous vascular disease, peripheral artery disease (PAD), advanced renal disease (including comprehensive hemodialysis access procedures and maintenance), venous insufficiency, venous outlet obstruction, deep vein thrombosis (DVT) and varicose veins.
Monmouth Heart and Vascular Specialists state-of-the-art facility, located on Route 35 in Eatontown, provides easily accessible, compassionate and comprehensive cardiovascular care and connects the community with renowned RWJBarnabas Health cardiac surgeons who utilize innovative approaches to care and the latest technology.
---
To learn more about Monmouth Heart and Vascular, call 732.440.7336.