Monmouth Welcomes First Baby of the 2020s
Nearly 6,000 births are expected at the Eisenberg Family Center this year.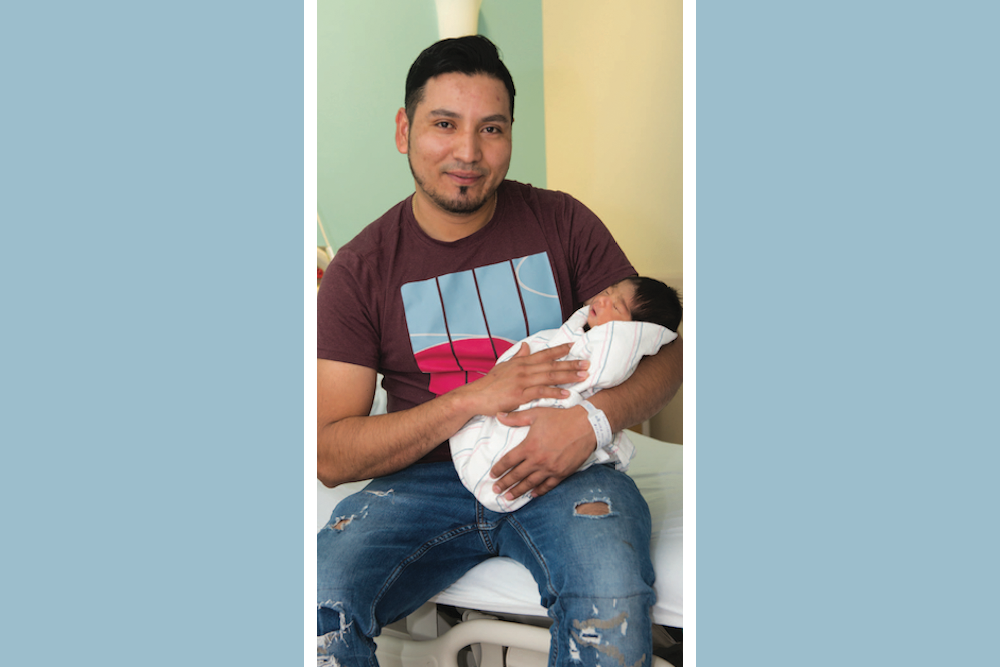 Monmouth Medical Center (MMC), the hospital that delivers the most babies of any healthcare facility in Monmouth and Ocean counties, welcomed its first baby of the new decade just after midnight on New Year's Day.
Baby Margarito was born at 12:59 a.m. to parents Latisha Francoescamilla and Margarito Juarez of Matawan. He came into the new decade at 7 pounds, 14 ounces and 20.5 inches long and was the first of the nearly 6,000 babies expected to be born at MMC in 2020.
"Helping families bring new lives into the world is a truly special part of what we do at Monmouth Medical Center," says MMC President and CEO Eric Carney. "For expectant parents, choosing a hospital for the birth of their baby is an important decision, and at Monmouth, the heart and soul of our Eisenberg Family Center is the personalized attention and care provided to the whole family from pregnancy through birth and beyond."
Robert Graebe, M.D., chairman of obstetrics and gynecology at MMC, says there are many reasons why Monmouth is the trusted choice among parents throughout the region. One of 49 birthing hospitals in New Jersey, Monmouth is the only facility in the region recognized by The Leapfrog Group for fully meeting its quality and safety standards on three key maternity metrics—cesarean section, episiotomy and early elective delivery rates—for two consecutive years.
The Leapfrog Group is a national organization focused on healthcare safety and quality. Its new report highlights that only 20 percent of hospitals nationwide fully meet Leapfrog standards on all three of these critical maternity measures.
"We have been a Level III Regional Perinatal Center since the designation was initiated more than 50 years ago, and have built one of the safest obstetrical and gynecologic services in New Jersey, and we continue to expand and upgrade our facility and services to match our commitment to quality care and patient safety," Dr. Graebe says. "We are proud to be recognized by The Leapfrog Group as well as a host of other national quality groups for our commitment to quality maternity care and patient safety."
And the commitment to quality care for expectant and new mothers doesn't end with the baby's delivery. MMC's Center for Perinatal Mood and Anxiety Disorders is the first Center for Perinatal Mood and Anxiety in New Jersey. Since opening four years ago, the intensive outpatient program has had more than 12,900 visits from patients throughout New Jersey and neighboring states.
"The creation of the center was the result of a pressing need for services available to treat post partum depression (PPD), and is part of our continuum of care for expectant and new moms and babies that rivals any hospital in the nation," says Dr. Graebe.
EISENBERG FAMILY CENTER MATERNITY TOURS
Tour the Eisenberg Family Center at Monmouth Medical Center, which offers a comfortable, homelike environment for expectant mothers in its expanded labor, delivery and recovery unit as well as spacious postpartum rooms for women recovering from childbirth. Ongoing tours are conducted by a staff member who will answer participants' questions. Registration is required by calling 888.724.7123 or by emailing teamlink@rwjbh.org.
To learn more about mother/baby services at Monmouth Medical Center, visit rwjbh.org/mmcmaternity, call 732.923.7755 or email mmcmaternityservices@rwjbh.org.