Nature Calls
Take a break from the malls and get outside—it's summer, after all! Luckily, there are plenty of bucolic spaces in our counties to enjoy fresh-air activities and find zen.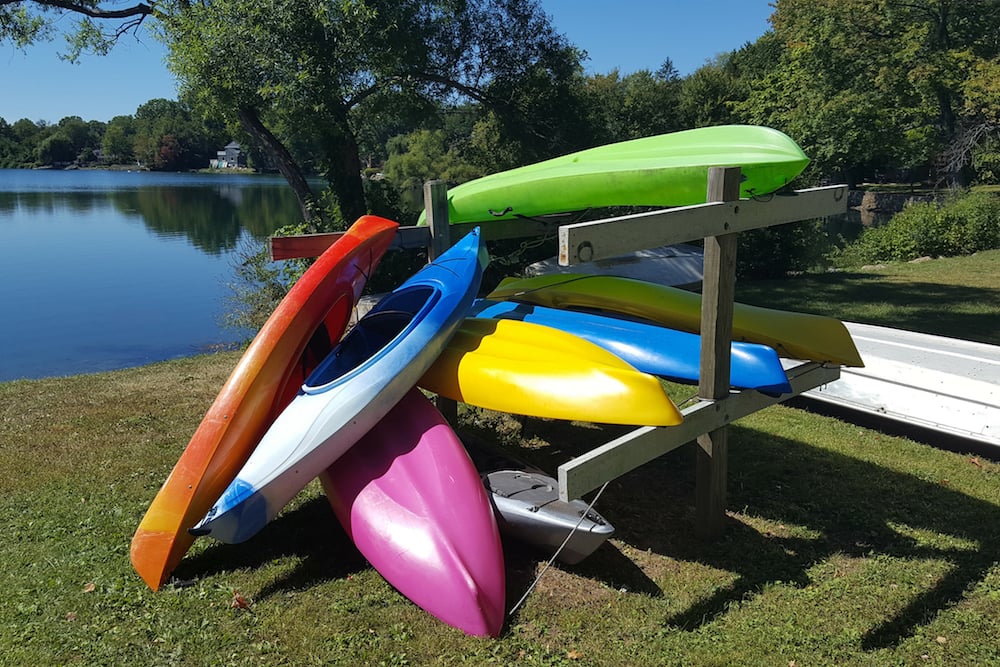 BOATING
Ditch the wheels and hit the water for a little fun and exercise. There are lots of places where canoe, rowboat or kayak owners can make a splash.
MORRIS:
Lewis Morris County Park
270 Mendham Rd., Morris Township
Lee's County Park Marina
433 Howard Blvd., Mount Arlington
Silas Condict County Park
100 Kinnelon Rd., Kinnelon
Tourne County Park
McCaffrey Ln. & Old Boonton Rd., Denville
Pequannock Valley Park
Marvin Rd. and Alexander Ave., Pequannock Township
Hopatcong State Park
260 Lakeside Blvd., Landing
Splitrock Reservoir
420 Splitrock Rd., Rockaway
ESSEX:
South Mountain Reservation
Cherry Ln., West Orange
Verona Park
Bloomfield Ave. & Lakeside Ave., Verona
Essex County Environmental Center
621 Eagle Rock Ave., Roseland
HIDDEN GEMS
from the experts
IF YOU LIKE BIRDING:
Tedor Whitman, executive director, Cora Hartshorn Arboretum, Short Hills
"Both Great Swamp National Wildlife Refuge in New Vernon and the Trailside Nature & Science Center in the Watchung Reservation have multiple habitats to support a wide variety of nesting birds. Places like the Frelinghuysen Arboretum, Greenwood Garden and Cora Hartshorn Arboretum offer smaller but more intimate opportunities for summertime birds like wood thrushes, yellow warblers, Acadian flycatcher, rose-breasted grosbeaks and indigo buntings."
IF YOU LIKE HIKING:
Dave Helmer, executive director, Morris County Park Commission
"If you're looking for a new park and enjoy hiking and gardens, visit the Gardens of Bamboo Brook located in Chester—the gardens are on the National and State Register of Historic Places. If you're a history buff and in the area visit Chester's Cooper Mill. It's one of the last working gristmills in New Jersey powered by a river."

BIKING
Cyclists (and horseback riders, joggers and hikers), rejoice! The impressive 55-mile Patriots' Path is an outdoor enthusiast's paradise and extends across the entirety of Morris County, from East Hanover to Washington Township. The trail system is comprised of biking, hiking and equestrian paths, and includes plenty of open green spaces to enjoy. It links several watersheds, historic sites and other points of interest in the area, and connects the Lenape Trail in Essex County to Allamuchy State Park in Sussex County.
BIRD WATCHING
From hawks and herons to eagles and egrets, you can spot many a winged species. Just grab your binoculars and camera then head to one of these great places.
MORRIS:
Great Swamp National Wildlife Refuge, Pleasant Plains Rd., Harding
This ornithological gem almost became an airport back in 1959, but 3,000 acres were preserved instead as a wildlife refuge—to the relief of local activists. Today, the reservation contains over 7,600 acres and is a bird-watcher's paradise. In the Great Swamp's cattail marshes and grasslands, a variety of stateendangered species (like the barred owl and red-shoulder hawk) can be viewed.
Frelinghuysen Arboretum, 353 E. Hanover Ave., Morris Township
After local birds return from their winter migrations, they are known to lay eggs at the arboretum. Staff members put out seeds and natural supplies to help the birds build nests, and they take visitors on guided tours to around the grounds. Experienced bird-watchers are free to join or simply roam the property on their own.
Troy Meadows Wetlands, New Edwards Rd., Parsippany-Troy Hills
Troy Meadows is a large freshwater marsh and home to a number of ordinary, threatened and endangered bird species. Bald eagles are known to nest at Troy Meadows, and other species like the Savannah sparrow, American bittern and black crown night heron call the marshlands their home.
ESSEX:
Cora Hartshorn Arboretum and Bird Sanctuary, 324 Forest Dr. S., Short Hills
Migrating birds are provided with refuge and food at the bird sanctuary during the spring and fall, and interested bird-watchers can learn more at the bird observatory. "Bird nerds" are encouraged to participate in Project FeederWatch and report on which species (like the hummingbird shown above) they find at their feeders.
Hilltop Conservancy, 283, Fairview Ave., Cedar Grove
The conservancy is home to woodpeckers, warblers and thrushes that move to different locations on the acreage as the seasons change. On rare occasions, watchers have even noted seeing bald eagles, black-billed cuckoos and ruby-throated hummingbirds.
DOG PARKS
Max and Lucy will love a chance to socialize and exercise. And you might make a new friend too!
MORRIS:
Cameron Park
129 South Beverwyck Rd., Parsippany
Central Park County Dog Park
Collins Rd., Morris Plains
Happy Hound Playground
Zeek Rd., Morris Plains
Long Valley Dog Park
Rte. 517, Long Valley
ESSEX:
Brookdale Dog Park
W. Circuit Dr., Montclair
S. Mountain Dog Park
Bear Ln., Maplewood
PARKS
Morris and Essex are home to some of New Jersey's best open spaces, parks, preserves and lakes. No matter how you get some R&R—walking, biking, swimming, picnicking, kayaking, fishing—you'll find a spot at one of these destinations. Plan to make a day of it.
MORRIS:
Central Park
85 S. Jefferson Rd., Whippany
Central Park of Morris County
91 Central Ave., Parsippany
Great Swamp National Wildlife Refuge
32 Pleasant Plains Rd., Basking Ridge
Hacklebarney State Park
119 Hacklebarney Rd., Long Valley
Hedden County Park
124 Reservoir Ave., Randolph
Hurd Park
W. Blackwell St. & Park Heights Ave., Dover
James Andrews Memorial County Park
W. Hanover Ave., Randolph
Lewis Morris Park
270 Mendham Rd., Morris Township
Loantaka Brook Reservation
468 South St., Morristown
Mahlon Dickerson Reservation
955 Weldon Rd., Jefferson Township Morristown
National Historical Park
30 Washington Pl., Morristown
Tourne Park
89 Norris Rd., Denville
ESSEX:
Branch Brook Park
Lake St. & Park Ave., Newark
Brookdale Park
Watchung Ave., Bloomfield
Cedar Grove Park
199 Fairview Ave., Cedar Grove
Eagle Rock Reservation
Eagle Rock Ave. & Prospect Ave., West Orange
Glenfield Park
Bloomfield Ave. & Maple Ave., Montclair
Grover Cleveland Park
Brookside Ave. & Runnymede Rd. Essex Fells
Hilltop Reservation
255 Fairview Ave., Verona
Irvington Park
Grove St. & Lyons Ave., Irvington
Kingsland Park
258 Rutgers Place, Nutley
Kip's Castle Park
22 Crestmont Rd., Verona
Mills Reservation
Normal Ave. & Reservoir Dr., Cedar Grove
Monte Irvin Orange Park
S. Center St. & Harrison St.
Orange Smith Field Park
Rte. 46, Parsippany
South Mountain Reservation
South Orange Ave. & Cherry Ln., West Orange
Verona Park
411 Bloomfield Ave., Verona
Watsessing Park
Bloomfield Ave. & Conger St., Bloomfield
Weequahic Park
Elizabeth Ave. & Meeker Ave., Newark
West Essex Park Conservancy
Eagle Rock Ave. & Passaic River, Roseland
Yanticaw Park
Centre St. & Park Dr., Nutley
IF YOU LIKE GOLFING:
Tim Christ, director of golf operations, Essex County Parks
"Fun fact: Weequahic Golf Course in Newark's Weequahic Park is the first public golf course in New Jersey. It is now over 100 years old and has a pretty cool history, and Golf Channel even named it one of the Top 50 best values in golf across the United States. I also recommend the Francis Byrne Golf Course in West Orange— it's our toughest course and our favorite among the low handicappers."

IF YOU WANT FAMILY FUN:
Joseph N. DiVincenzo, Jr., Essex County Executive
"Essex County Parks has 23 parks and five reservations offering picturesque settings, scenic overlooks and family-friendly activities. A few standouts: Visit Turtle Back Zoo for a wild adventure or test your climbing skills on the Treetop obstacle course. Then hit some drives on our championship caliber golf courses or pitch a putt on our miniature links."
FLOWER GARDENS
A stroll through these lush gardens, located on the sprawling acreage of the counties' farms and historical estates, is the perfect way to connect with nature.
MORRIS:
Frelinghuysen Arboretum
353 E. Hanover Ave., Morristown
Merchiston Farm
11 Longview Rd., Far Hills
Willowwood Arboretum
300 Longview Rd., Far Hills
ESSEX:
Brookdale Park Rose Garden
Watchung Ave., Bloomfield
Greenwood Gardens
274 Old Short Hills Rd., Short Hills
Presby Memorial Iris Gardens
474 Upper Mountain Ave., Montclair
Van Vleck House & Gardens
21 Van Vleck St., Montclair
GOLF
Whether you're an average Joe or seasoned pro, you'll find the counties' golf courses and driving ranges equally fun and challenging. Here are some of the top facilities where you can swing for the greens.
MORRIS:
Anchor Golf Center
21 Rte. 10 E., Whippany
973.887.0898
anchorgolfcenter.com
Berkshire Valley Golf Course
28 Cozy Lake Rd., Oak Ridge
973.208.0018
berkshirevalleygc.com
Flanders Valley Golf Course
81 Pleasant Hill Rd., Flanders
973.584.5382
flandersvalleygc.com
Knoll Golf Club
990 Greenbank Rd., Boonton
973.263.7110
knollgolfclub.com
Meadows Golf Club
79 Two Bridges Rd., Lincoln Park
973.696.7212
meadowsgolfclub.com
Mt. Freedom Golf
1275 Sussex Tpk., Randolph Township
973.895.9898
mtfreedomgolf.com
Pinch Brook Golf Course
234 Ridgedale Ave., Florham Park
973.377.2039
pinchbrookgc.com
Sunset Valley Golf Course
47 W. Sunset Rd., Pompton Plains
973.835.1515
sunsetvalleygc.com
Twin Willows Par 3 Golf
167 Ryerson Rd., Lincoln Park
973.692.0179
twinwillowspar3.com
ESSEX:
Cedar Hill Country Club
100 Walnut St., Livingston
973.992.4700
cedarhillcc.com
East Orange Golf Course
440 Parsonage Hill Rd., Short Hills
973.379.7190
eastorange-nj.gov
Francis A. Byrne Golf Course
1100 Pleasant Valley Way, West Orange
973.736.2306
essexcountyparks.org/golf
Hendricks Field Golf Course
220 S. Franklin Ave., Belleville
973.751.0178
essexcountyparks.org/golf
Millburn Municipal Golf Course
White Oak Ridge Rd., Millburn
973.379.4156
twp.millburn.nj.us/recreation
Weequahic Park Golf Course
1 Thomas Carmichael Dr., Newark
973.926.2520
essexcountyparks.org/golf
FISHING
The counties don't have deep-sea fishing, but you can still hook a record-breaking catch in your local waterways.
You can go water-skiing, tubing and wakeboarding at Morris County's Budd Lake, but the spot is best known for its schools of both small- and large-mouth bass just waiting to tug at your line. There's also the 2,600-acre Lake Hopatcong, which boasts some of the state's best freshwater fishing. You'll be sure to reel in trout, hybrid stripers and catfish…to name a few. Over in Essex County, there are plenty of trout to catch at Verona Park Lake. This smaller body of water is great for amateur fishers and kids looking to cast a line from the shore.
DON'T FORGET THAT A NEW JERSEY FISHING LICENSE ($22.50, $12.50 FOR SENIORS) IS REQUIRED FOR ANYONE BETWEEN THE AGES OF 16 AND 70. PICK ONE UP AT THE BULLET HOLE IN BELLEVILLE OR RAMSEY OUTDOOR IN SUCCASUNNA.