New Era, New Leader
This experienced health care executive has returned to his native region to guide Saint Barnabas Medical Center into an ambitious future.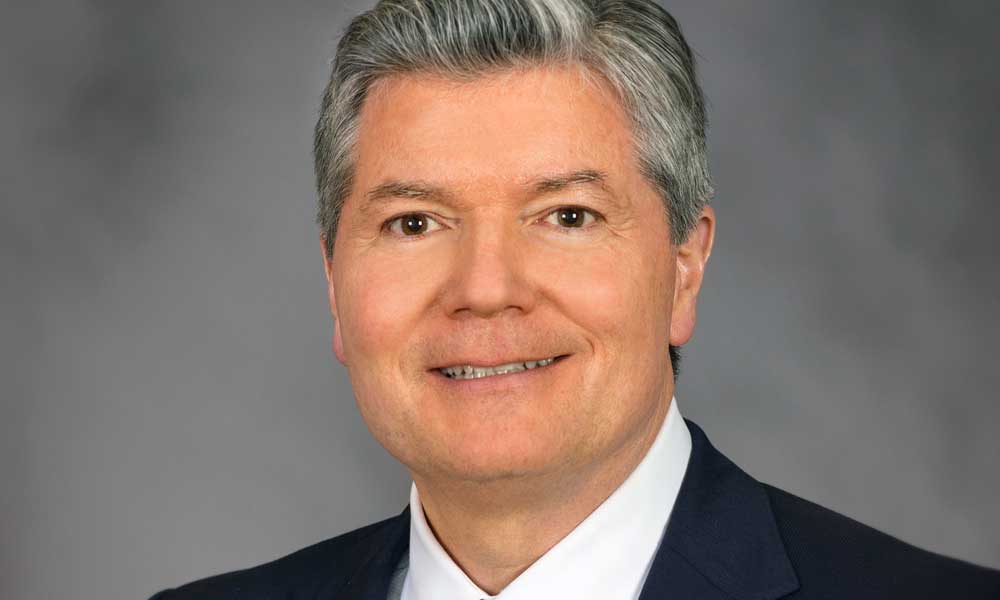 Stephen P. Zieniewicz, the new president and chief executive officer of Saint Barnabas Medical Center in Livingston, grew up on Long Island in a family devoted to helping others. His mother and two sisters are nurses. His father is a retired firefighter with the New York City Fire Department. "I come from a family with a focus of service to others," he says.
He was particularly drawn to health care. As a college student at St. John's University, he worked in the emergency department of North Shore University Hospital and knew right away that health care administration would be his chosen career. "I have always felt comfortable serving patients and their families. And I have a passion for high quality and safety. I want to provide the safest environment possible for patients, employees and everyone in the hospital, and safety is foundational for quality outcomes."
Zieniewicz assumed his new position at Saint Barnabas Medical Center on Sept. 8, 2015. After graduating from St. John's with a Bachelor of Science degree, he earned a Master of Public Health degree from Columbia University School of Public Health. He is a fellow of the American College of Healthcare Executives (FACHE ), a board certification that demonstrates his professionalism, focus on excellence, continuing education and service to the community.
He has extensive leadership experience at nationally recognized, complex academic medical centers. Prior to joining Saint Barnabas, he was executive director of the University of Washington Medical Center, which he served since 2007. He was chief operating officer at Saint Louis University Hospital in St. Louis, Missouri, from 2004 to 2007. From 1977 until 2004, he held administrative positions at several hospitals in New York, including South Nassau Communities Hospital, Long Island Health Network, Winthrop- University Hospital, Memorial Sloan-Kettering Cancer Center and North Shore University Hospital.
"Steve's consistent focus has been on safety, quality, physician alignment, evidence-based performance improvement and population health, among many areas," says Barry H. Ostrowsky, president and chief executive officer of Barnabas Health, the parent company of Saint Barnabas Medical Center. "I am extremely pleased that our world-class medical center will be guided by a proven health care leader whose strengths correlate so directly with our system's goals."
Zieniewicz joins Saint Barnabas Medical Center at an auspicious moment. New Jersey's oldest nonprofit, nonsectarian hospital is celebrating its 150th anniversary in 2015 with an ambitious expansion program in the works. That is partly what drew him here. "I like to solve challenges and build programs," he says.
In 2016, four new operating rooms will become operational. "They are state-of-the-art, with advanced technologies in a thoughtfully engineered space, to accommodate our expansion of procedures," he says.
A new technology coming online in January 2016 will be the CyberKnife, a robotic radiation oncology system that delivers beams of high-dose radiation to tumors with extreme accuracy and offers a noninvasive alternative to surgery. (See page 30.)
In the summer of 2016, a new parking facility is scheduled to open. And in summer 2017, the new West Wing building will open, adding about 250,000 square feet of space that will include a new Neonatal Intensive Care Unit and new, private patient rooms.
"We are redesigning how we provide care toward population health management, to keep our community healthy and treat chronic diseases outside the hospital. My passion and focus are to create the safest environment for our patients and their families and continue achieving exceptional outcomes."
—Stephen P. Zieniewicz
Among Zieniewicz's biggest challenges is meeting the requirements of the Affordable Care Act, which are changing how hospitals do business. The ACA contains provisions intended to shift focus from individual patient care to population-based health measures— which means from just treating existing disease and injury to helping people maintain their health. It also holds hospitals accountable for lowering rates of infections, falls and readmissions. "We are redesigning how we provide care toward population health management, to keep our community healthy and treat chronic diseases outside the hospital," he says. "My passion and focus are to create the safest environment for our patients and their families and continue achieving exceptional outcomes."
His past experience has prepared him well for these tasks. During his career he has helped introduce the use of safety checklists, built such programs as sports medicine and transplant services and enhanced clinical research both in the lab and at the bedside through clinical trials. And he starts from an already strong position. The medical center was selected as a Top Hospital for the second year in a row by The Leapfrog Group. Among its many nationally recognized services are The Burn Center, New Jersey's only certified burn treatment facility (see page 32), and the Living Donor Kidney Transplant Program, the fourth largest in the nation.
Zieniewicz and his wife, Linda J. Hipps, M.D., a gynecologist soon to join the Saint Barnabas Medical Center staff as well, live in Livingston. In his free time he stays fit with running and golf, and he and his wife enjoy music and the fine arts. He also has volunteered his time in the past to such organizations as the American Heart Association—he was chairman of its Seattle chapter, and he plans to offer his support to the regional chapter here after he settles into his new position.
He is thankful for the opportunity to come back to the New York–New Jersey area, which he considers home. "My family still lives on Long Island," he says. "My wife and I are excited and look forward to helping serve the health care needs of this beautiful community."
To find out more about services available for you or your family at Saint Barnabas Medical Center, please call 1.888.724.7123 or visit barnabashealth.org/sbmc.