New Hope in Battle Against Aneurysms
Technology updates improve detection and treatment of the condition in the aorta.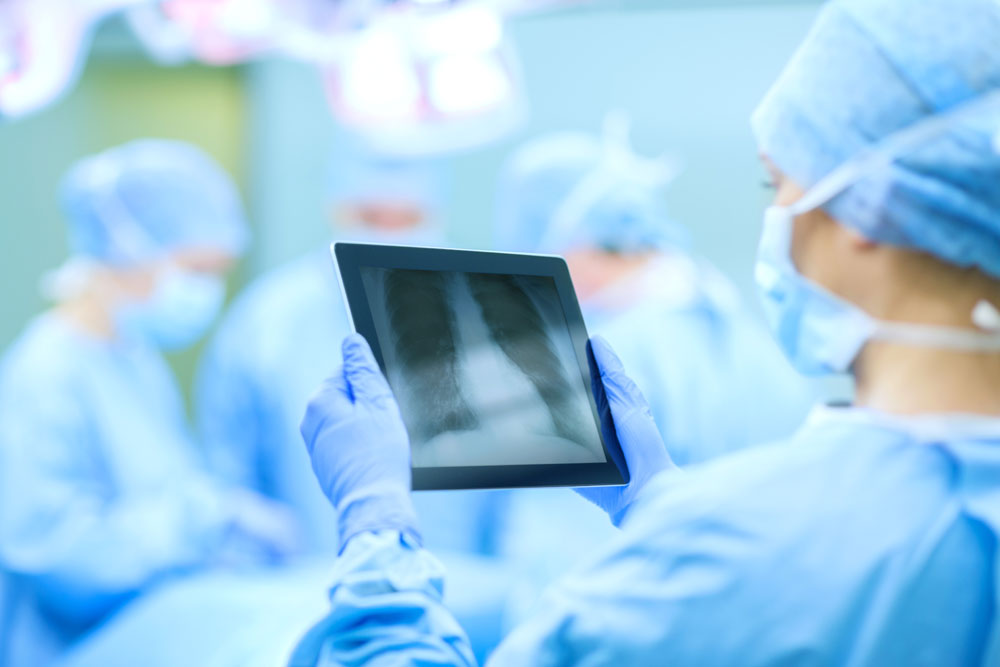 About 13,000 Americans die each year from a condition they usually don't know they have—an aortic aneurysm. An aneurysm is a bulge or "balloon" in the wall of an artery, the blood vessels that carry oxygen-rich blood from the heart to other parts of the body. Arterial walls can withstand normal blood pressure, but certain medical problems, genetic conditions and trauma—especially from smoking—can damage or injure artery walls. The force of blood pushing against the weakened or injured walls can cause an aneurysm.
If an aneurysm grows large, it can rupture or dissect. A ruptured aorta, the main artery that runs from the heart through the chest and abdomen, causes massive bleeding inside the body, which is why it is usually fatal. A dissection is a split in one or more layers of the artery wall, which causes bleeding into and along the layers of the artery wall. It too can be fatal. "Einstein had a ruptured aneurysm," says Steven Hertz, M.D., vascular surgeon and chief of the section of vascular surgery at Saint Barnabas Medical Center. "Lucille Ball had one. George C. Scott died from one."
An aneurysm that occurs in the chest portion of the aorta is called a thoracic aortic aneurysm. More commonly, an aneurysm that forms in the abdominal portion is called an abdominal aortic aneurysm. Both can develop and become large before causing any symptoms. Often aneurysms are found by chance during tests done for other reasons.
The good news is that doctors can stop aneurysms from bursting if they find and treat them early. Better news is that vascular surgeons now can offer treatment to a larger group of patients, says Dr. Hertz. "The two things have allowed that," he says, "are improved imaging and the new hybrid operating room at Saint Barnabas Medical Center."
When he started in the field, back in 1993, the only option for aortic aneurysm repair was open surgery. "It was a very big operation," he says. Today, the trend is to repair the damaged artery from the inside of the vessel itself. That's a minimally invasive procedure, and often works well. But on occasion, the surgeon needs to switch to an open operation, and usually very quickly. That's where the hybrid operating room come in. This special room has the surgical equipment, operating tables and other technology to allow surgeons to perform both types of surgery, without having to move the patient when time is of the essence. Saint Barnabas' hybrid OR opened in April 2016, and Dr. Hertz was the first to use it to repair aortic aneurysms.
To repair an aortic aneurysm, the surgeon places a graft inside the artery with a catheter to support the damaged arterial walls. Doing this in open surgery would require time in the intensive care unit and six to eight weeks of recovery. Minimally invasively: "One night in the hospital, and you leave with two Band-Aids in the groin," he says.
This allows older and sicker patients to partake of the surgery. "The goal is to have none become emergencies," he says. "Our focus is to identify aneurysms when they are small and fix them electively. The mortality during elective surgery is less than half of one percent."
Because of these changes, aortic aneurysm is "on people's radar now more than it used to be," he says. And screening, thanks to better imaging, is now covered by Medicare and many other insurance plans.
"Physicians want to offer the best technology, and that takes the commitment of the community and the hospital to find the space and funding for a program like this," Dr. Hertz says. "This is forward looking. It allows us to do things we couldn't do before, which translates to the ability to help patients more, which is really what we are here for."
Abdominal Aortic Aneurysm:
Screening Recommendations
The National Institutes of Health report that early diagnosis and treatment can help prevent rupture and dissection of aortic aneurysms. However, aneurysms can develop and grow large before causing any symptoms. Thus, people who are at high risk for aneurysms can benefit from early, routine screening.
Men ages 65 to 75 years who have ever smoked: the united states preventive services task force (USPSTF) recommends one-time screening for abdominal aortic aneurysm (AAA) with ultrasonography in men ages 65 to 75 years.
Men ages 65 to 75 years who have never smoked: the USPSTF recommends that clinicians selectively offer screening for AAA in men ages 65 to 75 years who have never smoked rather than routinely screening all men in this group.
Women ages 65 to 75 years who have ever smoked. The USPSTF concludes that the current evidence is insufficient to assess the balance of benefits and harms of screening for AAA in women ages 65 to 75 years who have ever smoked.
Women who have never smoked: the USPSTF recommends against routine screening for aaa in women who have never smoked.
To find out more about vascular services or for a physician referral, please call 888.724.7123 or visit barnabashealth.org/sbmc. To share this article with a friend or to recommend it on your Facebook page, visit msxhealthandlife.com .