New Joints for an Active Life
To meet growing demand, a new Orthopaedic Institute provides comprehensive bone and joint care—including joint replacements—in one place.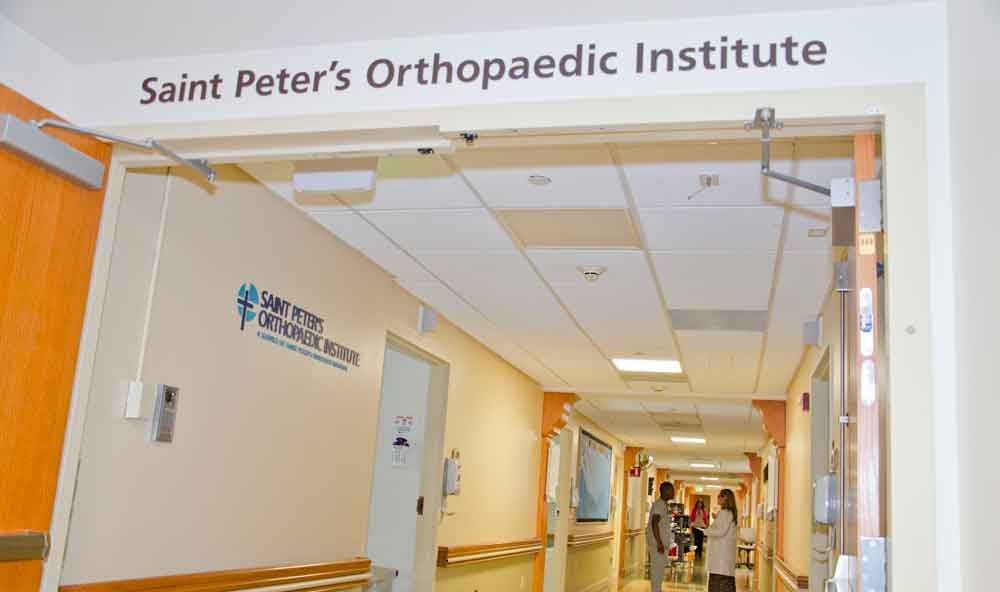 Chances are, you know someone who has had a hip or knee replaced. It might even be you. Joint replacement is one of the world's fastest-growing surgeries, thanks to new, minimally invasive surgical techniques and improved replacement devices—and to the aging of baby boomers, a generation intent on staying active. According to data presented in 2014 by the American Academy of Orthopaedic Surgeons (AAOS), total knee replacements increased by 120 percent from 2000 to 2009, and total hip replacements by 73 percent. Revisions of previous replacement surgeries also jumped, by 133 percent and 27 percent, respectively. And all indications are that the increase continues. More than 7 million Americans are now living with an artificial knee or hip, and the AAOS says adults younger than age 65 account for much of the growth in these procedures. But even so, adults in the prime of life may be underutilizing this safe and effective option for degenerative joint disease.
To help meet the growing demand for orthopaedic care, Saint Peter's Healthcare System has created an Orthopaedic Institute at Saint Peter's University Hospital in New Brunswick. It has also expanded the number of surgical practices within Saint Peter's Physician Associates, its network of primary and specialty practices.
"The goal is to improve care for all orthopaedic patients at Saint Peter's and to centralize that care," says Alfred J. Tria Jr., M.D., medical director of the Institute.
The Orthopaedic Institute includes a dedicated inpatient unit—with only private rooms—in Saint Peter's University Hospital for patients who have orthopaedic surgical procedures. Members of a dedicated nursing and technical support staff are all specially trained in caring for orthopaedic patients. And a rehabilitation unit with trained physical therapists is also nearby for the critical rehabilitation process, which often begins the same day as surgery.
Until now, orthopaedic patients were mixed in with other patients throughout the hospital. "Centralization makes a big difference," says Dr. Tria.
"The Institute serves as a 'hospital within a hospital,'" says his colleague, surgeon Marc Malberg, M.D. "We want patients to experience unified care, from the valet parking to certified orthopaedic nurses who are not overwhelmed by special equipment such as overhead trapezes or traction devices, to physical therapists who know what recovery expectations are. All of these things help reduce the anxiety of being in the hospital and identify us as a place of excellence for orthopaedics."
The Institute doesn't treat just hips and knees, of course. "This group of doctors provides most of the orthopaedic care needed, including joint replacement, spine surgery and sports injury care," says orthopaedic surgeon V. Karthik Jonna, M.D. "Everyone is coming together under one umbrella in a centralized place at Saint Peter's." That will improve communication and collaboration among the physicians, he says. "For example, the members of the Institute can discuss the various options that exist for any particular orthopaedic condition or any complicated surgery such as revision hip and knee replacements."
Spine surgery is a specialty at the Institute and Dr. Malberg says there are exciting new options for spine patients. Saint Peter's can offer new techniques for spinal fusion (surgery to join bones in the spine), laser surgery for slipped discs and less invasive options for treating spinal stenosis (the narrowing of spaces in the spine, causing pressure on the spinal cord and nerves). He is also hoping to start a clinical trial on disc replacement surgery.
"Having this Institute at Saint Peter's gives us the support to try these things," he says. "The Institute helps me introduce new technologies quickly to the administration and operating room staff, and we can streamline the evaluation of new technologies to find out what works and doesn't work for us."
Joint replacement does make up the bulk of the surgeries at the Institute, and new technology has allowed significant advances in this area as well. "Implants today are lasting up to 20 years, much longer than in the past," Dr. Jonna says. "That makes it more reasonable for younger patients to undergo surgery earlier, while they can enjoy activities like golf or tennis, and the success rates are in the 95 to 98 percent range. It's very exciting."
Also, new rehabilitation strategies are helping patients get back to golf, tennis and the like more quickly than ever. "We try to get our patients up the same day as surgery," says orthopaedic surgeon Donald Polakoff, M.D. "They regain more function when they get up early, and it decreases complications such as blood clots, pressure sores, pulmonary problems and urinary difficulties. It also shortens hospital stays. When I started to practice, the typical length of stay for a joint replacement was 14 days. Now the standard is two or three days, and some highly motivated patients can go home in one day. Our physical therapists are particularly interested in joint replacement and in starting early mobilization to get patients up and walking."
As medical director, Dr. Tria hopes to expand the Institute by three to six more surgeons, adding specialists in pediatric orthopaedics, sports medicine, foot and ankle surgery and more. "It's pretty exciting," he says. "I have been at Saint Peter's since 1981 and I wanted to leave something when my career ends that will be significant for the hospital, the patients and the city itself. It is a pleasure to work there, and this will be the way orthopaedics will go in the future."
These doctors provide bone and joint treatment
V. Karthik Jonna, M.D., of Saint Peter's Physician Associates in Somerset, N.J., is a graduate of the Robert Wood Johnson Medical School, New Brunswick, who also completed an orthopaedic surgery residency at Maimonides Medical Center, Brooklyn, and the Columbia University Medical Center Joint Reconstruction Fellowship in New York. He specializes in hip and knee replacement.
A graduate of Northwestern University Medical School in Chicago, Marc Malberg, M.D., of the Orthopaedic Center of New Jersey in Somerset, N.J., an affiliate of Saint Peter's Physician Associates, completed his orthopaedic surgery residency at New York Orthopaedic Hospital–Columbia Presbyterian Medical Center in New York City. His specialties include adult reconstructive spine surgery, total joint replacement and the treatment of scoliosis.
After graduating from Cornell University Medical School, Donald Polakoff, M.D., of University Hip and Knee Orthopaedic Specialists in Monroe Township, N.J., completed his orthopaedic surgery residency at the University of Texas Southwestern Medical Center–Parkland Memorial Hospital in Dallas. His fellowship, in hip and knee replacement and reconstructive surgery, was at Harvard Medical School–Brigham and Women's Hospital, Boston.
Alfred J. Tria Jr., M.D., also of the Orthopaedic Center of New Jersey, is a specialist in knee replacement surgery. A graduate of Harvard Medical School in Massachusetts, he completed his orthopaedic surgery residency at New York Orthopaedic Hospital–Columbia Presbyterian Medical Center and a fellowship with John N. Insall, M.D., a pioneer in knee replacement surgery, at the Hospital for Special Surgery in New York.
To find out more about services available for you or your family at Saint Peter's University Hospital, please call 732.745.8600 or visit saintpetershcs.com.