New Knees, Please!
Today's robotic replacement set a higher bar for accuracy--and can even be revised in mid procedure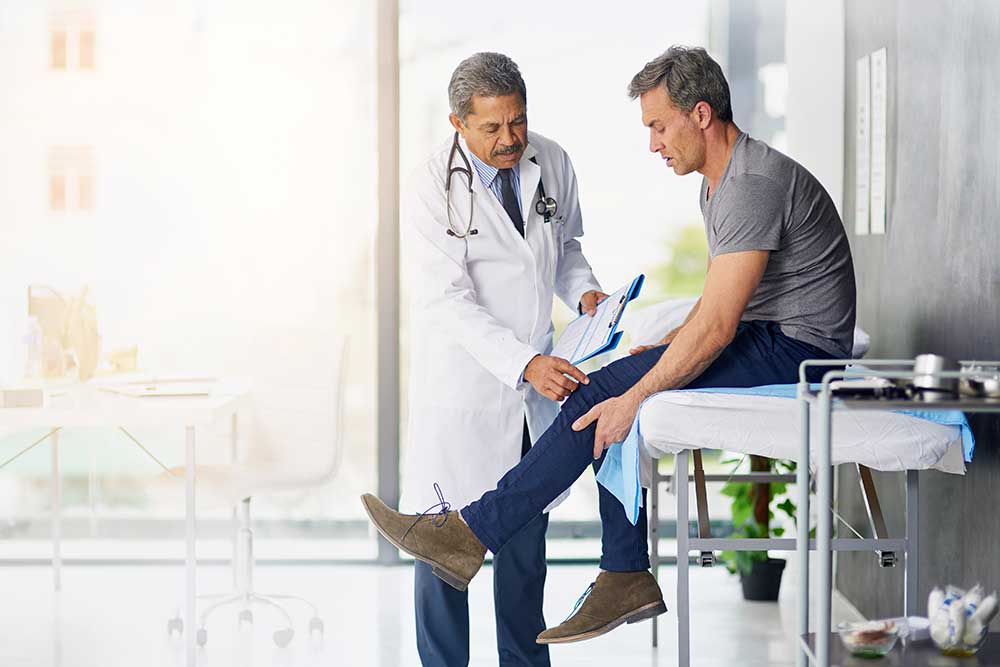 Joint replacement surgery,
which not long ago seemed the province of the old and frail, has become active baby boomers' secret weapon, helping them stay on—or get back to—the tennis court or the jogging path. One research study suggests that the number of total knee replacements performed annually in the United States will grow by 673 percent, to 3.48 million procedures, by 2030. Knee replacement surgery has even gone robotic.
A recently developed technology called MAKOplasty was approved for partial knee replacement surgery several years ago, and in 2015 the FDA also approved it for full knee replacement. This year Saint Barnabas Medical Center became the first hospital in northern New Jersey to perform the full replacement surgery. Michael Rieber, M.D., an orthopedic surgeon who codirects the Joint Institute at Saint Barnabas Medical Center, has now done both full and partial procedures, and he says patients with each have had "excellent, incredible success."
Robotic replacement surgery is more accurate in matching the implant to the knee's original structures, he explains. "There are six different degrees of movement," says the doctor. "With the help of the robotic arm, we are able to individualize everyone's knee replacement. We can develop and execute a plan with incredible precision."
Before surgery, the operating team takes a CT (computed tomography) scan of the knee joint. That scan is used to generate a 3D model of the patient's unique anatomy. This model is uploaded into the MAKO System software, and from it the surgeon creates a personalized preoperative plan.
Inside the operating room, the software helps the surgeon stay within the preoperative plan. If plans change during an operation, based on unexpected anatomical findings, the robot is ready to change as well. "During the procedure the robot is always tracking the implant's placement," Dr. Rieber says. "It can see where it might not be balanced right or you might need more rotation. You get instant real-time feedback on placement with that ability to adjust through the procedure."
To find out more about the Joint Institute at Saint Barnabas Medical Center, please call 973.322.9908 or go to RWJBH.ORG/SBMC. To share this article with a friend or to recommend it on your facebook page, visit MSXHEALTHANDLIFE.COM.