New Look for a New Era
When the kids outgrew the playroom in a family's Holmdel home, the timing was finally right for a grand redesign.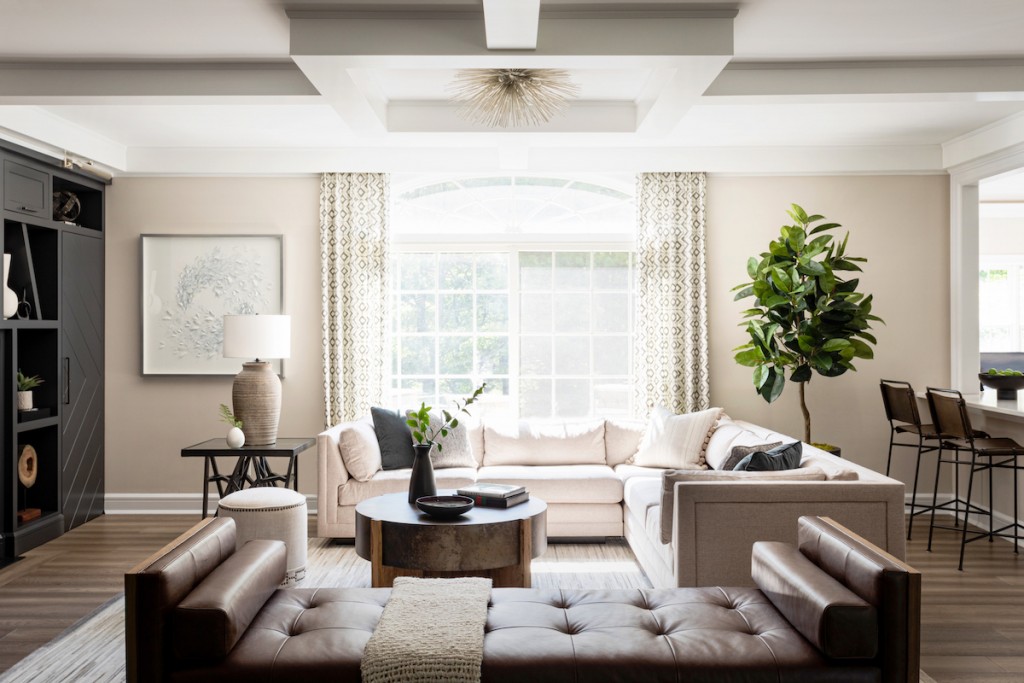 There are some projects best held off with wee ones underfoot, and a whole-house renovation is one of them. That's how Holmdel homeowners Sonya and Maulin felt in deciding to make do with a Mediterranean motif after their 2014 move. They always knew that one day they'd redesign their colonial to better fit their more transitional style and their zest for entertaining. That day came in July 2020—while COVID home-based their NYC jobs for a spell—and yes, the kids no longer fit the playroom scene.
"The design trajectory was to create sophisticated and inviting interiors that were also elegant," says Alma Russo of AR Interiors LLC, who worked on the reno with Precision General Contracting. "We wanted to make sure the adult guests would feel as comfortable as their children."
When the playroom wall came down, it had a ripple effect Sonya describes as a highlight of the remodel. Approaching their tweens, the two kids would gain a theater, a candy bar and a game room in a basement designed for them. For the adults, the open living room was expanded to provide a wine-sipping area with a waterfall-edge countertop in Pietra di Cordoza, a honed granite. Custom bookshelves in Benjamin Moore's Cheating Heart (an almost-black dark gray) stand out for asymmetrical design and conveniences, and the big game is readily visible from the gray Bernhardt stools.
"We did a much more modern take on the traditional coffered ceiling," says Russo, who topped it off with starburst chandeliers by Visual Comfort. An open leather bench by Four Hands separates the bar and the sitting area with an ivory sectional in a performance fabric.
As a common thread for the home design, Russo chose a saturated blue palette juxtaposed with lighter hues for contrast and warmth. The taupe Duchateau engineering flooring throughout is another nod to continuity.
The dining room dips into the chosen palette with its navy velvet Caracole chairs at a free-formed walnut table paired with Thibaut wave-effect wallpaper and chandelier globes for an added "wow." In the kitchen, Russo expanded upon an octagon-shaped eating area with a custom banquette and upholstered, performance-fabric seating. The island is new, with its white quartz countertops, but the cabinets are refreshed with Benjamin Moore's Frostine white and a white marble herringbone backsplash from Tiled Interiors and Kitchens by Yubir.
The family room is yet another gathering area, perfect for daily action as well as get-togethers. In front of the original stone fireplace, Russo set two identical chaises for cozy nights with a novel, while also providing a U-shaped ivory sectional for TV viewing. Dual cocktail tables of reclaimed wood stand up to wear and tear, while unlined linen draperies keep it casual and airy.
Most everywhere Russo amplified function, and the entry foyer is no exception, with double-duty pieces such as a Noir console table and velvet ottomans. Abstract artwork above the stairs in saturated color is a hint of what's to come. For the master bedroom, the couple wanted the feel of a retreat with wall-to-wall carpet—enter Russo with a mottled blue-and-gray pattern. The king-sized bed boasts a tufted headboard by Universal Furniture that extends over the nightstands—just right for a room of royal proportions. Completing the look are a leather bench and starburst art.
Did this upgrade rise to the challenge of daily life and social occasions, with plenty of seating carefully blended into the everyday design? Judging from guests' reactions, Sonya gives a resounding yes. The redesign is great for watching sports or just hanging out. When guests convene, says Sonya, "The joke is always, 'Are they on the VIP list?'" And, of course, with their own game room, theater and candy bar, the kids make the A-list every day.
By Donna Rolando
Design by Alma Russo
Photography by Christopher Delane