New Treatments for Old Knees
Cartilage transplants return patients to active lifestyles.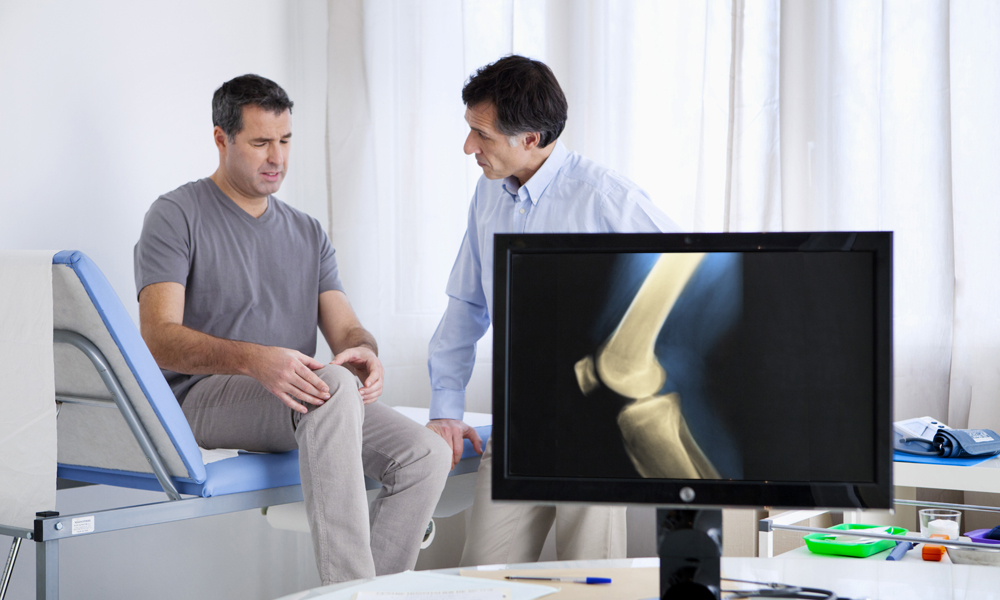 Years of playing sports take their toll on bodies, and for Ken Crovetti, a lifetime of athletics had so damaged his left knee that he could barely walk without pain. There is nothing newsworthy about sports-related knee pain as it represents one of the biggest reasons for visiting an orthopedic surgeon. What is newsworthy, however, is the development of new types of treatments to help active patients like Crovetti return to sports again, pain-free.
Crovetti, 49, is a computer software sales executive who lives in Phoenixville, Pa., with his wife, Susan, and their children, ages 21, 18 and 15. In his early 30s and already suffering from aches and pains in both his knees, he shattered his left kneecap in a wakeboarding accident. His doctors repaired the kneecap, but identified additional damage to his cartilage—the soft tissue that provides a cushion where the bones meet in the knee joint—which at that time was left untreated. Within two to three years, that benign cartilage lesion had deteriorated to the point where his pain was present with activities of daily living in addition to the limitations he experienced with sports.
That's the point at which he went to see Alan E. Cooper, M.D., an orthopedic surgeon at Saint Barnabas Medical Center. The two were already acquainted: "Our oldest kids went to nursery school together, so I had known him a long time before I became his patient," Crovetti says. "You go to people you trust, right?"
Alan E. Cooper, M.D.
"We have a limited capacity to regenerate our own articular cartilage," Dr. Cooper says. This tissue lacks a blood supply, so it cannot repair itself like other tissues can. "Until recently, we just told these kind of patients to live with it until they were old enough to get a knee replacement or drill holes to create fibrous tissue (false cartilage)" he says. Over the past decade, though, several new options have been made available to stimulate the growth of new cartilage.
For children and adolescents, damaged cartilage can be repaired with bio-absorbable implants—which stabilize the piece of loose cartilage—as it requires the healing capacities of youth; however, older patients like Crovetti aren't candidates. They are, however, eligible for either an autograft (taken from own knee), allograft transplant from a cadaver knee, infantile cartilage with regenerative capability or a two-stage procedure which includes culturing one's own harvested cartilage cells in a lab and transplanting them back into the defect.
Crovetti met with Dr. Cooper to discuss these options, and included his brother, an orthopedic surgeon, to be part of the consultation. "They had a conversation, brother to doctor, and agreed a transplant from a fresh cadaver made the most sense based on the size of my cartilage lesion," Crovetti says. It took a while to find fresh tissue that was an exact match to his knee. When it was located, "He called me on a Friday and asked if I could go in on Monday," Crovetti recalls.
Dr. Cooper performed what is called an osteochondral allograft transplant. He drilled a hole in the bone slightly larger than the defect and transplanted a plug of cadaver bone and cartilage as a perfect match. Crovetti admits the first week of recovery "was pretty painful." After that, however, he healed rapidly. Physical therapy helped him rehab the knee to rebuild strength and range of motion. Six months after surgery, he was back waterskiing and enjoying other activities.
Other patients may have an option of using implants generated from their own tissues. Cartilage is removed from a non-weight-bearing part of their knee, where it isn't needed, and sent to a special laboratory, to be encouraged to grow artificially. That tissue is then re-implanted back into the knee defect where it is needed. Choosing between cadaver tissue and the patient's own cartilage depends mostly on the size and location of the patients lesion(s). "With a larger lesion, cellbased treatment might be the better option, and for smaller lesions the OATs procedure (osteochondral autograft transfer system) performed arthroscopically might be better," Dr. Cooper says.
Yet another, even newer possibility is stem cell therapy. Stem cells are taken from the patient's own bone marrow in the pelvic bone or come from amniotic fluid in stem cell banks. "We can inject stem cells into the knee joint for an arthritic patient or use it as an adjunct into the lesion itself," Dr. Cooper says. "The early results for this look promising, but it is not yet a universal application at this time.
Crovetti is still happy with his transplant. "I play golf, I spend a lot of time walking my dogs," he says. "Dr. Cooper bought me years of activity."
A Center for Knee Repair
Under the direction of Alan E. Cooper, M.D., Saint Barnabas Medical Center will be opening a cartilage regeneration program as part of his practice within the Barnabas Health Ambulatory Care Center.
"There is a definite need for this type of center in this region," Dr. Cooper says. "There is now an epidemic of athletic injuries, due to increased activity levels and year-round single-sport participation starting at very young ages. It makes treatment more seamless when you have it all centered in one location."
To find out more about Orthopedic services at Saint Barnabas Medical Center, call the Joint Institute at 973.322.9908 OR Visit barnabashealth.org/sbmc.