New Treatments for Skin and Breast Cancer
Advances in technology at Monmouth Medical Center make radiation safer and more effective.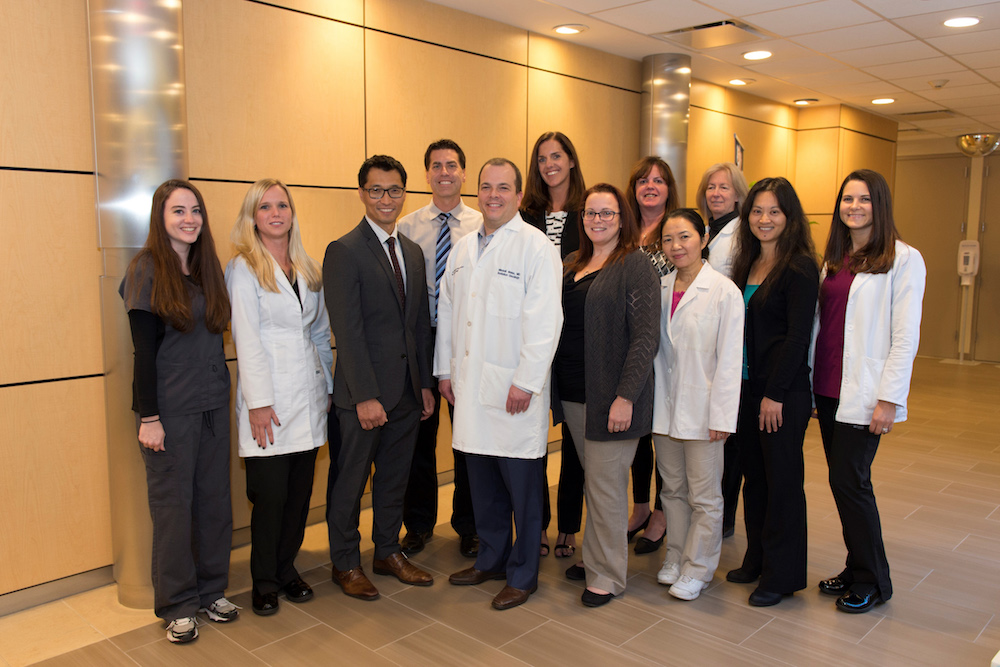 CANCER TREATMENT OFTEN INCLUDES RADIATION AND/OR chemotherapy, but one of the most successful and pioneering methods to treat cancer is known as brachytherapy. This treatment, which has been around in its modern form since the 1950s, involves placing radioactive seeds into the body; the radiation inside the seeds targets and eliminates the cancer cells without damaging surrounding healthy cells.
For more than two decades, Monmouth Medical Center (MMC) has provided New Jersey with award-winning brachytherapy in treating prostate cancer. But just recently, radiologists at the hospital began using the same approach to treat early non-melanoma skin cancer (NMSC). Brachytherapy for early NMSC delivers a non-invasive, high dose of radiation directly to the affected area while saving surrounding tissues, and it has fewer side effects than surgery, which was the previous option for this type of cancer.
"This targeted therapy provides exceptional cure rates close to 100 percent, with no scarring," says radiation oncologist Sang Sim, M.D. "It ensures first-rate cosmetic outcomes with an increased quality of life. It is designed to give patients successful results in less time, so you can continue living a full and active life during treatment."
MMC's dedicated radiation oncologists work alongside Barnabas Health Medical Group physicians to offer brachytherapy and other radiation treatments for safe, long-term access to skin cancer care. According to Dr. Sim, brachytherapy, which is administered as outpatient treatment, could be considered the best choice for patients with diabetes, those taking blood thinners, those whose tumor is in a highly visible or uncomfortable area like the nose or lip, or those for whom surgery poses risks of nerve damage or risky reconstruction.
Radiation therapy is also highly effective in treating breast cancer. But because the left breast is close to the heart, this vital organ is vulnerable to radiation exposure. MMC has recently introduced two new techniques to deliver radiation treatment for breast cancer that minimizes radiation exposure to the surrounding organs and tissues like the heart and lungs.
The first is prone breast radiation therapy. This unique approach to treating breast cancer has the patient lying comfortably on his or her stomach atop a specially designed table with a breast board that keeps the breast hanging away from the body. The healthy breast is kept close to the body, minimizing radiation exposure.
Additionally, deep inspiration breath hold (DIBH) technology allows radiation oncologists to ensure that radiation is only delivered when the patient is in the intended position. As the name implies, patients take a deep breath and hold it. When the lungs fill with air, the heart naturally moves away from the chest. DIBH can be useful in situations where radiation therapy is necessary in the chest region, and when it is desired to avoid radiation dosages to the heart.
"Each of these new technologies offers women better options for breast cancer treatment with less risk of side effects," says Mitchell Weiss, M.D., chair of Radiation Oncology at MMC.
TO LEARN MORE ABOUT BRACHYTHERAPY AT MONMOUTH MEDICAL CENTER, VISIT WWW.RWJBH.ORG. TO SHARE THIS ARTICLE ON YOUR FACEBOOK PAGE, VISIT MONMOUTHHEALTHANDLIFE.COM.
CORRECTION: In the Fall Issue, the article "A Fellowship in the Art of Reconstruction" should have credited Manolis Manolakakis, D.M.D.