New Year, New Board Member
An attending physician at Saint Barnabas Medical Center goes full circle by joining the Board of Trustees at his "hometown hospital."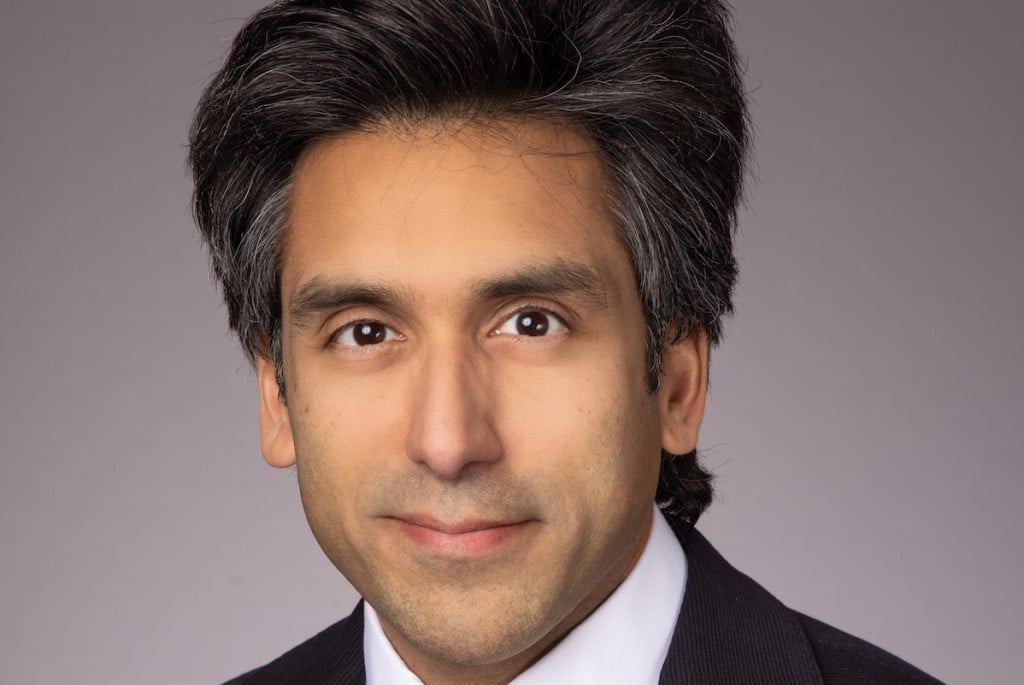 Saint Barnabas Medical Center (SBMC) is in Rahul V. Pawar's blood. He grew up around the corner in West Orange, and SBMC was his hometown hospital—it's where he went after breaking his bones as a kid, it's where he volunteered in high school and it's where he has friends and family on staff. Now, Dr. Pawar, diagnostic neuroradiologist at SBMC and partner and secretary at Imaging Consultants of Essex, is coming full circle as not only an attending physician at the Medical Center, a role he has held since completing his fellowship in 2011, but also its newest member of the Board of Trustees.
"I live and breathe Saint Barnabas Medical Center," says Dr. Pawar. "A lot of physicians on staff grew up around here, but I'm one of the few that has been a part of this institution in some capacity since I was a child. In fact, in the late 1980s, I definitely trampled the property quite a few times on my BMX bike! As far as the past, present and future are concerned, my connection with the medical center runs deep."
And Dr. Pawar is thrilled to take on this exciting new role. "I am honored, I am excited and I am humbled to a be a part of such an important Board that governs a Medical Center that serves a broad community in such a specialized manner," he says. Especially in the midst of a pandemic and after such a trying year, Dr. Pawar believes his role has even more of an impact and gravitas now than ever before.
"I have known Dr. Pawar for many years. His clinical expertise, active community involvement, passion and leadership will be an asset to our board," states Bruce Schonbraun, chairman of the Board of Trustees at SBMC. "His deep understanding of healthcare and long-relationship with SBMC brings an important perspective to our Board as we navigate through these unprecedented times."
At age 40, Dr. Pawar is also on the younger end of the age spectrum on the Board, and thinks that will be of benefit in his new leadership position. "I like to consider myself in touch with the community and my colleagues, and being elected at a young age is a milestone because it transcends practicing medicine on a grassroots level," he says. "I hope to bring a certain youthful, energetic vibe to the Board."
Dr. Pawar is firmly rooted in the local sports community. He is an avid tennis player himself—a former high school All-Area, All-Conference champ and USTA-ranked player. He is one of the only actively practicing physicians nationwide to have earned coaching certification through the Professional Tennis Registry. The core values he's learned from years on the court, he says, will hopefully benefit him as a member of the Board of Trustees.
"Through sport, I've developed a solid work ethic, teamwork, discipline, humility and the ability to problem solve. I strongly believe sport in general strengthens the community by providing an outlet for exercise, a means to stay healthy and the ability to connect with like-minded people. My passion for tennis and my profession are one in the same."
Certainly, Dr. Pawar's numerous professional and personal accomplishments have led him to the Board of Trustees, but he also credits his wife, Kimmerle Pawar, M.D., an Emergency Department physician at SBMC, for helping him get here. Both Drs. Kimmerle and Rahul Pawar fortuitously landed staff positions at SBMC almost 10 years ago after completing their training at New York University Medical Center (NYU). "We have a short but significant history of nearly a decade at Saint Barnabas Medical Center together," he says. "Collectively, my wife and I have a good feel for the community, the hospital's footprint and impact at large."
The Pawars live in Essex Fells.
---
For more information about Saint Barnabas Medical Center, go to rwjbh.org/sbmc.