Now in Control
A business owner regains quality of life after treatment at MMC's Gamma Knife Center.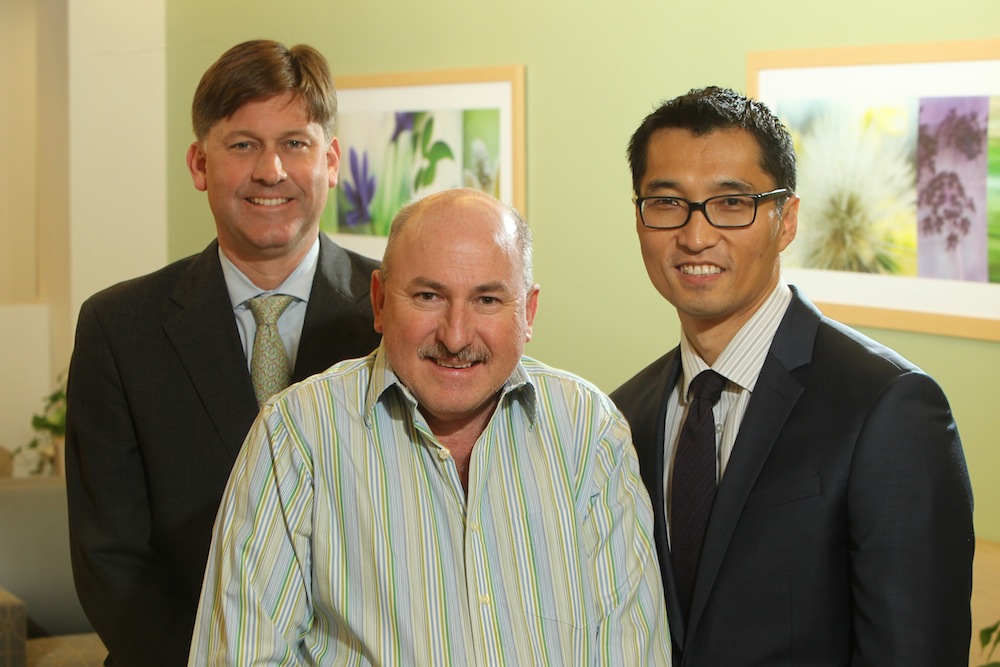 IT WAS MORE THAN TWO AND A HALF years ago that 52-year-old Carmin Giar- dina began seeking new treatment options for his essential tremor. What started as a nuisance, over time began impacting Carmin's daily life and work. The Belleville resident and owner of a landscaping and irrigation company was having difficulty eating and needed to use two hands to sign his own name.
"As a small business owner, when my tremors began to affect my everyday life and my livelihood, I knew it was time for help," he says.
Essential tremor—like which Carmin was experiencing—is a condition that causes part of the body to shake or tremble uncontrollably, resulting in difficulty writing, drinking from a cup or dialing a telephone. Often the symptoms include action tremor in the upper extremities, such as the shoulder, arm, forearm or hand, and may also involve a resting tremor of the head and neck or lower jaw. Sometimes the voice may also be involved.
COMFORTABLE AT MONMOUTH After Carmin had little luck in treating his tremor with various medications, he began researching other options. His research quickly led him to The Gamma Knife Cen- ter at Monmouth Medical Center (MMC), where medical co-directors Ty J. Olson, M.D., FACS, a board-certified neurosur- geon, and Sang E. Sim, M.D., a board-cer- tified radiation oncologist, are leading the way in the treatment of essential tremor.
"From the first time I met with Dr. Olson and Dr. Sim, I knew they were right for me," says Carmin. "I immediately felt comfort- able with their knowledge and clinical expertise."
Soon after meeting with Drs. Olson and Sim, Carmin decide to move forward with Gamma Knife treatment for his tremor.
A non-invasive treatment option for essential tremor as well as brain tumors, Gamma Knife radiosurgery delivers a high dose of radiation to a specific point within the brain, sparing healthy tissue. Powerful, highly focused gamma radiation beams target and destroy overactive cells in the thalamus while minimizing the risk of radiation to other nearby parts of the brain. The procedure does not require general anesthesia, and patients experience few side effects, are able to return home the same day and typically see reduction in their tremor in three to six months.
"The Gamma Knife targets the cells of the ventral intermediate nucleus (VIM) in the thalamus with such accuracy that it minimizes the risk of radiation to nearby normal parts of the brain," Dr. Olson says.
"The unique design of the Gamma Knife includes 201 beams of focused radiation, each carrying a very small, safe amount of radiation until the combined beams meet at the targeted VIM and destroy the over- active cells," adds Dr. Sim.
SEEING A SIGNIFICANT DIFFERENCE To receive his treatment, Carmin spent just four hours at MMC during which time a carefully detailed and precise map of his brain was created. The blueprint of Carmin's brain was then used as a guide while Drs. Olson and Sim administered the focused dose of radiation. That very day Carmin returned home, where he spent a week resting. Within months, he began to see a significant difference in his tremor.
"I was astounded when 80 percent of my symptoms resolved within six months with absolutely no side effects," he recalls. "I could write, dial the phone, hold a glass and even eat soup without a problem."
Carmin was so pleased with his results, he is planning to undergo the procedure a second time to address an essential tremor on his left side.
"Thanks to Dr. Olson, Dr. Sim and the rest of the staff at MMC, I do not have to live with tremors. I have regained my qual- ity of life and they are part of the reason why."
TO LEARN ABOUT THE GAMMA KNIFE CENTER AT MONMOUTH MEDICAL CENTER, CALL 732.923.6562.