Now It's Personal
In the next few years, a doctor says, therapies targeted to one's individual genetic makeup will change the face of cancer care.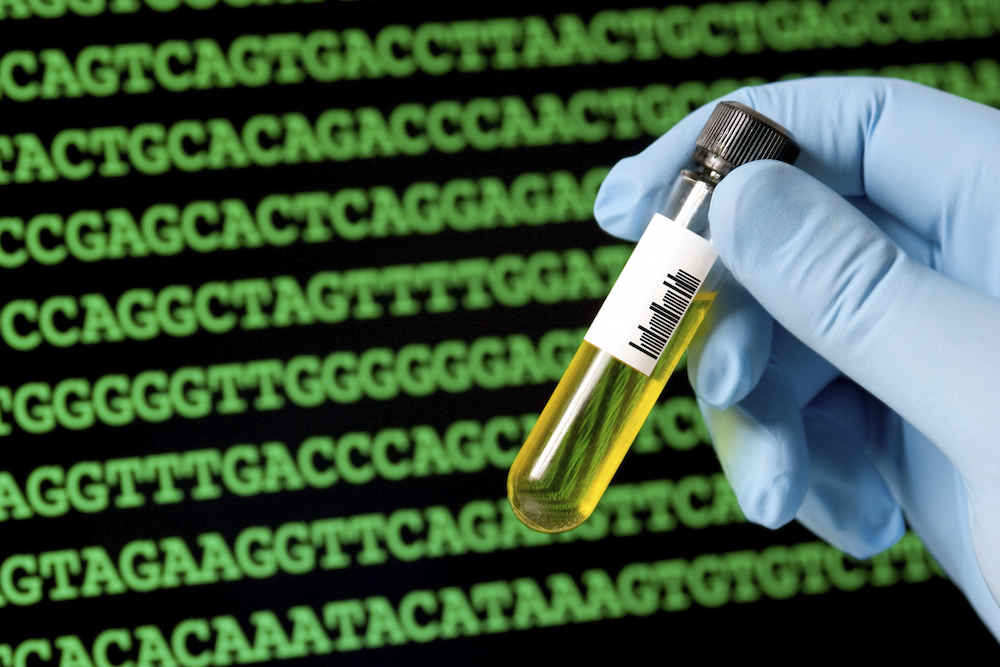 Tomorrow's cancer care, experts say, will increasingly rely on targeted prevention and treatment plans that use mapping of the genome to apply what works best for a person's genetic makeup. And tomorrow's almost here.
You've probably read about precision medicine. "It's the future of cancer care," says Michael Scoppetuolo, M.D., Saint Barnabas Cancer Center's chief medical officer.
Genome sequencing breakthroughs at the turn of the 21st century, the U.S. Food and Drug Administration explains, helped turn precision medicine from a concept into a reality. "Rapid developments in genomics, together with advances in a number of other areas, such as computational biology, medical imaging and regenerative medicine, are creating the possibility for scientists to develop tools to truly personalize diagnosis and treatment," according to the FDA's website.
Michael Scoppetuolo, M.D.
Dr. Scoppetuolo is the first to admit that this "game changer" is "just in its infancy right now." About two dozen FDA-approved drugs are designed to work in this way, he says, and lung cancer treatments have led the way. (See "Lung Cancer: 4 Rays of Hope," page 42.) "Much of the early research came from the lung cancer experience," he says.
But treatment of other cancers is benefiting too. For instance, a gene that plays a part in about 20 percent of breast cancer cases can now be targeted with a medication that inhibits its action. "It blocks the receptor on the surface of the cancer cell that is expressed by this gene, and that kills the cancer," says the doctor. Other new drugs treat leukemia, colon cancer and melanoma.
A recent report from a group called the Personalized Medicine Coalition shows that for the past three years, precision medicines accounted for more than 20 percent of the new molecular entities approved by the FDA. And a lot more drugs are in the pipeline. "There are hundreds more currently in trial," says Dr. Scoppetuolo. Some of those trials are being conducted at Saint Barnabas, including a joint trial with the Rutgers Cancer Institute of New Jersey.
Currently, precision medicine is approved as a treatment option only after other avenues have been shown to be ineffective. The main reason is the medications' high cost. "The average cost is about $10,000 a month," Dr. Scoppetuolo says. Often insurers won't pay for these drugs, and when they do there may be a copay that puts them out of reach for many patients. At Saint Barnabas, counselors work with the insurance companies to find ways to lower these costs. Another option is to enter a trial, which is paid for by the drug's manufacturer.
Over time, as new medications continue to come to market and are proven effective, insurers will become more amenable to coverage, the doctor predicts. Prices will come down, and a 2013 article in The Hugo Journal, an official publication of the Human Genome Organization, argued that precision medicine will "lower overall healthcare costs." How? By steering away from blind alleys, helping "to identify the right drug for the right patient at the right time, avoiding the prescription of costly and ineffective drugs and preventing potentially harmful side effects."
Before long, precision medicines are expected to move from lastditch options to so-called first-line treatments. Already, patients who have few good chemotherapy choices can be tested for gene mutations for which current drugs may block a gene's expression. Someday soon, says Dr. Scoppetuolo, a drug may be used before the cancer ever surfaces.
The approved precision medicine drugs have come on the scene in the last five years. The next five may just bring a small revolution. Says the doctor: "I really feel that precision medicine will supplant chemotherapy as we now know it."
The Power of Precision Medicine
A report from the Personalized Medicine Coalition (PMC) says precision medicine can make patients healthier while lowering health care costs. It documents a 62 percent increase since 2012 in the number of precision medicines on the market and reports benefits that include:
Shifting the emphasis in medicine from reaction to prevention.
Directing targeted therapy and reducing trial-anderror prescribing.
Reducing adverse drug reactions.
Revealing additional targeted uses for medicines and drug candidates.
Increasing patient adherence to treatment.
Reducing high-risk invasive testing procedures.
Helping control the overall cost of health care.
The report also states that unclear regulatory guidelines and ongoing challenges related to reimbursement and clinical adoption continue to make it difficult for health care systems around the world to reap the benefits of precision medicine. Still, "precision medicine offers an unprecedented opportunity to deliver medical care that is more efficient and effective," says PMC President Edward Abrahams, Ph.D.
To learn more about the Melanoma Center or speak with our nurse navigator, please call 973.322.2929 or visit barnabashealth.org/sbmccancer.