Now 'On Board'
Saint Barnabas Medical Center welcomes five talented, accomplished new trustees.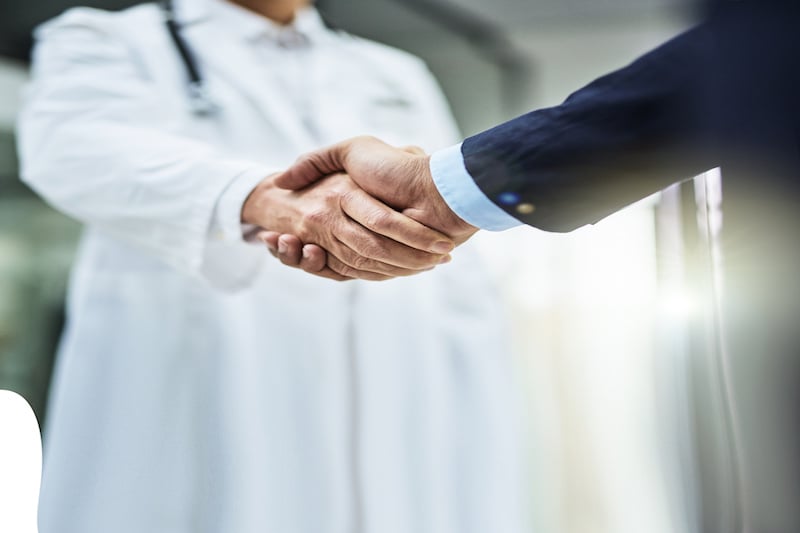 FIVE AREA RESIDENTS—ROBERT D. MARCUS, EVAN Ratner and Alison Grann, M.D., of Short Hills, Ryan Schinman of West Orange and Gregg Gottsegen of Livingston—were recently named to the Board of Trustees at Saint Barnabas Medical Center, an RWJBarnabas Health flagship facility. "Our newest class of board members brings a wealth of experience and expertise to our Board as we continue to expand our award-winning tertiary and quaternary services throughout the region," says Richard Kogan, Board of Trustees chairman. "These trustees are joining Saint Barnabas at a very exciting time of the hospital's history," states Bruce Schonbraun, vice chairman. "With the opening of the Cooperman Family Pavilion in the fall and the continuous evolution of the healthcare landscape, their breadth of experience and knowledge will enhance our organization." Says Stephen P. Zieniewicz, FACHE, the Medical Center's president and CEO: "I welcome our newest board members and thank them for bringing their passion, talent and dedication to further Saint Barnabas Medical Center in our mission to provide compassionate care, healthcare excellence and superior service to our patients and their families."
Alison Grann, M.D., chairwoman, Department of Radiation Oncology, Saint Barnabas Medical Center. Boardcertified in radiation oncology, she joined the Medical Center from Memorial Sloan Kettering Cancer Center, where she worked in the Department of Radiation Oncology for five years. Dr. Grann completed her undergraduate degree at George Washington University in Washington, D.C., followed by her medical degree at the George Washington University School of Medicine. She completed residencies in internal medicine at Beth Israel Hospital in Boston and in radiation oncology at Memorial Sloan Kettering Cancer Center in New York City. Dr. Grann is passionate about delivering exceptional care to her patients. She is committed to performing research in the field of radiation oncology and has published and presented numerous works. Dr. Grann is the recipient of many awards and honors and has been listed as a Top Doc in New Jersey Monthly magazine for the past nine years.
Gregg Gottsegen is the president of Commercial Trailer Leasing, Inc., a family-owned and -operated trailer lessor doing business throughout the United States and Canada. He grew up in Beachwood, Ohio, and attended The Ohio State University. Gottsegen transferred to the University of Maryland, College Park, where he graduated from the School of Business. For the past 12 years, he has been a trustee on the Barnabas Health Hospice board and has chaired their annual golf outing. He is an active member at Essex County Country Club, serving on both the membership and finance committees; in addition, he is a member of St. Andrews Golf Club in Boca Raton, Florida. The Gottsegens are longtime residents of Livingston, where they raised their three children.
Robert D. Marcus, a media and telecommunications executive, spent 18 years with Time Warner Cable Inc. (TWC) most recently as chairman and chief executive officer. He led the company through its 2016 merger with Charter Communications, orchestrated the company's spinoff from Time Warner Inc. in 2009, its IPO in 2007 and its acquisition of Adelphia Communications in 2006. Marcus received a J.D. in 1990 from Columbia Law School, where he was a Harlan Fiske Stone Scholar and an editor of the Columbia Law Review. Marcus and his wife, Wendy, are generous supporters of Comfort Project 360, which helps create a supportive and healing environment for cancer and radiation oncology patients at Saint Barnabas.
Evan Ratner is a partner/portfolio manager at Chatham Asset Management. Prior to joining Chatham in 2009, he had an 18-year career at DLJ/Credit Suisse in investment banking, high yield research and distressed-assets research, serving as a managing director and head of Distressed Research. Earlier in his career, he was a financial analyst with Goldman Sachs Investment Banking Group focusing on financial institutions. Ratner earned an M.B.A. in finance from Columbia University Graduate School of Business in 1991, as well as a B.A. in economics from Columbia College in 1985. He is active in the community, serving on the board of The Bass Foundation and as co-chair of the Investment Committee for the Congregation B'nai Israel endowment.
Ryan Schinman is the founder of Mayflower Entertainment, a worldwide entertainment marketing consulting agency, which has been responsible for orchestrating some of the largest endorsement transactions between Madison Avenue and Hollywood. After he graduated from the University of Florida, he was a sports agent at Athletes & Artists, and three years later was named chief marketing officer of Worldwide Sports and Entertainment. Thereafter, he founded the consulting company Platinum Rye Entertainment, which during his tenure as chief executive officer represented more than 30 Fortune 500 companies and more than 40 advertising and public relations agencies. Schinman presently serves on the board of the Kessler Foundation.