Our Favorite Dishes This Year
Dining out this December? Of all the meals we enjoyed in 2019, we pick four can't-miss plates to sink your teeth into.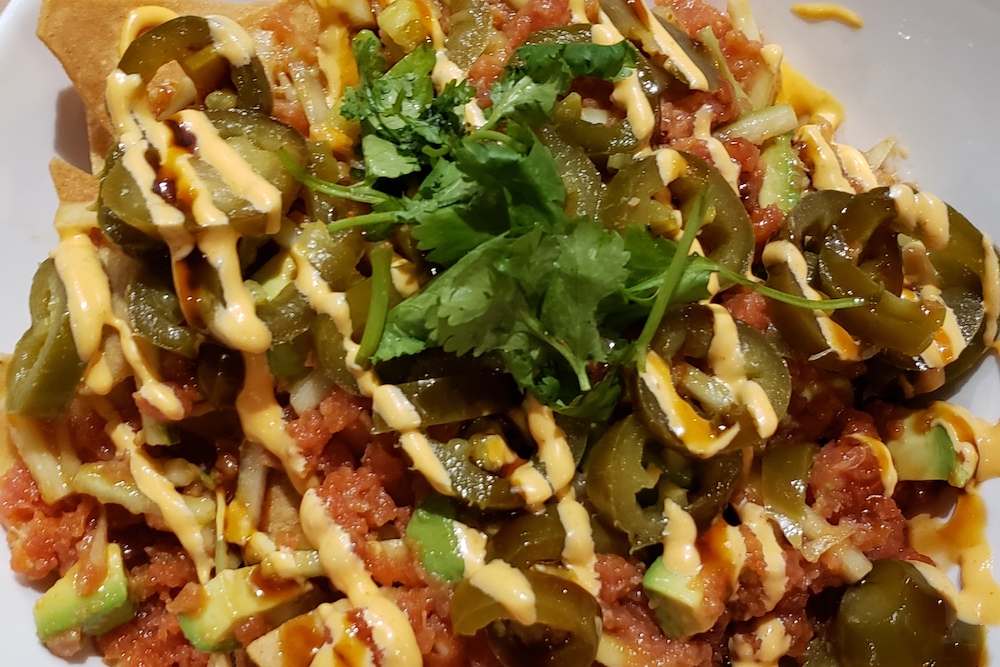 Sushi Nachos
Tommy's Tavern & Tap
When a national chain restaurant vacated its spot on Route 9 in Freehold, many locals were left without a dependable neighbor-hood eatery. Tommy's Tavern & Tap, however, moved in and quickly gained the trust and favor of the locals thanks to the staff's friendly service and an inventive—and tasty—menu. The selections run the gamut, from burgers and steaks to sushi and shrimp tacos. One of my favorite dishes is the ahi tuna nachos, a well-executed spin on typical bar nachos. Fresh spicy tuna and avocado overflow from an oversized bowl, and the chips maintain their crispiness (there's no moisture from cheese and tomatoes) until the last bite. And believe me, you'll want to eat it until the very end.
Tommy's Tavern & Tap, 3492 Rte. 9, Freehold, 732.543.0053, tommystavernandtap.com
Arctic Char
Triumph Brewing Company
Foodies stood by some five years for this Red Bank eatery to open, and it was well worth the wait. The name might convey a new craft beer joint—and Triumph certainly has its share of cool brews and cocktails—but the up-scale tavern fare is the star of the eatery next door to the Two River Theater. This summer, I feasted on a perfectly cooked and generously sized Arctic char filet. The fish was served skin side up, but I flipped it to reveal the wonderful salmon color. It had plenty of flavor on its own, but I gave it a little oomph when I forked it with some of the accompanying lentil ragout and creamed leeks.
Triumph Brewing Company, 1 Bridge Ave., Red Bank, 732.852.7300, triumphbrewing.com
Dayboat Scallops
Harpoon Willy's
Though it's not new to the Monmouth County dining scene, this longtime Manasquan fixture continues to please. It's become a Jersey Shore destination not only for its stunning river views, but also for serving extraordinary seafood all year round. I dined on the pan-roasted scallops this summer, the time to avoid shellfish, according to a general rule of thumb. Rules don't apply at Harpoon Willy's though, which served me four spot-on scallops that were full of sweet flavor and cooked to perfection. They were paired with a healthy portion of mushroom risotto, which was just as divine as the scallops.
Harpoon Willy's, 2655 River Rd., Manasquan, 732.223.8880, harpoonwillys.com
Minchet Abish
Ada's Gojjo
Restaurateur Adanech Asghedom wasn't thinking fusion when she opened Ada's Gojjo in Asbury Park earlier this year—she went for reinvention. The eatery, an expanded version of the former Ada's Latin Flavor in Long Branch, specializes in Dominican and Ethiopian cuisines, and each is kept separate on the menu. During my visit, I ordered minchet abish, a traditional Ethiopian dish made with lean ground beef and marked with a bold turmeric flavor. The dish—served with turmeric-spiked yellow split peas and a medley of potatoes, carrots and green beans—had an incredible spicy kick, which was diluted by the spongy injera flatbread. Of course, the dish is meant to be scooped by hand using the flatbread, but I committed a faux pas and used utensils to eat. No worries, as Asghedom herself visited my table and didn't give me flak for the fork.
Ada's Gojjo, 1301 Memorial Dr., Asbury Park, 732.222.5005, adagojjo.com