Out of Breath?
If physical activity literally takes your breath away, you may be suffering from a common and treatable condition called exercise-induced bronchoconstriction.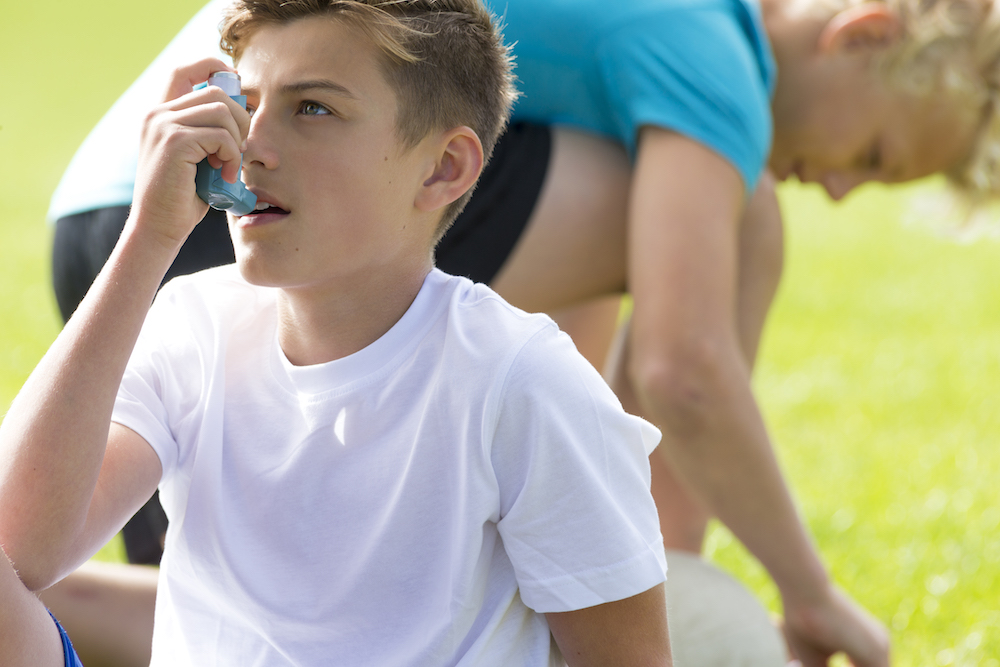 FOR NINE OUT OF 10 PEOPLE WITH ASTHMA, strenuous exercise triggers symptoms. Coughing, wheezing and tightness in the chest make continuing their activity difficult. There are other children and adults who have the same symptoms but do not have asthma at all. "These people also experience symptoms during or after exercise, but they have a completely different and unrelated condition," says Killol K. Patel, M.D., a Barnabas Health Medical Group provider specializing in pulmonology disease at Saint Barnabas Medical Center. Dr. Patel practices at Pulmonary Consultants located in Millburn, New Jersey. The medical term for this condition is "exercise-induced bronchoconstriction," or EIB. That's a mouthful until you break it down: Exercise-induced means it's related to exercise, broncho refers to airway tubes in the lungs and constriction means the airway narrows, making it harder to breathe. When you breathe faster and deeper during exercise, you typically inhale air through your mouth, which makes that air cooler and dryer than normal. For people with EIB, this air causes the airway to narrow.
In addition to coughing or chest-tightening, other less common symptoms include feeling tired and out of shape and having abdominal discomfort. Signs can begin anytime during exercise or even up to an hour after.
"It's important for adults to know that if you had asthma-like symptoms as a child but don't have asthma now, you might still have EIB," Dr. Patel says. "Those symptoms can still occur during exercise."
Among all people without asthma, about 1 in 10 have EIB. Ninety percent of people with asthma have it, and up to half of all athletes suffer from EIB, according to experts, so having EIB doesn't mean you need to avoid strenuous activities.
"That's the whole point of getting the right diagnosis and treatment," Dr. Patel says. "Once you start treatment, you will probably not need to limit or even change the types of exercise you do." For the majority of patients at Saint Barnabas Medical Center who have EIB, the only pre-treatment required is Albuterol before exercise to prevent symptoms. In addition, they learn to avoid "triggers" that can cause symptoms: extreme heat or cold, pollen, pollution, smoke, fumes, etc. Adjusting the time of day for exercise or moving indoors can help too, as can gentle warm-ups.
"Our main message is that, for the majority of both adults and children, having EIB is no reason to pull yourself out of a sport or exercise," Dr. Patel says. "Our staff has the training to identify the cause of your symptoms and help you find the treatment that works."
TAKE CHARGE OF YOUR SYMPTOMS Whether you have either asthma or "exercise-induced bronchoconstriction" (EIB), which has similar symptoms, you can take steps to make exercise and sports a safe and comfortable part of your daily routine.
"Working with your doctor, our specialists can help you identify the tools and skills you need to manage your symptoms with confidence," says Linda Hardy, respiratory therapist and certified asthma educator with Saint Barnabas Medical Center's Asthma Self- Management and Pulmonary Rehabilitation Programs.
The Asthma Self-Management Education Program was one of the first in the country to be certified through the American Association for Respiratory Care. To find out more about Saint Barnabas Medical Center's Asthma Self-Management and Pulmonary Rehabilitation Programs, call 973.322.5093.