Parenthood Redefined
Your child is diagnosed with autism— and suddenly caregiving is very different. An expert offers ways to cope.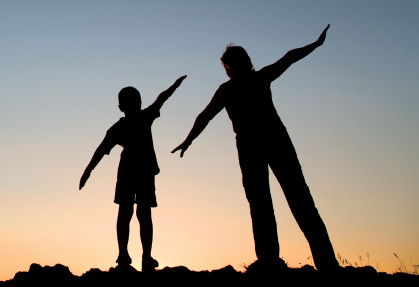 You might think a mom who had already had triplets would be ready for anything. But motherhood took on an unexpected new dimension for Barbara Moloney of Oceanport with her fourth child, Jack, now 10. He is autistic.
One in 94 New Jersey children is diagnosed with autism, a developmental disorder—often called a "spectrum" of disorders— marked by varying degrees of self-absorption, inability to communicate and repetitive or explosive behaviors. And for their parents, it's devastating news.
"A parent's initial reaction is shock and awe," says psychologist Robert Naseef, Ph.D., co-editor of Voices from the Spectrum, a book of reflections from autism professionals and families touched by the disorder—and himself the father of an autistic son. "This isn't what you were planning. Nobody volunteers for this."
Joining the ranks of "autism parents" means entering a new world in which trying to do what's right for your special-needs child is apt to become a full-time job. But don't forget that there's also another person to take care of: you.
For Moloney, already a busy parent to two girls and a boy just 15 months older than Jack, the journey began with letting go of her denial. That's because, while many autistic kids are completely nonverbal and undemonstrative, Jack at age 3— when he was diagnosed—was a bright child who was already reading to himself.
"I was thinking, no way!" Moloney recalls. "He could read! He was talking. He hugged us and did certain normal, typical things. But if he was frustrated, he would literally throw everything off the counters." In truth, Jack was prone to tantrums and had severe sleep issues and a difficult time toilet training.
"Autism parents" soon realize they must adjust many of the dreams and expectations they had for their family—and for themselves. "I expected that all of our children would go to the same school, but that dream is gone," says Moloney. "My daughters are about to start softball and my older son plays basketball. Jack wants to play hockey, but we're afraid to let him, because when we tried him out for baseball he'd pull his pants down when kids told him to. He does play with the children on our block, but when he has a meltdown we have to bring him into the house to calm him. He has to win all the time."
Moloney says she has grown used to the stares and comments prompted by Jack's public outbursts. "But I do wish people would have a little more compassion and understand that for kids like Jack it can be difficult to keep still," she says. "He looks and talks like a typical child. Then he'll have a tantrum and people are like, 'Lady, what's wrong with you?' Some days I feel like saying, 'I'm doing the best I can. Have mercy on us. Stop staring.'"
Moloney and her husband haven't found babysitters they can trust to deal with Jack's behavior, and family can't help much either. She has four sisters, but they all live in Pennsylvania. Once a year one of them will visit and give the couple an evening off—annually they devote this one precious evening to a fundraising dinner at Jack's school.
Fortunately, Moloney found new perspective one day on the shelves at a Barnes & Noble store. "I came across Ellen Notbohm's book Ten Things Every Child With Autism Wishes You Knew. As I read it, I began to understand that I was not alone, that other parents had challenges similar to ours."
Jack's autism has obliged his mom to put on hold her hopes of returning to her career as a registered nurse. "I had a grand plan, but I realized it would be too much for me to work and also stay on top of everything at home," she says. "Right now, this is my job. I want so much to go back and have some normalcy and something of my own—but not yet. And that's O.K., for now."
For 'autism parents,' 6 ways to cope
"When you have a child with autism, it's impossible not to wonder what might have been and to compare your child to your friends' kids," says psychologist Robert Naseef, Ph.D., author of a book on the disorder and the father of an autistic son. You're facing a tough road, and there are no easy short cuts. But he suggests these coping strategies:
1. Be honest.
"It doesn't help to pretend to be positive all the time when underneath you're lonely, afraid, sad—or mad," says Dr. Naseef. "It's good for you to admit how you really feel. You can grieve. You can complain. You can mourn." Expressing those feelings may actually help you make the best of a difficult situation, he says. "Our life force is resilient, but the longing for the healthy child or a typical existence may endure. You have to learn to live with that yearning, but you don't have to lie to yourself about how hard that can be."
2. Find fun.
"In the struggle to advocate for our children, we can lose sight of our own needs as individuals and as couples," says Dr. Naseef. "Hard as it may sound at first, think about taking care of yourself and making sure there's some enjoyment in your life." Have a date night with your spouse, for instance, or simply take time to read the newspaper or a good book. "It doesn't make the sorrow go away," he says, "but it surrounds it with a cushion of good feelings and makes it easier to manage."
3. Reach out.
It's important to break the isolation, says the psychologist. "Be as active as you're comfortable being in the community—and in the autism community in particular," he advises. Join support groups, share experiences, work with committees—and extend your hand to newbies. Even though it's "about" autism, such activity "provides more chances for interaction with others and thus, ironically, helps parents feel more 'normal,'" says Dr. Naseef.
4. Open up.
Though it may be difficult, Dr. Naseef recommends being open with friends and family about your child's condition and what it means. "Often there's an element of shame or embarrassment, but when you're 'out' with it you get more support," he says. "I think that's the silver lining." You might face difficult moments in public when strangers are puzzled by your child's behavior—probably at a time when your child needs your full attention. One idea: Have cards printed up that you can hand out to give people a quick explanation of your child's autism. (Examples can be found online.)
5. Study up.
Get on the Internet, get to the library and get in touch with officials who know what services are available for kids with autism. Knowledge is power. "When parents are able to speak up and advocate for their child effectively, they're strengthened by the feeling of being productive— and they also get more support from others," says Dr. Naseef.
6. Ask for help.
"Sometimes turning to a social worker, a psychologist or a psychiatrist can be helpful in understanding the needs of your children, your marriage and yourself," the psychologist notes. You may worry that this is selfish, but you'll be better able to help your autistic child by remaining emotionally whole yourself. Says Dr. Naseef: "Your special family is worth it!
When the school bus stops coming
In the next 15 years, an estimated 500,000 autistic children will graduate from U.S. school systems in the U.S.—into a world of uncertainty. "New Jersey invests millions of dollars educating children with autism," says Bridget A. Taylor, Psy.D., Cofounder and Executive Director of Alpine Learning Group, a school for autistic students in Paramus. "But when individuals with autism turn 21, parents are left to navigate a confusing maze of bureaucracy to secure what few funds are available, and they find there are few programs that specialize in autism.
Fortunately, here in Monmouth County, New Horizons in Autism in Neptune (732.918.0850, nhautism.org) offers both group homes and vocational services for adults with autism. Elsewhere in northern New Jersey, Ridgewood's Alpine Learning Group's Adult Learning Center (alpinelearninggroup.org) provides instruction in self-care, recreation and leisure skills and helps place young autistic adults in appropriate jobs. Also giving autistic adults both life skills and employment training are Quest Autism Programs in Wyckoff (questnj.org) and the Allegro School Employment and Training Center in Cedar Knolls (allegro schools.org). Advises Dr. Taylor: "As soon as a child is diagnosed, families of children with autism should register with the Division of Developmental Disabilities at nj.gov.humanservices/ddd/home/. The state needs to be kept aware of the growing number of individuals with autism who will need adult services."
Call for help
Now parents of autistic children can turn to other mothers of special needs kids who are trained as peer counselors for support and advice, along with referrals. "Mom 2 Mom" is a 24-hour peer support helpline program that was recently launched by the University of Medicine and Dentistry of New Jersey. M2M clinicians will also be on the helpline to do telephone mental-health assessments. Call 877.914.MOM 2 or visit mom2mom.us.com to chat live.
Related Read: Stress Busters