Party smart
With these practical tips, make '18 the year of your best-ever backyard bash!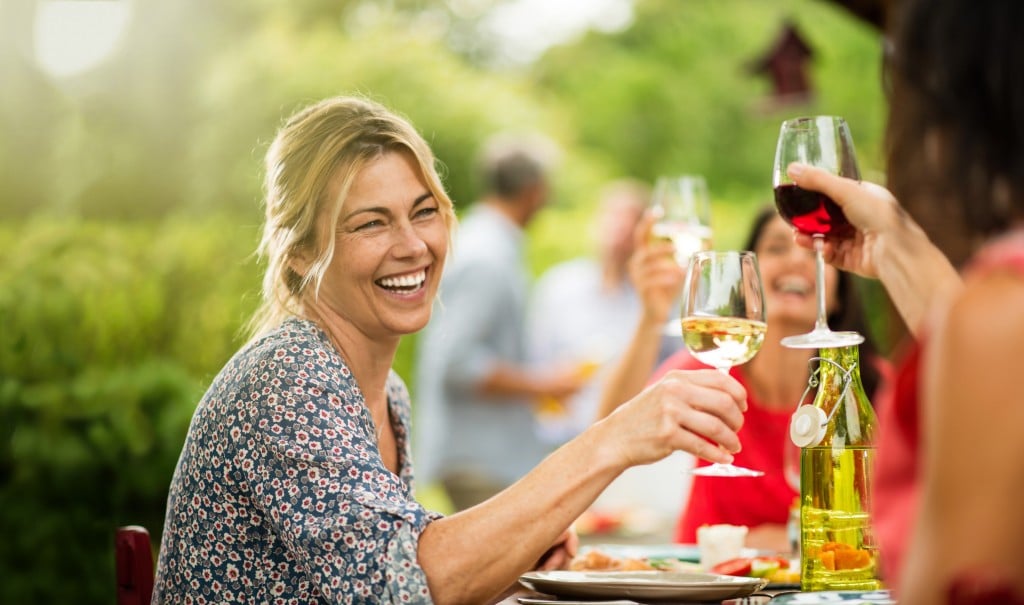 WHETHER YOU'RE PLANNING A FOURTH OF JULY get-together or a weekend barbecue, you've got to face it: Successful outdoor parties don't just happen; they take planning.
With that in mind, Morris/Essex Health & Life roamed the counties pumping the experts for advice on summertime hosting that delights guests—and makes it look easy. Their 18 tips follow.
In Chinese folklore, the number 18 is considered lucky because its pronunciation resembles that of the word meaning "definitely get rich." We can't promise that our smart-party counsel will bring you a pot of gold. But will it help your hospitality prosper? Definitely!
DRESS FOR COMFORT. Guys typically have an easy time choosing what to wear for an outdoor party, but women may be in danger of overthinking. Bring on the flowy outfits and bright colors! "Try pairing a wide leg floral print pant with a pastel camisole," says Shanna Truffini, manager of Willow St. Boutique in Morristown. "Top it off with coral and turquoise accessories. And if you're playing hostess, you want to be comfortable yet stylish, so stay away from anything with pointed heels— espadrilles and wedges are always your best bet!"
Save face. Ladies, don't make beauty a hassle. "Summer can be a great time to lighten up your makeup routine," says Dana Marie Skinner, owner of Andoverbased Makeup by Dana Marie (a winner in Morris/Essex Health & Life's "Best of 2017" makeup category). "Skip the foundation and try using a BB cream or just a loose powder to absorb excess oil. And if it's a particularly hot day, switch to waterproof mascara. Many companies make them in a range of colors, so you can have fun with your look!"
Think of a theme. Just enjoying guests' company is fine, but the occasion can be more special if you give it a motif. Luau? Stars and stripes? Think of something fun yet practical, perhaps an idea that you can incorporate into every facet of the event. "Popular themes during the summer are clam bakes, luaus, pool parties and pig roasts," says Lisa Wagner, owner of Kork & Barrel in Denville. "Depending upon the theme you choose, you can pick up relatively inexpensive decorations at local gift shops and party stores."
Start side dishes early. The best barbecue and picnic side dishes are those you can make ahead of time. "I like to make grain salads the day before because they hold up well overnight if you are careful to not overcook the grains," says Tricia Lindridge-Ingber of Food Company Catering & Special Events in East Hanover. "Best of all, these salads are flexible: You can use whichever grains you have at home." She recommends a wild grain and lentil salad with roasted eggplant and cherry tomatoes, smothered in a dressing made from olive oil, balsamic vinegar, mustard and maple syrup.
Keep things cool. If you keep dishes like pasta and potato salads cold as long as possible, they'll stay appetizing longer—and be more refreshing on a hot afternoon. "Use two bowls, with one that can fit comfortably into the other," advises Lindridge- Ingber. "Put your salad in the smaller bowl and keep it in the fridge until you're ready to serve. Fill the larger bowl a quarter of the way with ice and place salad on top to keep it cold." You might need to drain the water and add in new ice if it's a particularly hot day.
Pick powerful petals. Everyone loves a colorful floral centerpiece, but "no cut flowers will survive in heat for too long," says Tony Andrade, co-owner of Sunnyside Florist in Dover. He recommends floral arrangements of heat-resistant flowers such as those of the tropical variety. "Protea, ginger, birds of paradise and anthurium are all great options," he says. "They're used to the heat and can withstand it. Plus, they take in a lot of water so they won't wilt as fast."
Brief the guests. It's a drag to show up for an event unprepared, so spare your partygoers that feeling. "The details matter," says Allison Sargent, owner of an eponymous event-planning company in Montclair, "so provide as much information as possible in the invitation." Let guests know of any party activities, including whether you'll be outside, around the pool or on the grass, so they know what clothes and shoes to wear, Sargent says. Also mention if you'll be providing towels, sunscreen and big spray.
Think natural. Insect repellent containing DEET is fine for your next jungle hike, but for an outdoor bash— near the food—you may wish to consider natural alternatives. Lemon verbena is an excellent substitute for chemical-laden bug spray, and it can be purchased at nurseries like Morris County Farms in Denville or Cedar Grove Garden Center in Cedar Grove. Have your guests rub a few of the leaves on their skin instead of using spray.
9. MAKE SURE FLOWERS FIT THE MOOD.
If your event is a traditional one—a garden party or an afternoon tea, for instance—tropical flowers may not feel right. In that case, consider using daisies, sunflowers and carnations. "Sunflowers and daisies are great at retaining water and will last longer in hot temperatures," says Tony Andrade, co-owner of Sunnyside Florist in Dover. "Carnations are another hardy flower and an inexpensive option. They have the look of the popular peony when bunched together, but you'll save money and get more use out of carnations."
10. LIGHT THE WAY.
Because parties can continue when the sun goes down, your outdoor space needs ample and safe lighting. A portable fire pit provides light and warmth, and it's perfect for making s'mores. Another option is battery-operated string lights, which Wagner at Kork & Barrel, says are easy to hang and come in a variety of colors and shapes. "You can also fill mason jars with small strands of string lights or strategically place flameless candles around the party area to create a nice ambiance," she says, adding that they are safer than wax candles and help you to avoid a drippy mess.
11. Let your guests do DJ duty. Want to add some vintage charm to your party? Pick up a stack of inexpensive vinyls from a local record store (Flipside Records in Pompton Lakes or Giovine Music in Nutley, for example) and set them up— along with a portable record player—for everyone to browse through and enjoy.
12. Book rentals in advance. When it comes to renting tables and tents, beat the summer rush and book as far in advance as possible. Says Sean Scheidle of Valley Tent Rental (which serves Morris and Essex counties): "I recommend reserving your rentals at least a month in advance. Most rental places will be 100 percent booked some weeks out in the summer."
13. Please with a freeze. Who doesn't love a slushy? If you're planning a party, reunion or cookout where both adults and kids will be in attendance, you can't go wrong with a frozen drink machine. "Frozen drinks are a favorite because they can be made with or without alcohol, then enjoyed by all," says Scheidle, whose company rents the machines. "You can choose from many different flavors such as piña colada and strawberry daiquiri, and these machines are less messy than something like a chocolate fountain."
14. Be imaginative with photos. Take lighting into consideration when photographing your big event outdoors. Local photographer Gina Palermo recommends attaching a lens flare to your DSLR camera and using the bright sun to your advantage. "I also like to reflect natural light off a prism for a rainbow effect," she says. "It adds a unique touch."
15. PLAY THAT FUNKY MUSIC.
Save your personal playlists for the gym or commute and put together a string of classic tracks that your guests can sing and dance to. (Hint: The oldies are "goodies" for a reason!) "When my band does outdoor gigs, we play songs that are familiar to the crowd," says Carolyn Greenberg of Mary's Basement (pictured), a local rock band. "We do a lot of favorites from the '60s and '70s, like 'Sweet Caroline' and 'Rock This Town.' And you can never go wrong with a little Bruce Springsteen!"
16. Prepare to be surprised. Hosts and hostesses aren't the only ones who can be creative—guests can too! Maria Scott at Regalo Gifts in Morris Plains tells partygoers that bringing a thoughtful hostess gift is sometimes more fun than the traditional dessert or bottle of wine. "I've been loving the "Grow Your Own" cocktail kits from Urban Agriculture Co.; they make for a unique gift," she says. "The 'mint mojito' box comes with a grow-your-own mint set, a muddler and a mason jar cocktail shaker, so your hostess can make her own drinks from scratch!" So don't be thrown if a guest's clever gift helps make your occasion even more fun. Remember: It's also nice to receive.
17. Choose cocktails that hydrate. Alcohol can cause dehydration, but that doesn't mean you and your guests can't enjoy a drink on a summer day. If you decide to serve alcoholic beverages at your outdoor soirée, opt for a cocktail that's tasty and hydrating (water and juices from fruits and vegetables will do the trick). Colleen Hobaugh, manager at Thatcher McGhee's in Pompton Lakes, recommends a batch of "Pineapple Sangria." It's made with 2 cups of cut pineapple, 1 orange (sliced), 1 mango (sliced), 1 lime (sliced), 2 cups of pineapple juice, ½ cup of coconut rum, 1 bottle of white wine and 2 cups of Sprite. Combine ingredients in a large drink dispenser with ice, mix and leave out on the table for guests to enjoy.
18. Be a smart cookie about dessert.
Pre-order a platter of themed sugar cookies to lay out for dessert—they're an interesting talking point and a treat to eat! Splurge Bakery in Millburn offers custom cookies for many occasions: For your high school graduate's party, why not custom order cookies with the logo of his or her future college? The cookies can come pre-wrapped in plastic bags, so they make for mess-free and delicious party favors as well!