Party Whiz
For this high-energy volunteer organizer, fundraising's in fashion.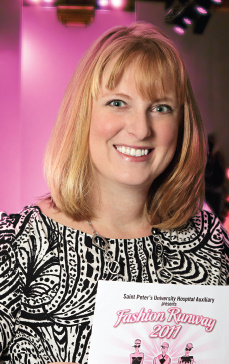 Jennifer Marotto throws a great bash. Her annual tour de force is the Saint Peter's auxiliary fashion show, which will be held this March 24 at the Pines Manor in Edison. Since she joined the fashion show's staff of volunteers in 2009, the event has raised about $120,000 to support the Breast center at Saint Peter's University hospital and its treatment of breast cancer.
"Many people have said I should quit my job and start a party planning business," says Marotto with a laugh. But the pediatric physical therapist says one big party a year is enough. Besides, it's the cause that really counts, not the festivities.
Marotto, 31 and single, lives in Spotswood. Though she works at another hospital, her mother, Donna Marotto, is a nurse in the Saint Peter's radiation oncology department. when Donna's boss, Scarlett Szymanski, was organizing a different benefit in 2008, both Donna and Jennifer pitched in to help. and when the fashion show began in 2009, mother and daughter again stepped up, soliciting donations from the community, putting gift baskets together and doing whatever needed to be done.
"I guess they were pleased with what I did," she says, "because they asked me to chair the event in 2010." She's directed the show since, and its sponsors have been more than pleased. "Jennifer has an amazing way of engaging people," says Emily Lyssikatos, executive director of the Saint Peter's foundation. "They are drawn to her enthusiasm and passion and want to help her." Marotto begins planning the next show almost immediately after each show closes.
She starts by choosing a theme—the theme for this year's event, which will feature evening wear, is "dress to impress." She then tracks down donors; Lord & Taylor will donate the clothing this year, and others provide decorations, gifts for the goody bags and other party necessities. "I put some time into the fashion show almost every day, and after the first of the year it becomes about six to seven hours a day," she says—and that's on top of her day job.
"My close friends call me crazy, but I really enjoy the process. I have a good time getting the community involved, I like planning a party and I believe in the cause. And as crazy as it gets in the end, I appreciate walking around the room and hearing people comment about the little details they like—or hearing them offer to help out at the next show." Marotto also likes the fact that the show continues to grow—from about 200 attendees the first year to more than 500 in 2011, thanks in no small part to her efforts. So, despite the workload, she is in no hurry to step aside. "I am very protective of this show, and i don't want to give it up," she says. "i feel like it's my baby."