Pasha Mezza Grill
Turkish eatery is Lake Hiawatha's latest dining destination.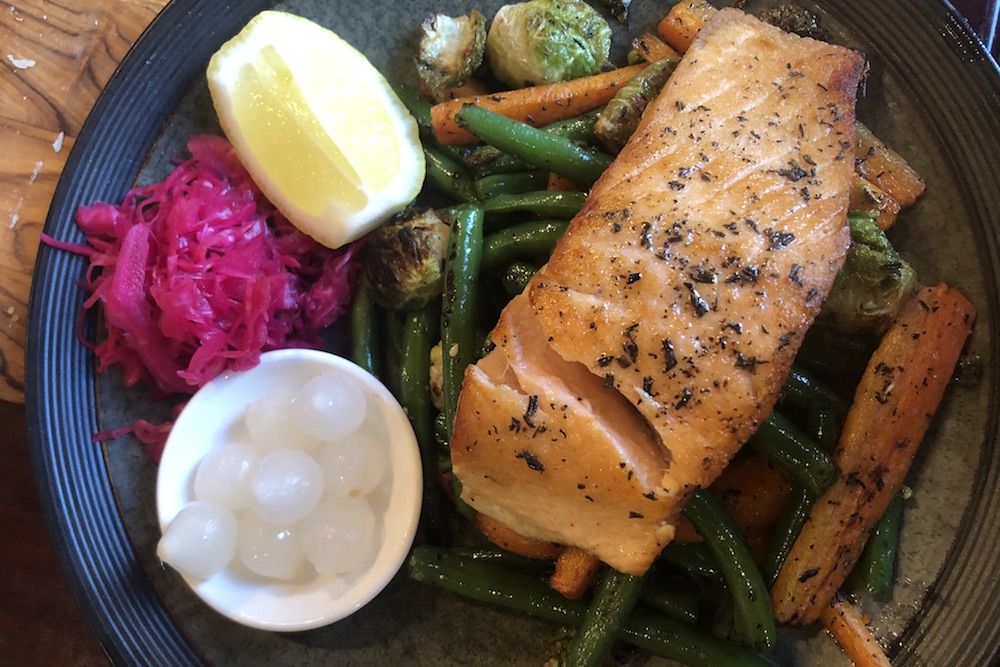 I admittedly get googly-eyed when choosing a dining option in our area. We know Montclair, Morristown and Newark are foodie havens, but my choice is Lake Hiawatha. This community within Parsippany, along its North Beverwyck corridor, has a wonderful mashup of diverse restaurants, from classic pizzerias and Mexican joints to exotic Afghani and Thai eateries. The only problem (I use that word loosely) is selecting the right one, but with the recent opening of Pasha Mezze Grill, the task became a bit easier.
You can't go wrong at Pasha, which offers traditional Turkish fare and flavors of the Mediterranean. The site of a former Italian bistro, the expansive dining area is bright and airy thanks to the bevy of windows lining the corner storefront. The friendly staff on a busy weekend added to the already inviting atmosphere, while the menu stirred excitement. My friend and I noticed a lengthy brunch menu with Mediterranean-inspired omelets (think Feta cheese), small plates, salads and sandwiches, but dinner was on our minds this time. Turkish is one of my favorite cuisines, so naturally I wanted all the appetizers: Baba ganoush, Tabouleh, falafel, sautéed liver. But after a playful scolding from my friend, I ordered the perfect trio for our table: an Instagram-worthy cheese board was adorned with assorted cheeses—our favorites being the creamy honey-topped Mascarpone and a sharp Manchego—walnuts and dried figs and apricots. This app paired nicely with our second starter, a bowl of tzatziki and what seemed like a bottomless basket of warm doughy pita. The yogurt dip was full of fresh cucumber and mint flavor; it was much more refreshing than most tzatzikis I've had elsewhere. We could have stopped there (particularly because our server kept delivering pita when our bread basket emptied), but I had to try the grilled octopus. As seen on Pasha's social media, the single cephalopod arm had perfect char marks and rested on a bed of smoky baba ganoush. I warned my friend, who isn't much of a seafood eater, that even slightly overcooked octopus could be rubbery or chewy, but our dish was as tender as it gets.
Having thoroughly enjoyed our appetizers, we had high hopes for our entrées. The menu boasted a large selection of marinated grilled chicken and steak dishes, and although the sweet chili beef skewer was calling my name, I had the grilled lamb skewer (and no regrets). The cubes of lamb rib were a perfect medium temperature with a tenderness that matched the octopus appetizer. A side of rice and garden salad were the ideal complements to the distinct taste of the meat.
My friend, who again claimed she rarely orders fish, had the pan-seared salmon. Perhaps Pasha brought out the seafood lover in her because she devoured the flaky fish even on a pita-filled belly. The menu promised charred broccoli as a side (and the take-out menu lists couscous), but the salmon was served with a medley of green beans, carrots and Brussels sprouts. The veggies were good, but not what we expected.
Tummies filled to the brim (did I mention all the pita?), we spilt a small order of baklava for dessert, which in my opinion is the best way to cap a delicious Mediterranean meal from Pasha Mezze Grill—a definite dining destination in a great foodie town.
—Darius Amos
Pasha Mezze Grill, 94 N. Beverwyck Rd., Lake Hiawatha, 973.265.4982, pashamezzegrill.com