Pasta-Bilites
With lots of healthy vegetables, nuts and beans, these vegan dishes pack quite a nutritional punch. Plus, they have so much flavor, you won't be missing meat!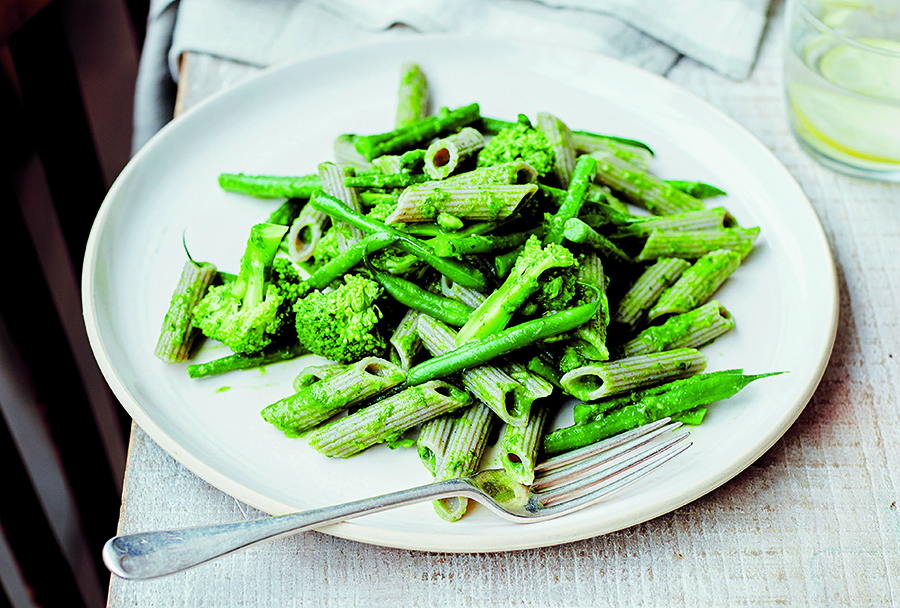 Oil Free Pistou with Pasta
Yields: 4 servings
Ingredients
14 oz. short pasta
14 oz. green beans, cut in half or into thirds
1 head of broccoli, cut into small florets
2 large bunches of basil (each 3 oz.), roughly chopped
¼ of an avocado
4 to 6 garlic cloves, chopped
juice of 1 lemon
pine nut "parmesan" (optional, see recipe below)
Pine Nut "Parmesian"
¼ cup pine nuts
½ tsp. garlic powder (optional)
3 Tbs. nutritional yeast
Directions
Cook the pasta according to the package instructions in plenty of boiling water. Bring another pot of water to a boil and add the green beans. Cook for 7 to 8 minutes with the lid on, and after 3 to 4 minutes, add the broccoli, then drain and let sit.
Meanwhile, make the pistou. Put the basil, avocado, garlic, lemon juice and 1 tsp. salt in a blender and add about ¼ cup of water. Process until smooth. Add more water a teaspoon at a time if it needs loosening.
Drain the pasta, reserving 3 Tbs. of the cooking water. Add the vegetables, pistou and reserved cooking water (it will make your pasta creamier) to the pasta and mix so the pasta is evenly coated. Serve immediately.
To Make Parmesian
In a food processor, combine the pine nuts, garlic powder (if using) and yeast with ½ tsp. of sea salt; pulse until a grated Parmesan-like consistency is formed.