Patio Magic
In Pompton Plains, a designer helped turn an uninspiring backyard with a deck into a visually stunning entertainment haven.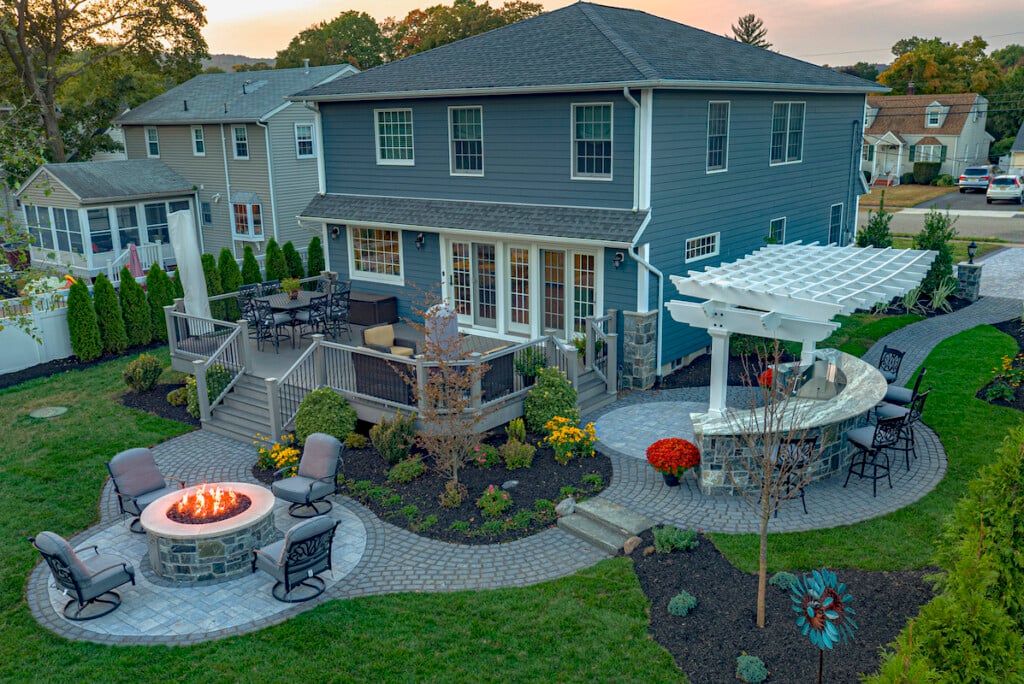 Design by Rich Andreu, Exclusive Stoneworks
Photography by Kevin McGrath Photography
Text by Haley Longman
Pompton Plains residents had a backyard that was waiting for its miracle: a deck, a plain block of grass and a broken-up asphalt driveway. So, shortly after they finished a renovation on the house's interior, they set out to make the outside look just as good and as modern—and Rich Andreu of Exclusive Stoneworks in Lyndhurst was retained for the job.
"Originally, the client told me he wanted us to do a new driveway, patio and a walkway to the back, but we also added in some entertaining areas like an outdoor kitchen and a firepit," Andreu tells Morris/Essex Health & Life. The design really maximizes the blank space they started with, and makes entertaining a lot more feasible for the family of three.
The goal, says Andreu, was to keep the grill area close to the existing deck so that it was convenient to take food to and from the kitchen. The curved structure is visually appealing, but the designer admits it was a bit problematic functionally. "It was difficult because we wanted a pergola on top, but the contractor, Joe Edwards of Elite Concepts, came up with a creative way to make it work." The team also installed canister lights in the pergola that have uplighting and downlighting onto the countertops, a special nighttime treat.
For design inspiration, the Exclusive Stoneworks team looked to the home itself. "We tried to pull the blue out of the house with the Cambridge three-piece ledgestone in Montauk Blue," he says. Meanwhile, the coal-hued cobblestone on the walkway contrasts with the gray stone on the house.
The "separation of patterns" with varying textures is what Andreu considers distinctive about this project. "The border on the firepit ties into the walkways, the kitchen and the front driveway," he says. "I like to mix and match."
The project took just about a month to complete, and in that short time, the patio and the rest of the property were transformed from plain to just plain perfect.