Peace of Mind
CANCER PATIENTS AT MMC BENEFIT FROM THE HEALING POWER OF REIKI THERAPY.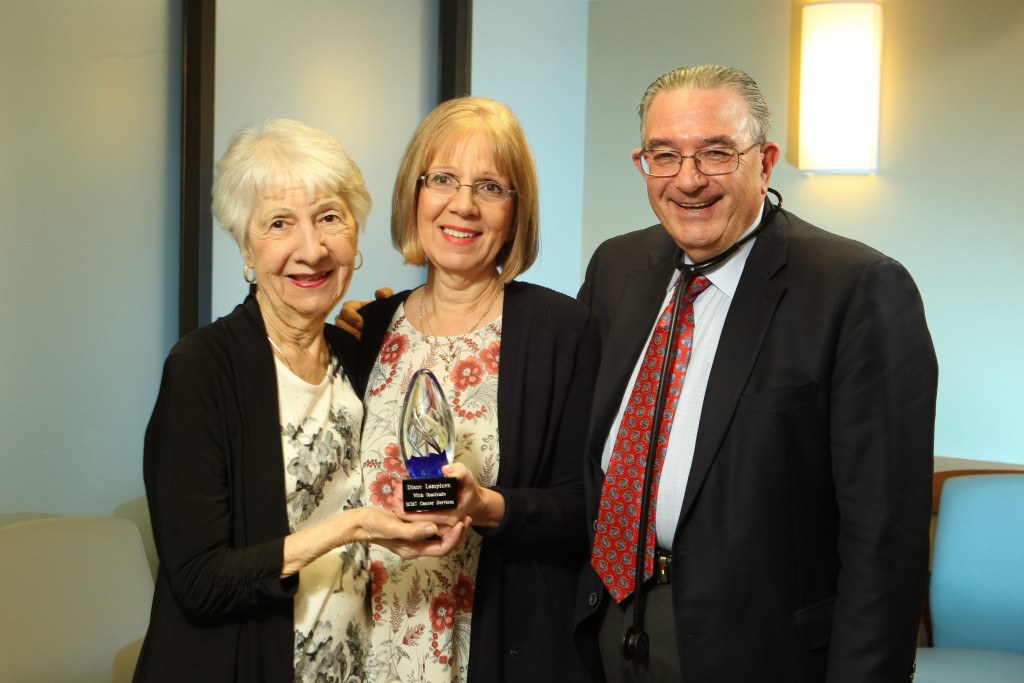 VOLUNTEERS AT MONMOUTH MEDICAL Center's Leon Hess Cancer Center are providing patients the opportunity to experience Reiki, a gentle therapy for stress reduction and relaxation that promotes your own natural healing.
Ocean Township resident Diane Lampinen, a Reiki master teacher and coordinator of The Reiki Program at Monmouth Medical Center, was recently honored by the hospital's Leon Hess Cancer Center for her volunteer service that brings Reiki therapy, free of charge, to patients receiving cancer treatment.
"The Japanese word 'Reiki' translates as universal energy," says Lampinen, who notes Reiki therapy promotes stress reduction and relaxation, which brings this life energy into balance. She explains that Reiki treats the whole person on physical, emotional and intellectual levels.
"It is a gentle therapy developed in Japan in the early 20th century that is complementary to all other forms of healing or medicine," she says.
As the owner and founder of Bella Luce Reiki, Lampinen specializes in Reiki therapy, Reiki certification training and Reiki shares. Since April 2015, she has been a volunteer Reiki practitioner with Mary's Place by the Sea in Ocean Grove. Mary's Place provides a place for women with cancer to heal: body, mind and soul. "The process of establishing The Reiki Program began in August of 2015, and the program officially started the following March, when patients received the first Reiki sessions at the hospital's outpatient infusion center," Lampinen says. "Reiki therapy has been well received by infusion patients and the Cancer Center's medical staff." She notes that it has been very rewarding for her to be part of a program to integrate Reiki therapy in a medical setting.
Medical Oncologist David Sharon, M.D., the medical director of the Leon Hess Cancer Center at Monmouth, notes that studies have shown that Reiki can help patients tolerate chemotherapy better. Diane's mother, Helen Bertuzzi, who is undergoing treatment for cancer, is a longtime patient of Dr. Sharon.
"Reiki promotes relaxation and reduces stress and treats the whole person— physically, emotionally and mentally," says Dr. Sharon, who notes that the Leon Hess Cancer Center is dedicated to meeting the medical, physical and psychological needs of patients before, during and after treatment.
"My personal experience with Reiki has been great," Bertuzzi says. "It makes me feel relaxed and peaceful, and puts me in a good frame of mind."
Lampinen says that each Reiki session lasts about 20 minutes. The Reiki practitioner holds his or her hands slightly above your body and follows a series of hand positions from your head to your feet. The patients may feel relaxed and peaceful during and after a Reiki treatment, she says, adding that it is each patient's choice whether or not to receive Reiki therapy.
"Reiki therapy has many benefits; it may help improve mood, sleep and digestion and has no known side effects or contraindications," says Lampinen.
She notes that The Reiki Program at Monmouth Medical Center is seeking additional Reiki practitioners to help expand to other areas of the hospital. The intention of The Reiki Program is to provide Reiki therapy to patients at all levels of care. Volunteers must be certified Level 2 or higher and possess a desire to provide Reiki therapy in a health-care environment.
"The benefits of volunteering are many; which include the opportunity to gain valuable experience providing Reiki therapy in a medical setting," she says. "Service to others can really make a difference in your own life; and Reiki therapy is beneficial for both the recipient and the provider."
TO LEARN MORE ABOUT VOLUNTEER OPPORTUNITIES WITH MONMOUTH'S REIKI PROGRAM OR ABOUT REIKI THERAPY, CONTACT JOAN HOGAN AT THE CANCER SUPPORT COMMUNITY AT MONMOUTH MEDICAL CENTER AT 732.923.6090 OR DIANE LAMPINEN AT THEREIKIPROGRAM@GMAIL.COM.
TO SHARE THIS ARTICLE WITH A FRIEND OR TO RECOMMEND IT ON YOUR FACEBOOK PAGE, VISIT MONMOUTHHEALTHANDLIFE.COM.