Pod Squad
Foodies aplenty have declared their love for edamame, an increasingly popular bean that packs a hefty nutritional punch.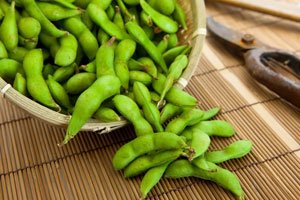 Foodies aplenty have declared their love for edamame, an increasingly popular bean that packs a hefty nutritional punch. Two things catch people off guard about edamame, a bright-green bean that's been slowly making its way from Japanese restaurants to the dinner tables of America. One is pronouncing the name—it's eh-duh-MAH-may. And the other is the young soybeans' somewhat fuzzy pod.
When edamame is served as an appetizer, you see, the classic first-timer's mistake is to eat the pod whole— not realizing that those "shells" are largely inedible and that most people just pop the beans right into their mouth. But however you eat it, edamame is a nutritional power- house. It contains all nine essential amino acids, as well as fiber, omega-3 fatty acids, calcium, iron, zinc and vitamin B.
The Chinese made tofu out of edamame more than 2,000 years ago; the Japanese later began eating it out of the pod. But it's only since the 1990s that edamame has been a common sight in the frozen-food sections of U.S. supermarkets (sold both with and without the pods). Now it's prized by vegetarians and vegans as a meat-free protein source (a whopping 17 grams per cup), and its crisp texture and sweet, almost-nutty flavor make it a happy addition to soups, salads and stir-fries. Prefer simply to snack? To enjoy edamame à la your favorite Japanese restaurant, boil in salted water until tender and pat dry. Just be warned that once you pop, you may not be able to stop.'
Fried rice with scallions, edamame and tofu
Serves 4
1 tablespoon plus 1 teaspoon canola oil
3⁄4 cup seeded and finely diced red bell pepper
2 large cloves garlic, minced (about 2 teaspoons)
4 scallions (white and green parts), thinly sliced
1 tablespoon peeled and minced fresh ginger
4 cups cooked brown rice
3⁄4 cup frozen shelled edamame, cooked according to package directions and drained
1⁄2 cup fresh or frozen (thawed) corn kernels
6 ounces firm tofu, cut into 1⁄4-inch cubes
2 large eggs, beaten
3 tablespoons low- sodium soy sauce
Heat 1 tablespoon of the oil in a wok or large skillet over high heat until very hot but not smoking. Add the garlic, scallions and ginger and cook, stirring, until softened and aromatic, 1 to 2 minutes. Add the rice, red pepper, edamame, corn and tofu and cook, stirring, until heated through, about 5 minutes.
Make a 3-inch well in the center of the rice mix- ture. Add the remaining 1 teaspoon oil, then add the eggs and cook until nearly fully scrambled. Stir the eggs into the rice mixture, then add the soy sauce and incorporate thoroughly. Serve hot.
Nutritional facts per serving
400 calories
12.5 grams fat
7 grams fiber
56 grams carbohydrates
465 milligrams sodium
106 milligrams cholesterol
16.5 grams protein