Proud Partnership
MMC, Monmouth University provide healthcare education at new simulation lab and learning center.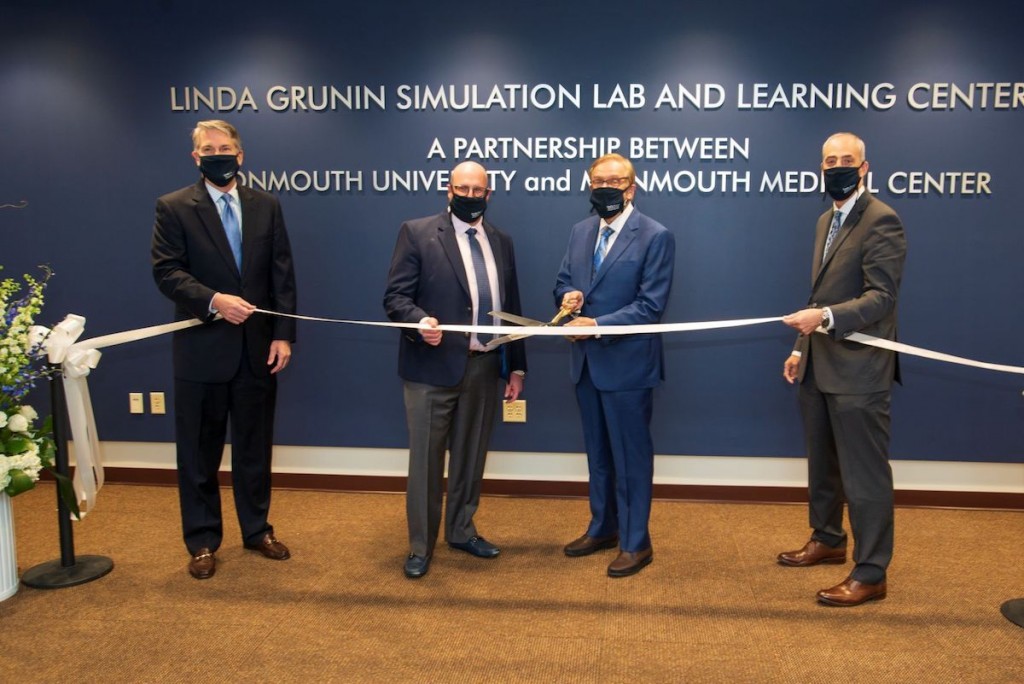 The Linda Grunin Simulation Lab and Learning Center, a joint partnership between Monmouth University and Monmouth Medical Center that provides simulation-based healthcare education, was officially dedicated recently with a ribbon-cutting ceremony at the West Long Branch facility.
Providing state-of-the-art training to MMC's resident physicians and medical students, Monmouth University nursing, physician assistant, occupational therapy and students from other disciplines, The Linda Grunin Center is also a valuable resource to the community for training first responders, including local EMTs and firefighters.
In 2019, the university and hospital officially partnered in the development of the new facility at Monmouth Corporate Park in West Long Branch. Construction began in December 2019 and was completed in October. The 7,000-square-foot, state-of-the-art complex provides hands-on learning in a realistic simulation environment with high-tech mannequins and equipment. It includes four high-fidelity simulation suites with attached observation rooms for training with computerized manikins in simulated real-life settings, as well as six standardized patient exam rooms. The lab design and equipment incorporate the latest technology and best practices in simulation learning and is being used to provide simulation-based education to MMC clinicians in OB/GYN, pediatrics, medicine, surgery and intensive care.
With the combination of rapidly advancing medical, safety and quality standards, mastery of skills prior to working with patients is crucial, according to Eric Carney, president and CEO of Monmouth Medical Center and Monmouth Medical Center, Southern Campus.
"This is an exciting next step in our long history as a teaching hospital, as simulation-based medical education improves medical care by boosting medical professionals' performance, enhancing patient safety and providing interdisciplinary training," Carney says. "We look forward to our continued collaboration with Monmouth University and remain incredibly thankful to the Jay and Linda Grunin Foundation for their $3 million charitable gift that is helping to fund this innovative educational facility and program."
Joseph Jaeger, DrPH, chief academic officer at MMC, notes that simulation has long been a tenet of aeronautical and military training, yet is relatively new to medicine.
"At Monmouth Medical Center, we have been dedicated to training tomorrow's physicians since the establishment of New Jersey's first Orthopaedic Surgery Residency Program in 1945, and Monmouth this facility allows us to continue to educate our physicians in training in the most state-of-the-art environment," he says. "We are proud to be the first in the region to offer a hands-on learning in a simulation environment using high tech mannequins and scenarios."
Ann Marie Mauro, Ph.D., R.N., dean and professor at Monmouth University's Marjorie K. Unterberg School of Nursing and Health Studies, notes that effective, team-based care is essential to address the complex health needs of an increasingly diverse and aging population.
"This groundbreaking academic-practice partnership provides the unique opportunity to cultivate interprofessional teams with entry level to advanced practice members to implement high quality, safe, evidence-based care," she says. "Our vision is to establish our Monmouth University/Monmouth Medical Center partnership model as the gold standard for transdisciplinary education and collaborative practice."
"The Linda Grunin Simulation Lab and Learning Center is a terrific example of the service culture that is at the center of Monmouth University's mission," adds Monmouth University President Patrick F. Leahy. "We feel a strong obligation to partner with our host communities and we believe this facility will provide exponentially greater long-term benefits to healthcare in our region. To be truly great, we believe universities must be anchors of community enrichment and we are proud of our partnership with Monmouth Medical Center. Thanks to the Jay and Linda Grunin Foundation, our futures are inextricably linked."
Jay Grunin, co-founder and chairman of the Grunin Foundation and husband of the late Linda Grunin, says the facility will not only positively impact healthcare providers and first responders, but will also increase the health of the community and economy at the central Jersey Shore by advancing medical technology and emergency response.
"We are thrilled to support the collaboration between Monmouth Medical Center and Monmouth University to bring the Linda Grunin Sim Lab to life in Monmouth County," he says. "It's truly the future of medical training and healthcare innovation—Linda would be so proud."