Quick Trip for a New Hip
For this one-day hip replacement, you needn't pack a toothbrush.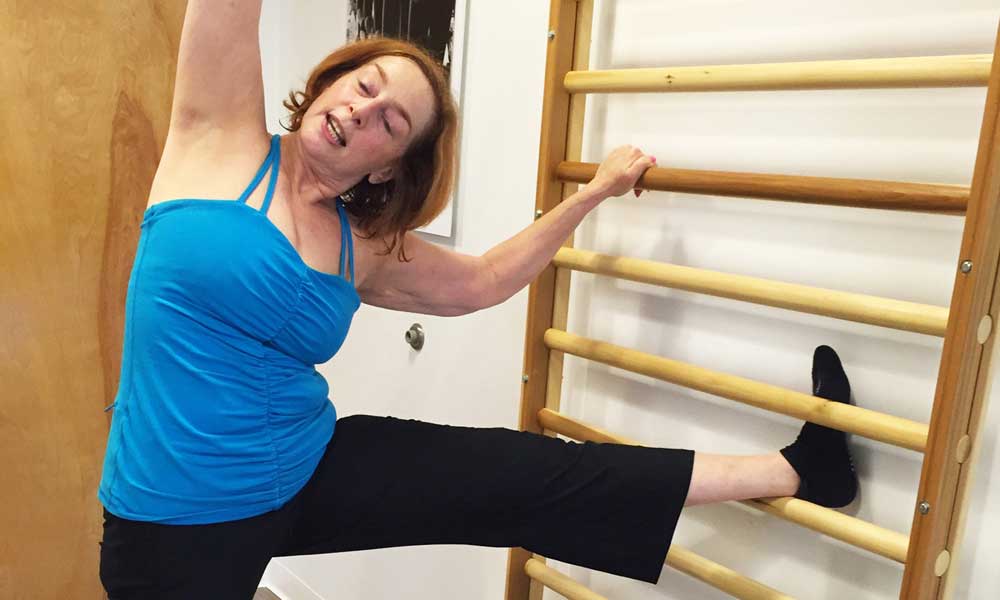 An article in a magazine alerted Wendy Kaplan-Milstein to a better way to have her hip replaced. Maybe this article can do the same for you. Like her, you may undergo this minimally invasive procedure at Saint Barnabas Medical Center and go home the same day.
Kaplan-Milstein, 61, is a psychotherapist living in Chatham with her husband, Harold, 62, a hospitalist. She first noticed hip problems while on vacation last October. "By November it was substantially worse, to the point where walking up the slightest incline was very painful," she says. "And it got progressively more painful. I was limping, and I couldn't straighten my leg. Some days it would make me cry."
The problem was diagnosed as osteoarthritis, the common degeneration of the soft tissues in the joint, which is associated with aging. Kaplan-Milstein lived with it for months, tried a cortisone injection— "the pain got worse rather than better," she says—and was about to visit an orthopedist in May when she happened to see a local magazine article on minimally invasive hip replacement. It told of a lecture to be given by Timothy J. Henderson, M.D., an orthopedic surgeon at Saint Barnabas.
"He explained exactly what he did and the training he'd had in Europe to learn this technique," she recalls. "He had pictures of people walking after surgery, but was very realistic about what recovery would be like. And he didn't talk down to the audience. He was very professional. My husband and I were so blown away by Dr. Henderson that I cancelled my other appointment."
On June 3, Kaplan-Milstein became the first patient to undergo this groundbreaking procedure at the medical center. What makes it unique is a special piece of equipment called the Athello. It looks like something you might find in the gym, but it attaches to an operating table and allows the surgeon to manipulate the hip, leg and knee so that there is no need to cut through any muscle or tendon, as is required with standard techniques.
"I only cut through skin, then push the muscle and tendons aside, without damaging them, and work through a very minimally invasive window to get to the hip," Dr. Henderson explains. "There is very little bleeding and minimal pain." Hip replacement typically puts a lot of stress on the knee joint as well, because the surgeon has to rotate the leg to the point where the foot is almost pointing backward. Not so with the Athello, which Dr. Henderson helped design in consultation with the manufacturer. It has a patented knee stabilizing system that protects the knee ligaments during external rotation. "I like to say that I don't go to the hip; the Athello makes the hip come to me," he says.
He is able to take real-time X-rays during the procedure to ensure that all the bone angles and lengths are accurate and identical to the other hip. After performing about 400 such procedures, he can now replace a hip in a little over an hour. "Wendy went home in six hours, from check-in to the drive home," he says.
From the surgeon's perspective, remarks Dr. Henderson, "once you get this under your belt, there is no going back to the standard way of hip replacement."
Mastering the technique did take some time. He assisted on 22 cases with senior surgeons in Switzerland and Italy, as well as in Texas and Colorado, before he was considered proficient enough to perform the procedure by himself in 2012, in Atlanta, where he then lived and worked. "It took me two to three hours the first time," he says. "But ever since, I've had very little reason to admit people to the hospital for hip replacement."
Kaplan-Milstein walked out of the hospital without crutches or a walker. Two days after her surgery, she was able to attend a play in which her daughter, Samantha, performed. "My husband made a video of me beforehand," she says. "I was on some pain meds, but I could sit through the whole show." Eight weeks later she was back in her strenuous exercise class.
"I can do everything," she says. "I've had fewer problems with this than I had with foot surgery I had a year ago. I would not hesitate one second to recommend Dr. Henderson."
Dr. Henderson moved to New Jersey in 2013 and has been practicing at Saint Barnabas since early 2015. Part of his mission is to educate area physicians and residents about this procedure, and he conducts frequent seminars in the community, like the one Kaplan-Milstein attended.
"People just don't know about it, but they can be off crutches in a week and back to work in two weeks," he says. "I had a police officer as a patient, and he was back to work in a month. This is a revolution in hip replacement surgery. The replacement your grandmother got, which made you afraid every time she tried to tie her shoes—that's gone."
To find out more about joint replacement procedures at Saint Barnabas Medical Center or for an upcoming seminar, please call 973.322.9908 or visit barnabashealth.org/sbmc.