Radiation Without Fear
A new technology makes cancer treatment faster, quieter and more comfortable.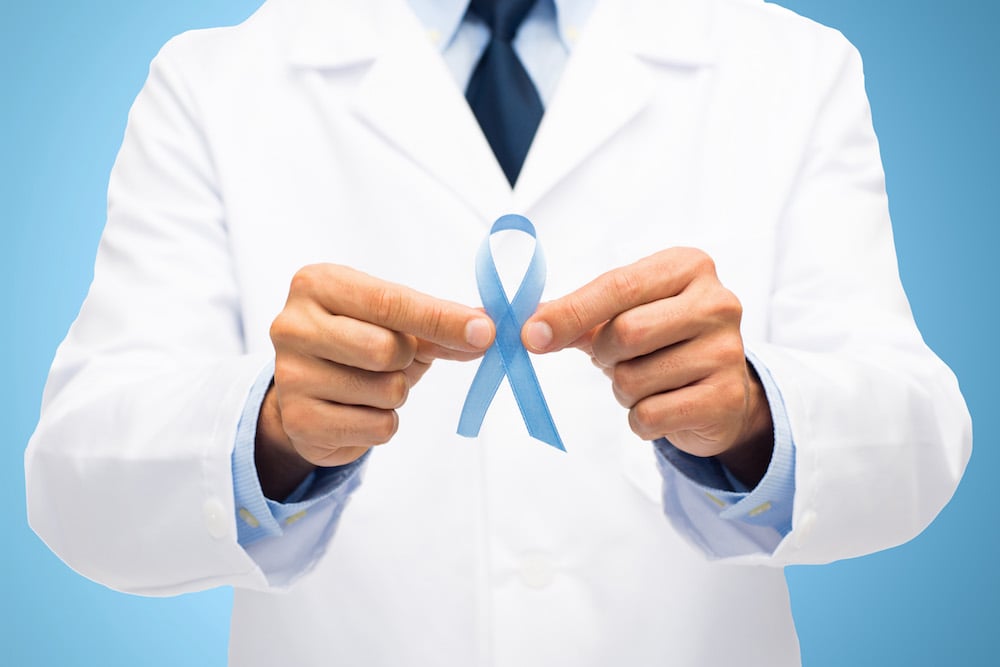 WHEN DENNIS CAREY HAD A ROUTINE COLONOSCOPY in the fall of 2018, the test came up negative—his digestive tract was normal. But his doctor did find something else. "He noticed some peculiarities with my prostate," says Carey, 67, of Livingston. The retired superior court judge who now practices as a private mediator had no symptoms of prostate disease, but he saw his urologist to follow up. A PSA test came back positive, and further tests, including a biopsy, confirmed he had prostate cancer.
Carey was referred to Alison Grann, M.D., chair of the Department of Radiation Oncology at Saint Barnabas Medical Center. She recommended hormone injections and radiation therapy to destroy the cancer cells. Carey began treatment just after Thanksgiving. He was to have therapy five days a week for nine weeks—45 treatments in all. Nothing unusual so far—he was under the standard course of care, with an excellent prognosis.
But after 30 treatments, Carey's treatment regimen did take a different course. At that point, the medical center unveiled its new, state-of-the-art radiation delivery system. It goes by the brand name Halcyon, and the department is the first in New Jersey to offer this high-tech, image-guided radiotherapy. This new technology can be used to treat a wide range of cancers, including prostate, lung, head and neck, and more.
What makes Halcyon different—and better, Dr. Grann says— is that it incorporates several features that make treatments more comfortable, offering a less intimidating experience for patients. For example, it limits the noise and vibrations that are common with most such systems, so that the machine's motions are quieter and smoother. In addition, the Halcyon system is programmed with sophisticated automation software that enables a shorter treatment time. And, to facilitate a closer connection between patient and technician during treatment, the system includes a couch-mounted camera that travels with the patient and a two-way intercom, making it easy for the technician to monitor and converse with the patient.
"As a physician, I like that the daily image-guided capability of this new treatment tool coupled with faster treatment times enhances both the quality of care I can deliver and the overall experience," Dr. Grann says. "This is a win for all."
It was certainly a win for Carey. "You lie down on a table that slides into the machine," he explains, adding that this system was quieter, with a wider and thus more comfortable table than the one he'd been treated on before. "But the big difference was that it was faster." Indeed, Dr. Grann confirms that the new system cuts what had been a 15-minute procedure down to about 10.
Halcyon was unveiled in 2017, at the annual meeting of the European Society for Radiotherapy and Oncology. It was developed by a company called Varian; the company says it worked on the project for about four and a half years, with the goal of creating what it calls "a human-centered design that would automate, streamline and simplify virtually every aspect of treatment."
Among its features are a gantry, which delivers the radiation, rotating four times faster than standard image-guided radiotherapy systems. The system is designed with a larger-than-normal "bore," the area in which the patient lies, and with integrated ambient lighting to make patients more comfortable and relaxed. The bed and gantry are powered by specially designed motors so that the machine's motions are smooth and virtually silent. The camera travels with the patient, who is always at the center of the image that the technician watches. A noise cancellation feature on the integrated intercom enables immediate and clear communication between the therapist and the patient.
Most important, of course, is Halcyon's ability to deliver sophisticated, highly targeted cancer treatments with precision and accuracy. "The image quality is excellent, which ensures accurate targeting," Dr. Grann says. That means only the cancerous tissues receive radiation, and healthy tissue nearby is spared, reducing side effects.
Carey, in fact, reports he had no side effects with his treatments, which he finished in January 2019. "Everyone is confident that this should take care of it," he says. Though he was frightened by the initial diagnosis, his doctors assured him that his cancer was highly treatable. "As I went through the treatments, I felt fine," he says. "No anxiety. No fear." He continues to work, and spends his free time with his wife, Kathleen Carey, an English teacher at Livingston Middle School, their five sons and four grandchildren.
Saint Barnabas Medical Center has been a pioneer and leader in radiation oncology in northeastern New Jersey since 1968, says Stephen P. Zieniewicz, FACHE, president and CEO. "We are committed to offering the most innovative technologies, allowing us to provide the highest level of care for our patients and their families," he says. "The Department of Radiation Oncology is dedicated to putting patients first and delivering the best care in a supportive, comfortable environment."