Radiology to the Rescue
It's time to salute this behind-the-scenes specialty, which provides precise imaging and treatments and often spares patients surgery.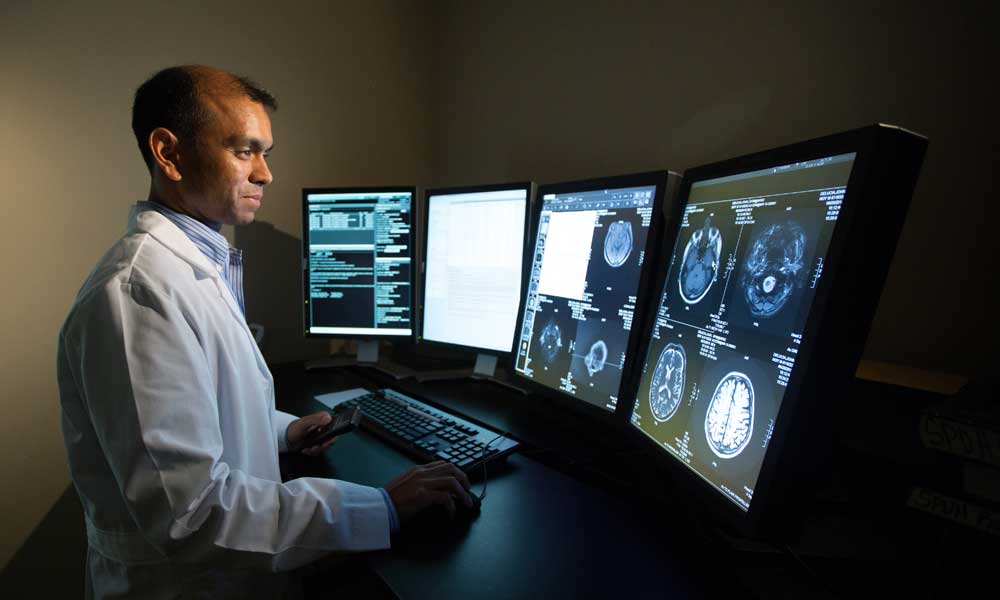 If you think radiology is only about X-raying broken bones, you need to think again. In recent decades this field, once numbered among medicine's unsung heroes, has featured mind-bending technology and rapidly advancing procedures. Today's radiologists not only take exquisitely precise images of the tiniest structures in the body, but also perform interventional treatments—such as tumor ablation, abscess drainage and intravascular procedures—that speed care, reduce complications and send patients home in hours instead of the days or weeks needed to recuperate from open surgery.
University Radiology Group (URG) provides all radiology services for the patients of Saint Peter's University Hospital. For its long-standing and outstanding commitment to patient care, URG will receive the hospital's prestigious Bishop's Award, presented to a provider for its exemplary clinical service, at the spring 2016 Saint Peter's Healthcare System Gala.
"We're flattered that the hospital has recognized the contribution radiology makes to patient care," says Joseph F. Mammone, M.D., Ph.D., chair of the Department of Radiology. "Often radiology is hidden away in the basement, because the equipment is very large and heavy. People never used to see radiology unless they needed it. Now I'm glad people are going to see how important radiology is."
That importance of radiology has only increased over the past 40 to 50 years. "There has been a revolution in radiology, with something new every decade," Dr. Mammone says. "Since the 1970s we have added ultrasound, CT [computed tomography] and MRI [magnetic resonance imaging] to our diagnostic armamentarium. Radiology is indispensable in the practice of modern medicine."
Take a common condition like appendicitis, he says. "Before imaging was used, the diagnosis would be made on the basis of the patient's history and physical examination. Diagnostic abdominal surgery may have been subsequently performed, but not every patient would have appendicitis requiring surgery. Radiology now helps eliminate such unnecessary operations."
Or consider breast cancer. "When mammography came along in the '70s, it was primitive compared with what it is today," the doctor says. "Now we have low-dose digital mammography and breast MRI, and this year Saint Peter's is adding breast tomosynthesis, a 3D-form of digital mammography." This technology makes some tumors visible that might otherwise have been obscured by overlying tissue in the 2D image.
"All of these tools now can diagnose breast cancer earlier, and patients are cured instead of dying from the disease," says Dr. Mammone.
URG is also being honored for its strong presence in pediatric care. "We have five specially trained pediatric radiologists in our group, and one of them is at Saint Peter's every day," the doctor notes.
Indeed, URG offers that depth of coverage in every subspecialty. With about 130 radiologists, all board-certified or boardeligible, "our size allows us to provide fellowship-trained subspecialists in breast imaging, neuroradiology, pediatrics, interventional radiology, nuclear medicine and body imaging," he says.
The practice helps prepare the radiologists of tomorrow as well. Through its affiliation with Rutgers New Jersey Medical School, there are six core radiology rotations for radiology residents at Saint Peter's University Hospital.
"Our group began serving Saint Peter's approximately 50 years ago," says Dr. Mammone, who joined URG in 2004. "The Bishop's Award caps a long and mutually beneficial affiliation between the practice and the hospital. We are truly honored."
Save the date for the Spring Gala!
Is next April on your radar screen yet? It's not too early to make a "save-the-date" note for next year's calendar. The spring Saint Peter's Healthcare System Gala will be held April 16, 2016, at The Heldrich at 10 Livingston Ave. in New Brunswick. Cocktail hour will begin at 5:30 p.m., with dinner at 7 p.m. For tickets or more information as the event draws nearer, please call the Saint Peter's Foundation at 732.745.8542.