Raising the Bar for Maternity Care
Robert Graebe, M.D., chair of the Department of Obstetrics and Gynecology, discusses maternity services at MMC.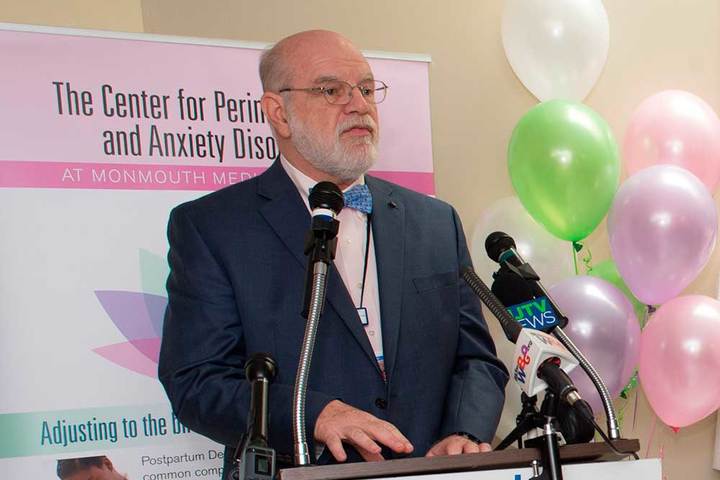 How long have you been with Monmouth Medical Center?
I've been an attending physician since 1985 and chair of Obstetrics and Gynecology since 2004.
Monmouth's maternity service was recently recognized by Leapfrog, an independent national nonprofit organization. What can you tell us about that?
We are the only hospital in Monmouth and Ocean counties to earn an "A" in the most recent Hospital Safety Score and the only area hospital to completely meet full safety standards in all four critical areas of maternity care, including rates of C-section, early elective deliveries, episiotomies and having an experienced neonatal intensive care unit for at-risk deliveries.
You received a few other awards recently as well, from HealthGrades and Becker's Hospital Review, correct?
Yes, Monmouth Medical Center received a Labor and Delivery Excellence Award by HealthGrades and an Obstetrics and Gynecology Excellence Award by Health- Grades in 2016, and Monmouth Medical Center was named by Becker's as one of the top 100 hospital and health systems with great women's health programs in December 2016.
We've heard more expectant parents turn to Monmouth Medical Center than any other area hospital. How many babies did Monmouth deliver last year?
Monmouth Medical Center delivered 5,449 babies in 2016—the most in Monmouth and Ocean counties.
How are Monmouth's surgical delivery rates?
Monmouth maintains the lowest surgical delivery rate of a Level III obstetrical unit in New Jersey—below 20 percent compared to the statewide average of 39 percent and the national rate of 32 percent. Additionally, Monmouth's trial of labor after C-section rate of 35 percent is well above the state and national average, with 90 percent successfully delivered vaginally.
What kind of obstetrical training do nurses have?
All new obstetrical nurses must go through a 24-week clinical and didactic training program including review of procedural/ process for medication safety; cardiovascular assessments; gastrointestinal assessments; neurological assessments; care of the laboring patient; care of the delivered infant and many other core measures. All nurses must be certified and maintain certification in Basic Life Support; Advanced Cardiac Life Support and Neonatal Resuscitation. Plus, all nurses must participate in ongoing quality improvement efforts and performance improvement efforts.
What are the requirements for attending physicians?
All attending OB physicians must be board-certified on Obstetrics; must be certified in Basic Life Support, Advanced Cardiac Life Support and Neonatal Resuscitation; and must be active on staff.
What else differentiates Monmouth's maternity services?
The Labor-and-Delivery Unit offers at least two attending Ob/Gyn physicians and one resident Ob/Gyn physician on site 24 hours a day, seven days a week, 365 days a year. This is in addition to an attending anesthesiologist, a neonatal intensive care specialist and full hospital support staff. On-call sub specialists are available 24 hours a day for immediate consultation.
The hospital has a new center for mothers suffering from postpartum depression or anxiety. Tell us about it.
The Center for Postpartum Mood and Anxiety Disorders at Monmouth Medical Center is the first and only hospital-based outpatient program for the treatment of PMAD in New Jersey. It offers all forms of treatment by certified postpartum mood and anxiety disorders treatment specialists and is led by a board-certified psychiatrist.
Monmouth has a long history of offering cutting-edge care, correct?
Yes. Nearly 50 years ago, Monmouth Medical Center's Neonatal Intensive Care Unit (NICU) was the first of its kind in New Jersey and among the first six offered at community hospitals nationally. Monmouth also offered the first full-time Laborist Program in the state. This distinctive program increases patient safety with 'round-theclock Laborist physicians who are boardcertified obstetricians with Advanced Life Support in Obstetrics national certification to monitor patients and perform deliveries on an "as-needed" basis.
What's new for OB patients at Monmouth?
The Eisenberg Family Center recently unveiled a new wing of its postpartum unit, featuring additional expansive private postpartum rooms for new mothers recovering from childbirth. Monmouth's Labor-and- Delivery Unit also was expanded and underwent renovations that included all new labor beds and bedside tables. The unit is designed to accommodate each expectant mother's birthing plan.