Raj Upadya, D.M.D.
Esthetic Dental Care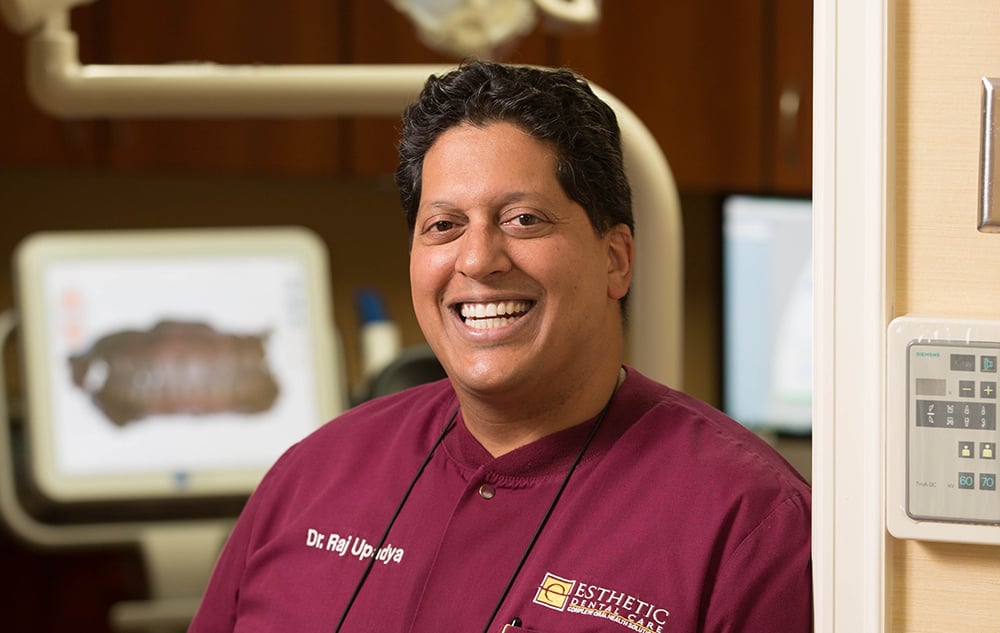 WITH A HOLISTIC PHILOSOPHY, Dr. Raj Upadya takes a Complete Dentistry approach, seeking to understand the cause of dental problems in order to achieve long-lasting results. A graduate of Rutgers University, Dr. Upadya completed his graduate training at the University of Pennsylvania School of Dental Medicine and earned certification in Comprehensive Esthetic Dentistry at the University of California Los Angeles Aesthetic Continuum. He completed advanced prosthodontic training at the Dawson Academy for Advanced Dental Study, an organization focused on continuing education for dentists. Dr. Upadya is a Senior Faculty member of the Dawson Academy, teaching dentists from all over the world. With extensive training and an advanced high-tech office, he is uniquely qualified to treat complex dental problems such as missing teeth and TMJ difficulties. His success in treating bite abnormalities has been described as life-changing. As proof of his superior skills, many of Dr. Upadya's patients travel great distances for his expertise and many are physicians and dentists.
As part of his work on temporomandibular joint pain, Dr. Upadya devotes a lot of time to understanding the underlying issues that may have caused the problem, whether from jaw popping, perhaps caused by stress, improper alignment of the jaw joints or teeth or physical trauma to the area. He uses treatments ranging from simple exercises to complete bite rehabilitation or reconstruction.
Working with Dr. Upadya is Dr. Ira Goldberg and an experienced, friendly staff, each member having more than 20 years of dental experience. Dr. Goldberg, who has been practicing implant dentistry for 22 years, provides another expert service, eliminating the need for referrals to other dentists. A new state-of-the-art dental center will open shortly in East Hanover.
At all times, Dr. Upadya follows the principle of the Dawson Academy, WIDIOM, short for "Would I do it on me?
256 Columbia Tpke., Suite 107, Florham Park, NJ 07932 • 973.822.1200 • estheticdentalcare.com