Reaching High
Five hardworking Monmouth county teens achieve things that would do any adult proud-and still make it to homeroom on time.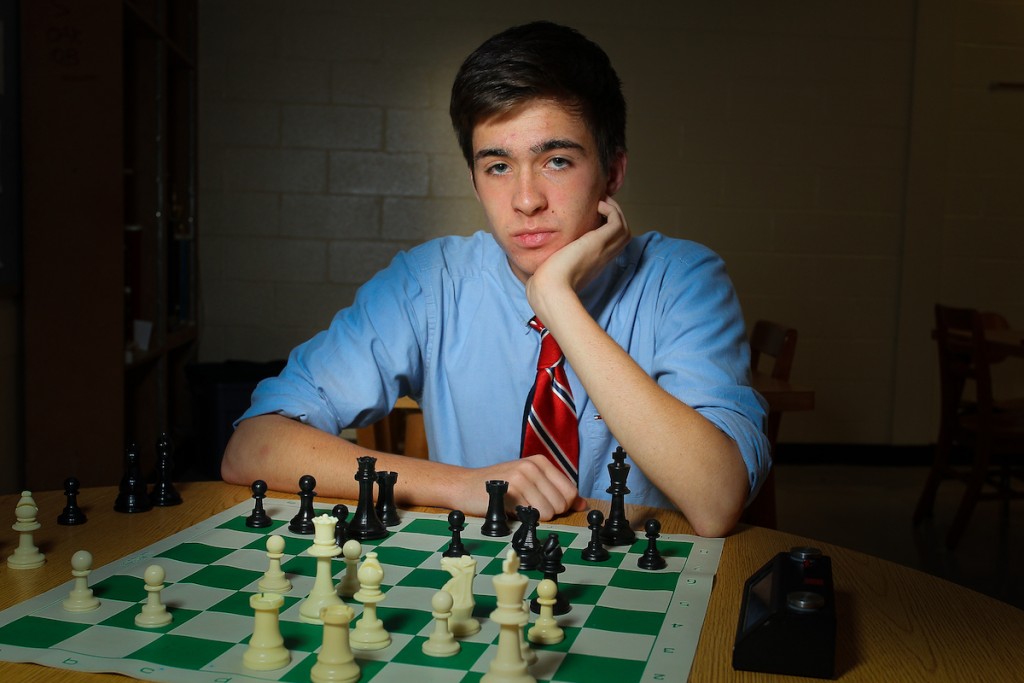 THE PRESSURES NEARLY EVERY TEEN FACES—COLLEGE applications, competitive extracurricular activities, the demands of an active social life and meeting parents' expectations—would make the average grown-up's head spin. But the local kids you'll meet below are anything but average.
Daniel DRAGANOFF, 2018 GRADUATE, CHRISTIAN BROTHERS ACADEMY, LINCROFT
When Daniel Draganoff was a high school freshman, he didn't even know all the rules of chess. But his math teacher, who headed the chess program, asked him to join the chess team anyway. Less than three years later, he has a distinction only 5 percent of chess players of any age accomplish: He is ranked as an expert.
"I found chess to be extremely addicting, and quickly improved," says Dan. "It's a combination of logic, competition and tangible improvement, and all of these things drove me to put in thousands of hours of playing and studying."
He led CBA to national honors, including the 2018 12th Grade National Championship. "I was surrounded by a group of highly motivated and highly successful classmates who set the bar high and challenged me to keep up," he says.
Dan also has learned how humbling the game can be. "Chess can be brutal, in that you can play for six-and- a-half hours and lose the equivalent of a 10-goal lead in the last second," he says. "It's extremely hard to recover psychologically from situations like that, especially for some-one who is very self-critical."
This fall, Dan is a freshman at the University of Pennsylvania, where he hopes to get to the next level and earn the title of "master" while playing with the Penn chess team.

JOSEPH BUTLER, 10TH GRADE, ST. JOHN VIANNEY HIGH SCHOOL, HOLMDEL
At a wrestling tournament at age 10, Joseph Butler noticed that several kids on an opposing team had to share one pair of wrestling shoes. Learning that these kids who loved wrestling as much as he did couldn't afford the sports equipment they needed made an impact. After speaking with his parents, Joe founded the not-for-profit organization Wrestle in My Shoes, which collects used wrestling shoes and distributes them to kids in need.
Joe still remembers his first donation. "The shoes went to a high school senior in the Midwest who was still wearing his wrestling shoes from eighth grade," he says. "His mother was deceased and his father was incarcerated, so he had to live with his grandmother and work odd jobs to help with her bills."
Five years later, Wrestle in My Shoes has donated more than $200,000 worth of equipment, which includes 2,000 pairs of shoes and approximately $30,000 worth of wrestling mats. Joe has been named Volunteer of the Year by Freehold Township and nominated for the Asbury Park Press "I Am Sport" award.
Wrestle in My Shoes gets support from the wrestling teams at Rutgers University and Princeton University as well as from members of the U.S. Olympic and national squads. But the demand for wrestling equipment is great. "Most times requests for donations far outweigh the number of shoes that get donated and refurbished," says Joe. "It is absolutely heartbreaking when we have to say no to a requesting organization. Even letting down one youth athlete is hard to swallow."
Besides running the charity organization with his par-ents, Joe and Alyson, the young philanthropist continues to wrestle. He has earned the titles of state Greco-Roman champion and state freestyle champion.
And Joe keeps thinking bigger. "My goals for the next five years are to be a multiple-time state and national champion in wrestling and gain admittance to either the U.S. Naval Academy or the U.S. Air Force Academy," he says. "By that time I hope that Wrestle in My Shoes will be more successful and attract more volunteers who want to help on a local or regional level. My more long-term goals include becoming a 2024 Olympic champion in wrestling."

KEVIN YU, 12TH GRADE, RANNEY SCHOOL, TINTON FALLS
Kevin Yu is a bit of a perfectionist—with a passion for robotics. At Ranney School, he can be found working in the robotics room during study halls, lunches, evenings and weekends. As a robot engineer, Yu routinely dismantles competition-winning robots and starts over in order to keep innovating and remain a top competitor.
Robotics as a competitive sport is growing rapidly around the world. In the largest middle-school and high-school robotics league, there are more than 20,000 teams from 50 countries that compete in 1,700 tournaments worldwide. At the beginning of the season, students are presented with an engineering challenge and asked to build a robot to address that challenge. Kevin has participated in national and international robotics competitions and won 30 awards in the last two years.
"Teams throughout New Jersey have had to radically change their game plan in order to remain competitive against Kevin," says Ranney School robotics program advisor Chiara Shah. "Last year, at VEX Robotics World Championship, the coach of another New Jersey team came up to me and said, 'My teams, and all the New Jersey teams, are doing better than we ever have because of your student. [Kevin] has substantially raised the bar, and we're all trying to play catch-up to get to his level.'"
Shah adds that Yu is one of the best robot drivers and strategists she has ever seen. "Even if I teach for 20 or 30 more years, this student will most likely end up being the most brilliant engineer that I have ever had the honor to teach and coach," Shah says.

BROOKE ROTONDO, 11TH GRADE, MIDDLETOWN HIGH SCHOOL NORTH, MIDDLETOWN
One ambitious Middletown teen has spent years dancing her way into the spotlight. At just 16, Brooke Rotondo is a show-business veteran. In addition to appearing in commercials and television shows, such as Madame Secretary, Elementary and the Wonderama reboot, Brooke was a backup dancer for TeenNick and Radio Disney star Meredith O'Connor as well as a featured dancer at this year's Los Angeles Fashion Week.
After 12 years of training in hip-hop, tap, jazz, modern, lyrical dance and musical theater at Not Your Ordinary Dancers in Middletown, Brooke attends workshops at the world-re-nowned Joffrey Ballet School in New York City and has studied acting with Todd Etelson at Ac-tors Technique NY.
"I think my hardest challenge is balancing my training schedule, my family life and my social life," Brooke says. "When you spend most of your time training or going in and out of NYC for auditions, everything in the world that's not your career becomes very hard to maintain."

VIVIAN PARKIN DEROSA, 12TH GRADE, COMMUNICATIONS HIGH SCHOOL, WALL TOWNSHIP
While other kids her age were downloading Snapchat filters and hanging out at the local pizza place, Vivian Parkin DeRosa was writing a novel. At age 14 she wrote 9 Months, a story of two adult women forced to make difficult choices. The work earned her a prestigious national Scholastic Art & Writing Award.
At 17, she is completing her second novel, The Space We Take. This young adult novel features a space-obsessed teenage girl who is offered an internship at NASA but is struggling with family issues and significant weight gain. "I wanted to write a book that deals with issues people around me are talking about," says Vivian. "People my age talk about weight and appearance a lot, and I want to deal with that in a realistic way."
She considers the Scholastic Art & Writing Award her most satisfying accomplishment to date, but it's far from her only one. She's also written articles for HuffPost, and her poetry has been published by several literary journals.
Vivian is an intern at Project Write Now in Red Bank, where she teaches writing and facilitates a teen writing group. She believes in helping others through the power of storytelling. "Storytelling and reading create empathy and understanding between people," she says. "That is so important right now."
So, how does a talented teen manage to keep up with academics, hold an internship and pursue her passion for storytelling? "People say 'I'll write my book when I have the time,' but that time doesn't exist," Vivian says. "You have to make the time. There are times I want to be with my friends, but I choose to pursue my passion."