Ready For Visitors
Redoing their second home in West Long Branch, a young couple hoped to entertain summer guests with a bright, welcoming kitchen.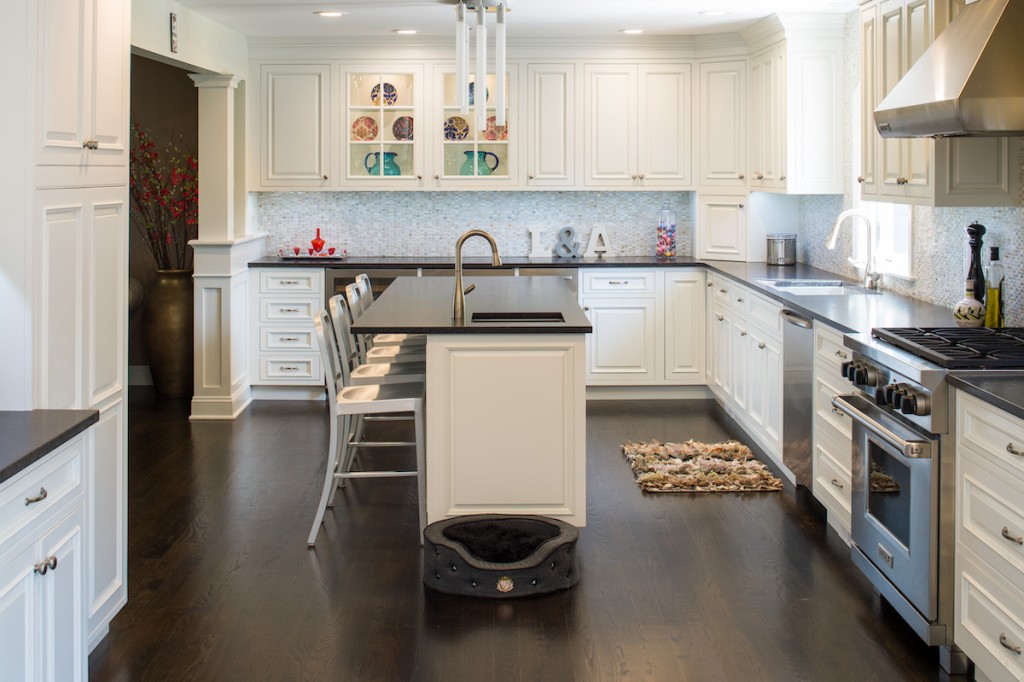 The young couple's vacation home needed to be a smash. The owners of this center-hall colonial in West Long Branch live most of the year in North Jersey, but they wanted their summer escape at the Jersey Shore to be a haven for guests and entertaining. That meant a gut reno that involved knocking down walls in the cramped and dark main floor to create a brighter, more livable, more open floor plan. And it meant a special focus on one room that needed a whole new look: the kitchen.
The couple hired Ginny Padula, principal designer at Town & Country Design Studio in Red Bank, to get the job done. "These clients wanted young and fresh with classic details," she says of the kitchen. "We went with diamond white cabinetry to keep it fresh and modern, and to emphasize the art pieces they wanted to bring into the space."
Two open glass cabinets display some of these colorful items, which contrast with the deliberately muted palette. And that same far wall is party central—under those glass cabinets and the surrounding cabinets by Plato Woodwork are two wine fridges and a wine-maker. Other kitchen features include a 30-inch Wolf range and Sub-Zero appliances, Kodiak black granite countertop from Polycore, two sinks—the main sink is for cleanup and the island sink is for prepping and serving, Padula says—and a roll-out pantry. "They wanted easy-to-use [features]," she adds.
One of the design standouts is what Padula calls a "detailed door style," a raised-panel door with profile molding that gives the space a classic flair. It anchors the kitchen and improves the flow to each room on the main level, making hosting easy as pie. Another aesthetically pleasing detail is the marble mosaic backsplash by Walker Zanger, also neutral but with a subtle sheen to add dimension. "These homeowners have a lot of bright colors in artwork and accessories," says the designer, "so they wanted everything else more muted to add these 'pops.'"
On the opposite end of the kitchen in the family-room area, Padula designed a fireplace and a built-in shelving unit to store and show off knickknacks and more collectibles. An art piece in and of itself is the accent wall behind it tiled with "Papillon" tile from Artistic Tile. Padula loves that these clients were willing to take stylistic risks with this space, citing this wall and the unconventional, modern Ligne Roset pendants placed over the island as two prime examples. "They picked some things that most people wouldn't pick in spaces like this," she says. "It's unusual and different and fresh."
By Haley Longman
Design by Ginny Padula
Photography by Patricia Burke