Reborn in the U.S.A.
This grateful immigrant's story is a textbook on the American dream—and on sharing the fruits of hard-won success.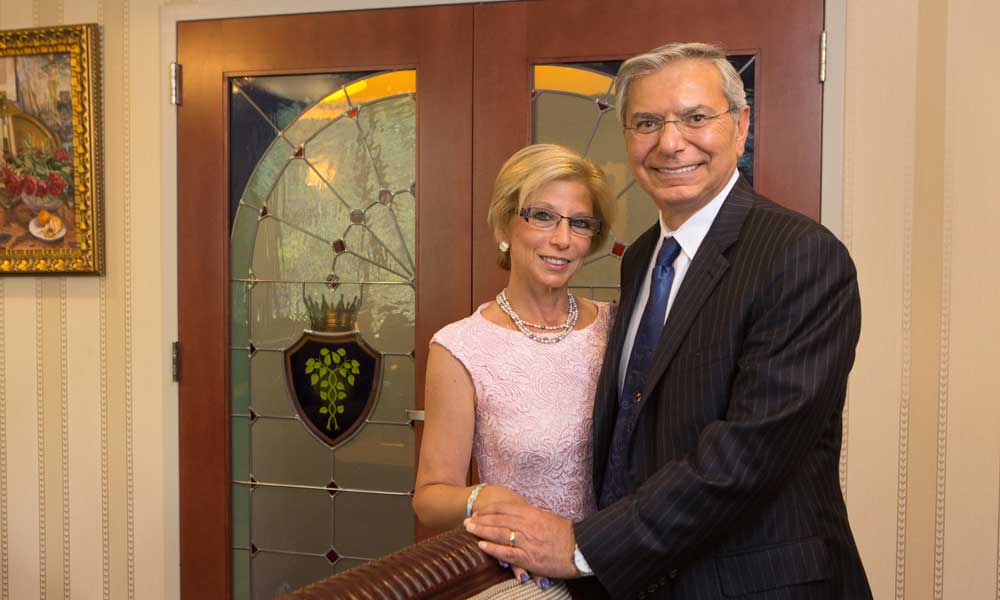 Syria wasn't riven by a deadly civil war in 1968 as it is today, but it was still a good place to get out of if you wanted the better opportunities America offered. That's what John Hajjar's parents decided, and he's glad they did. The family came to these shores March 10, 1968, and as he says, "that's the day I was reborn."
Hajjar was 13 on that day when he, his sister and their parents arrived from their native Syria. They had next to nothing, and at first they lived with seven other relatives—11 in all—in a one-room apartment in South Paterson, immigrants looking for opportunity. They found it—none more than Hajjar, who has become successful beyond his dreams and now is giving back to the country and the state that gave him so much.
The Syrian boy who spoke no English is now John Hajjar, M.D., a urologist and the founder of Sovereign Health System, a fully integrated multi-specialty community healthcare system with offices throughout New Jersey, New York and Florida. He is also the owner/operator of several surgery centers, and no longer practices medicine, concentrating on running his medical empire. (He went back to school in 1999 and earned his M.B.A. degree— in one year.) He will turn 61 in September and has been married for 36 years to his wife, Sharon, 58, a non-practicing pharmacist. They have three sons in their 20s and live comfortably in Cresskill. And if his family had never left Syria, he says bluntly, "I would be dead now."
The immigrant's story sounds like one we've heard before, but that makes it no less astonishing. Hajjar's father, a tailor, worked hard to get his family its own apartment and, eventually, its own house. Hajjar chipped in almost immediately, working as a stock boy in a retail store through his years in Catholic high school. That work ethic prevailed through the years. He had full-time jobs while at St. John's University, first working the night shift in a battery factory, then in sales at J.C. Penney. He continued that schedule through Georgetown Medical School, working in a hospital. "I took patient histories and physicals," he says. "Each one was 50 bucks, I think." And he worked during his residency at NY U–Bellevue Hospital—" I'd finish my residency shift at 6 p.m., then go work in the ER till midnight," he says. It was only during his urology fellowship training that he could focus on his education full time. "My wife started working, and we were able to live better," he says. "I stopped working for the first time in my life."
He may have stopped moonlighting, but he hardly stopped working. He founded Urology Specialty Care, the precursor of Sovereign Medical Group, the first element of what is currently Sovereign Health System, in 1988. Today the Sovereign Health System consists of the 60-plus multi-specialty physician medical group and its network of ambulatory surgical, radiation oncology and urgent care centers he operates in northern New Jersey and New York. And he is giving back. "Sharon and I believe in education and helping the poor," he says. "Education and hard work are why I am where I am." He gives to several schools and Catholic hospitals, including Saint Peter's University Hospital, for their philosophy of helping the poor. He recently committed $1 million to help expand and modernize the hospital's Emergency Department. "This is a person who comes from humble roots, worked hard his whole life and is grateful for the blessings bestowed upon him," says Jim Choma, chief development officer of the Saint Peter's Foundation. "He wants to help others less fortunate."
Dr. Hajjar also collaborated with Saint Peter's in a new oncology center that offers a variety of radiation oncology services for adults, including a linear accelerator, a device that delivers external beam radiation treatments for patients with bladder, kidney and other common forms of cancer.
He admits he never could have dreamt he would come this far. "All I wanted," he recalls with a smile, "was to become a doctor and have a house."
To find out more about services available for you or your family at Saint Peter's University Hospital, please call 732.745.8600 or visit saintpetershcs.com.