Reclaimed Wood
Renovating a famous architect's 137-year-old Short Hills mansion tests a designer's talent, ingenuity and patience.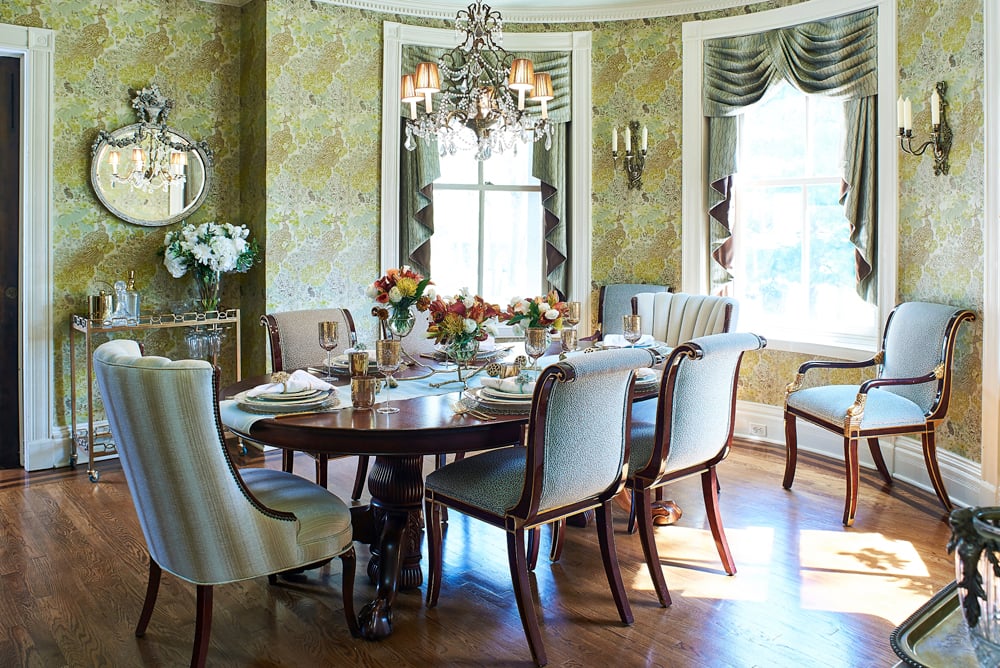 When designer Julie Liepold of Liepold Design Group in Millburn heard she would get the chance to work on historic Greystone Cottage, an 1880 Short Hills home designed by noted architect William Halsey Wood (1855–1897), her heart skipped a beat. She had long been a fan of Wood's work, having grown up in Saratoga Springs, the location of his Queen Anne Revival mansion Yaddo which is now a well-known retreat for artists and writers. And she had studied his work as a student of art history. Now she was tasked with maintaining the integrity of this Shingle-style home while also preparing it to meet the needs of a modern family. "We wanted 19th-century form with 21stcentury function," says Liepold.
The seven-bedroom home, one of Short Hills' first, is centrally located right across from The Racquets Club and the town's train station. It's home to Stephanie and Brian Eller, who have four children ranging in age from 5 to 13. "We love the historic nature of the house, but it can sometimes feel heavy," says Stephanie. "Julie lightened things up. She's great at deciding what can stay and what can be updated."
The previous owners had stripped the house of many of its traditional light fixtures and installed wall-to-wall carpeting, "making it something that it wasn't," says Liepold. "We wanted to bring it back to its original glory." To that end, the designer and the homeowner went on several buying trips to find antiques that would fit the style of the house. "At one point, Julie and I made a pilgrimage to Brimfield [the giant antiques fair in Massachusetts]," says Stephanie. "It really inspired us. We both took our daughters, and we spent two days finding treasures."
One of those treasures was a Victorian-era chandelier, which they hung in the dining room, located in the home's signature turret. The silk wallpaper in that room came with the house, and "we loved it," says Stephanie. "It has peacocks and flowers, and it was the jumping-off point for the room's color scheme." The curved walls are complemented by three window treatments designed with contemporary Jim Thompson silk fabric in a traditional swag and jabot style. Two antique channel back chairs are upholstered in a fabric design called "Spring Showers" from the Beacon Hill line by The Robert Allen Duralee Group. They flank an antique oval table that was inherited from Stephanie's mother.
Stephanie is a professional musician, and the home's center of social activity is the parlor, which houses a concert piano and other instruments played by Stephanie and the four children. The family requested a flexible floor plan for the multifunctional space, which they now use for practice, performance, music writing, chess playing and entertaining. Elegant parlor furnishings blend custom-designed contemporary pieces with antiques such as a 19th-century neoclassical canape settee and Eastlake-style ebonized, gilt-incised slipper chairs. The large gilded wall mirrors "add light and make the room feel much larger," Liepold says.
The Corbett Dolcetti glass mosaic pendant ceiling light, says Stephanie, "is my favorite thing in the house. It makes me smile every time I see it." Liepold also worked on the home's great room, kitchen and butler's pantry, which she turned into an office and "command center" for the busy mom.
In all, the project took three years to complete, which was just fine with Stephanie. "When you have an old house, you can't just go buy all new stuff," she explains. "Collecting has to happen if you're going to find pieces that suit the space." Now, once again, Greystone Cottage—listed on the National Register of Historic Places—looks the way the architect intended. And for this fortunate family, it feels like home.
An antique oval table— inherited from the homeowner's mother and set elegantly—is a focal point in the dining room. Opposite page, top: Large, gilded wall mirrors visually enlarge the parlor. Bottom: Liepold and the homeowners spent three years finding pieces that perfectly fit the 1880 home.
With several musicians living in the home, Liepold turned the parlor into a multifunctional space that can be used for practice and performance—note the concert piano—as well as entertaining.