Remembering September 11th
We will never forget 9-11-01.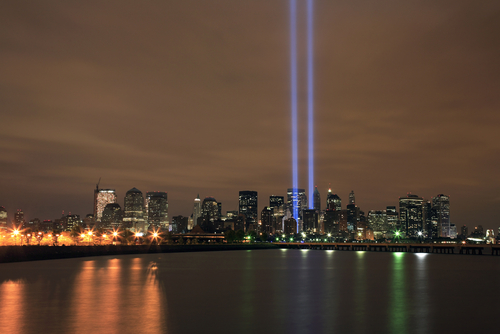 Every American remembers where they were when they first heard the news or saw the devastating footage of the planes hitting the towers. Many of us in the tri-state area lost loved ones or fled from burning buildings. Some of us tried frantically to reach family and friends by phone or, in the days following, joined the search effort to locate our loved ones who worked in the twin towers or lived in the area. After the dust settled, we all grieved as a nation.
The national moment of remembrance is at 1pm EDT on September 11. For one minute, bells and sirens will ring across the country.
If you want to remember and reflect in a community gathering, check your local papers or government websites for information. All over the country and in our own towns, there are candlelight vigils, memorial ceremonies, remembrance concerts and events to mark the day.
If visiting a monument or attending a memorial ceremony is not how you would like to honor the day and the dead, then have your own quiet remembrance with friends. Or take the time to tell your family and friends that you love them. Or spend the day on a service project to teach your children about compassion and community. Or make a commitment to volunteer. Or find a way to support your local fire department, police department or first aid squad. There's no right way to commemorate September 11th, 2001.
The 911 tribute movement started as a way for us, as a nation, to look forward from the September 11th attacks.
We will always remember the great loss of almost 3,000 lives, but the tribute movement challenges us all to try and recreate the spirit of unity, bravery and service during and after the September 11th attacks.
Important Links:
Join the 9/11 tribute movement
Support our troops, at home or abroad.
Take part in the September 11th challenge