Resourceful Root
Celery root, a tasty treat with a knobby exterior, proves that true beauty comes from within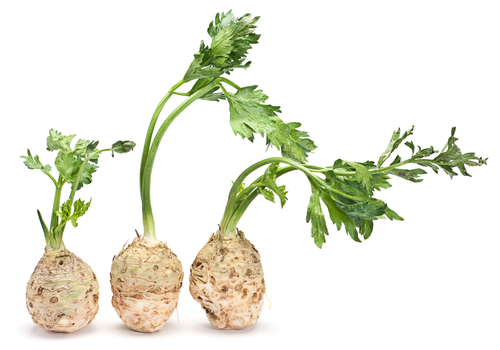 Did you know?
While its origins can be traced back to ancient Egypt, celery root was first cultivated for culinary purposes in 17th century Europe. Also called celeriac, it's actually not the root of the celery stalks that we see in grocery stores, but a cousin of that plant grown just for its tuber. Considered a staple of French cooking—most notably in the classic celerie remoulade—the root has had a hard time making the jump across the Atlantic. That's likely due to its gnarly appearance. Yet cut away the warty, mottled brown outside, and you'll find a creamy white, crisp interior that looks like a turnip.
The taste?
Imagine a cross between celery and parsley.
Powers
Lore has it that Madame du Barry served celery root soup to France's King Louis XV every night, believing it to be an aphrodisiac. While that power hasn't been proven, it is known that celeriac is rich in vitamin C, which helps build a strong immune system, as well as potassium, which is important for heart health. And unlike other root veggies, it's surprisingly low in starch and has just 40 calories per cup.
Buy · Store · Grow
Celeriac can range from the size of an apple to that of a cantaloupe. The key to selecting the best? Choose a root that is heavy for its size, with no soft spots. If the stalks are still attached, look for ones that are vibrant green. That said, it's best to remove any stems before storing in an unsealed plastic bag in the produce drawer of the refrigerator. The root will stay fresh for at least two weeks. Celeriac can be eaten raw in salads— just place cut pieces in water with lemon juice to prevent discoloration before serving. Cooked, it can be used as potatoes are used: boiled and mashed, chopped into chunks and roasted, French-cut and fried or cubed and tossed into stews.
RECIPE
CELERY ROOT AND POTATO GRATIN
(Courtesy of Whole Foods Market)
Ingredients
½ Tbs. butter
1½ cups reduced fat (2 percent) milk
2 cups half-and-half
2 tsp. chopped garlic
2 Tbs. flour
Salt and pepper to taste
2 pounds celery root, peeled and thinly sliced
1¾ pounds Yukon gold potatoes, unpeeled and thinly sliced
1½ cups regular or panko-style bread crumbs
1 cup grated Swiss cheese, such as Emmentaler or Jarlsberg
2 Tbs. chopped flat-leaf parsley
Preparation
Preheat oven to 350° F. Butter a 13˝ x 9˝ casserole dish and set aside. Whisk together milk, half-and-half, garlic, flour, salt and pepper in a large pot over medium heat. Gently stir in celery root and potatoes and bring mixture to a boil. Reduce heat to medium low and simmer, stirring frequently and gently, until thickened slightly, about 10 minutes. Transfer contents of pot to prepared dish and spread out evenly. Scatter bread crumbs and cheese over the top and bake until tender, bubbly and golden brown, 45 to 50 minutes. Set aside to let rest for 15 minutes. Garnish with parsley and serve.
Related Read: The Tomato, a Ripe Red Wonder