Restaurant Review: Farmly
THE FARM-TO-TABLE TREND MEETS FAST CASUAL DINING IN SEA GIRT.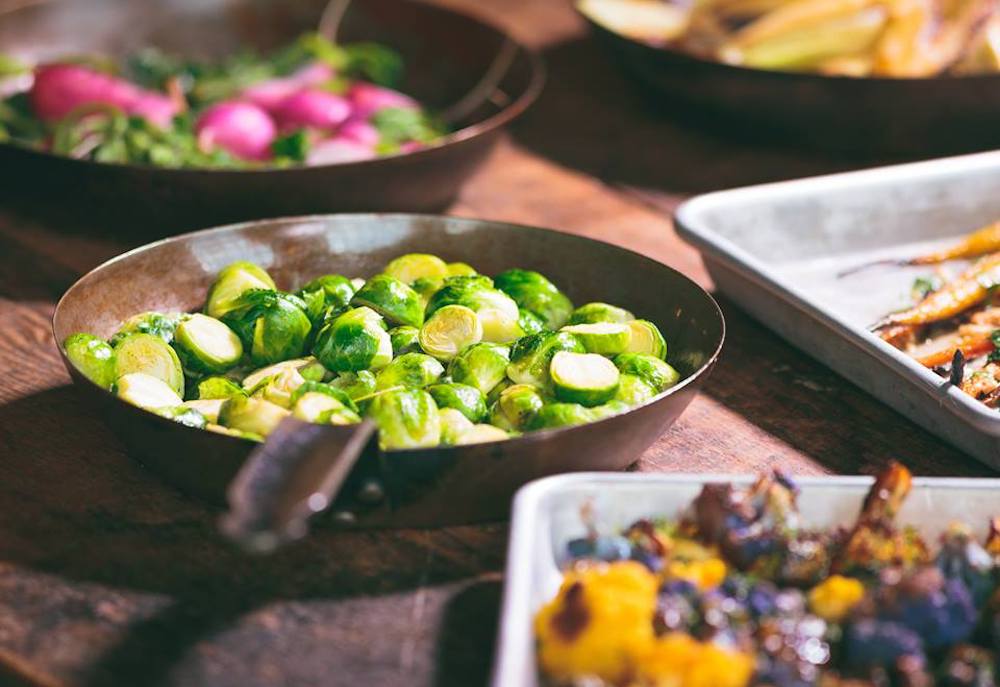 LIKE ANY GOOD ITALIAN GIRL from New Jersey, the concept of comfort food has an iron clad connection to gluten-full pastas, fat-rich cuts of pork and fistfuls of pecorino shavings. While I still love a good stuffed braciole, I have learned that eating lighter foods can be just as comforting as a lasagna (well, almost as comforting).
Keeping this in mind, I checked out Farmly in Sea Girt. This fast-casual restaurant executes simple recipes and serves slow-cooked, roasted meats and home-style sides.
This "farm-to-family" restaurant opened its doors in June. The co-owner and chef, James Avery, is well-known around Monmouth County and is a very busy man. Early in his career, he worked under David Burke at Fromagerie in Rumson. Today, Avery serves as executive chef at The Bonney Read and is a creative partner at Asbury Festhalle & Biergarten, both located in Asbury Park.
Walking through the doors of Farmly is like being transported to a café in a rapidly gentrifying, trendy outer borough. White tile walls, an open kitchen and wood shelving follow the urban rustic style guide to the letter. But don't let the basic décor and paper napkins fool you into thinking this is just a hipper version of a Boston Market. The ingredients at this place have pedigrees. For example, the meat for Farmly's most popular dish—the rotisserie chicken—is sourced from Shenandoah Valley Organics, a farming industry leader in standards for raising chickens. Thinking locally, Farmly sources vegetables from Lanza's Nursery, an all-organic farm in Wall Township.
We started our meal with the cream of tomato soup appetizer special. The soup was more tomato than cream and tasted off-the-vine fresh. We also ordered honey and lavender corn bread. One order includes a plate of five mini loaves for $2, and, if left on my own, I would love to eat them all myself.
Farmly patrons can select one rotisserie item—organic chicken, herb-roasted pork, grass-fed beef or a seasonal vegetarian option—with a choice of two sides. My companion ordered the lauded chicken with mashed potatoes and a cucumber and red onion salad. I now can attest that happy chickens do make for a delicious meal. The breast was juicy and served with gravy that was well-seasoned and had hints of rosemary. The mashed potatoes were smooth and the perfect consistency. The cucumber and red onion salad was refreshing and dressed with a well-balanced vinaigrette and dill. We also ordered a side of roasted carrots, which were perfectly firm, substantial in size and just sweet enough.
For me, choosing a side felt a little like choosing a favorite child. Torn between the gigante beans and broccoli rabe and the white cheddar mac and cheese, I decided to go for the squash and quinoa with Craisins, pumpkin seeds, mint and a sherry vinegar dressing. This dish is like eating autumn by the forkful.
The menu also includes sandwiches and salads with unique combinations. I couldn't resist ordering the butternut squash sandwich because it has two of my favorite things—chimichurri and goat cheese. The hearty, roasted squash is so dense and flavorful, I didn't even miss having meat between the bread. Topped with red onion and arugula, this sandwich is a savory delight.
The dessert choices at Farmly are limited, but they do offer four different varieties of enormous, fresh-baked cookies. According to one of the employees, the salted caramel cookie is the best but this flavor was sold out by the time we arrived. We tried the lemon blueberry and chocolate chunk cookies but it was the oatmeal raisin cookie that we devoured to the last crumb. While I will always have a special place in my heart for gnocchi, these slow dishes really warmed us up without weighing us down.