Restaurant Review: The Wooden Spoon Southern Kitchen and Saloon
Head to Bloomfield for your dangerously delicious fill of dixie.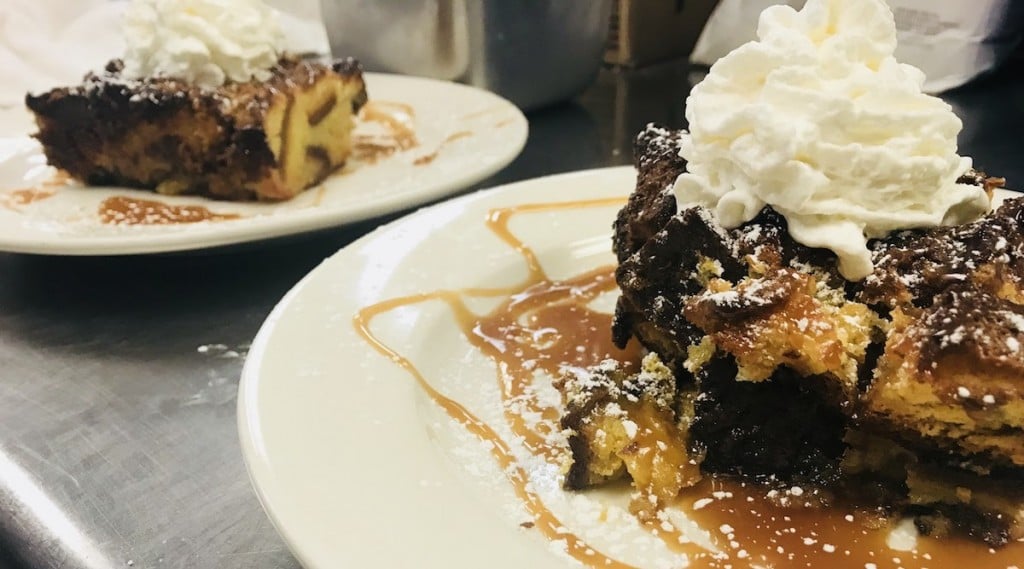 THE HEART OF A RAPIDLY REVITALIZING downtown Bloomfield may not seem like the place to find traditional Southern cooking. But nestled among new mixed-use high-rises and a smattering of pubs and new American bistros, The Wooden Spoon Southern Kitchen and Saloon serves up all manner of fried favorites, smoky barbecue and corn bread. Located in the shadows of new development, The Wooden Spoon looks like just another service spot for a growing commuter community. But as we enter, a diner on his way out holds the door open and says the chicken and waffles here are the best around, and a hostess greets us warmly.
The Wooden Spoon is a two-story eatery with a different menu on each level. Street level is the Southern kitchen area, where diners can feast on the traditional dishes. Upstairs in the Saloon, standard American bar fare is served. On both floors, casual vibes reign, with paper napkins and rustic wooden tables.
I met my dining companion at the bar, where there was lively chatter among regulars. He was in the mood for a whiskey and was quite pleased that there was Dad's Hat Rye behind the bar. The Wooden Spoon's bourbon, whiskey and tequila menus are extensive. The specialty cocktails—such as the hibiscus gin blossom, mint julep margarita and Southern peach iced tea—are a fun extension of the restaurant's cuisine theme.
If you're pondering a trip to The Wooden Spoon, come hungry or stay home. The portions are enormous, and the value is good. The main courses range in price from a $12 burger to a $26 rack of ribs.
For our appetizers, we were tempted to order the Jersey "fries," saltine crusted pork roll with cheddar cream sauce and Sriracha ketchup, but we decided to stick as closely to traditional Southern cuisine as possible. Our server recommended the fried pickles with chipotle ranch dressing, and we were very glad he did. Lightly battered, crispy and sour, these chips were addictive. We also ordered the burnt ends with the house barbecue sauce. If you've never had them, burnt ends are cut from the fattiest part of a beef brisket. And yes, they are as excessively indulgent and delicious as they sound. Here the burnt ends are smothered in a sweet barbecue sauce and topped with red and green peppers.

So many smoked meats, so little time. To get the most barbecue flavors we could ingest in one sitting, we ordered the smoked sampler and a platter of St. Louis ribs, Texas brisket and pulled pork, which was delivered to the table with corn bread and fresh, crisp slaw. The ribs were the real standout of this main course—tender and cooked to fall-off-the-bone perfection. I ordered the classic NOLA shrimp and grits, which was buttery, creamy and well seasoned. Because we don't see plates of Southern fried chicken on many menus in these parts, we ordered that too. The fried chicken was our favorite. It was comfort food and more—crisp and juicy with just the right amount of kick.
As if we weren't stuffed enough, the dessert menu was placed in front of us. We opted to split the Spoon Bread Pudding drizzled in butterscotch, chocolate and bourbon caramel. Surprisingly, perhaps, for two people who'd just eaten their weight in barbecue, we managed to polish off the entire plate.
The place ain't fancy, but it serves up gratifying guilty pleasures by the plateload. The Wooden Spoon is a great spot for any Essex County Yankee looking for a little Southern charm.
The Wooden Spoon Kitchen and Saloon, 285 Glenwood Ave., Bloomfield, 973.743.0099, woodenspoonsaloon.com