Restaurant Review: Tre Pizza
This Freehold eatery is a new go-to for Italian cuisine and brews.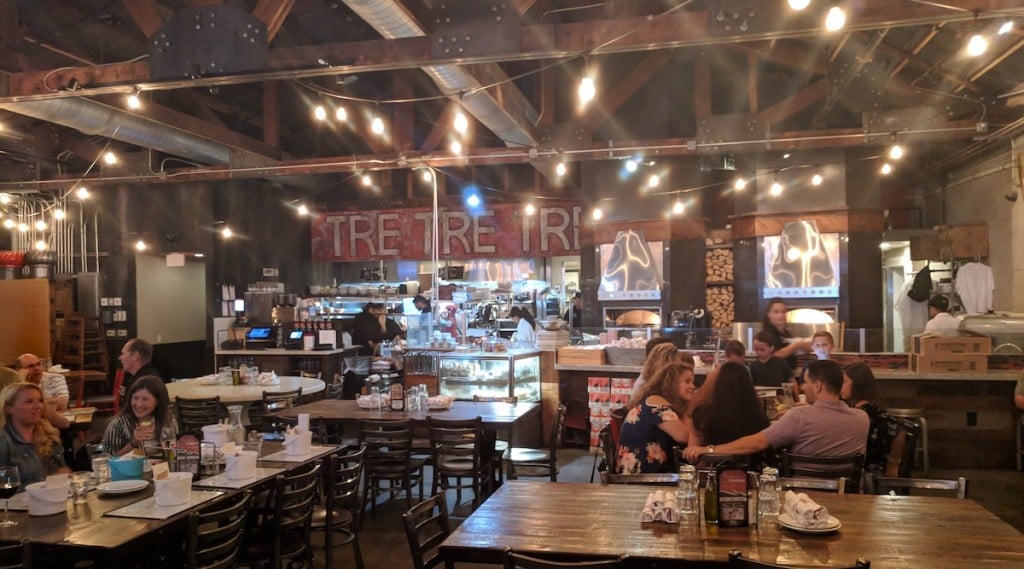 CUISINE AND BREWS. IT'S EASY TO BECOME A CREATURE OF habit, especially when it comes to food. We have go-to places because they meet our expectations – a Chinese takeout joint for an easy after-work dinner or the bakery across town that makes the best bread in the county, for instance. And when it comes to pizza or fast-casual Italian dishes, it's almost certain that you have your fail-safes.
At first glance, Tre Pizza in Freehold goes against the grain, particularly if you're used to the comfortable confines of a corner pizzeria. The space is expansive, with a bar equipped with TVs on one end and a formal dining area for families and couples on the other. The folks here also dub themselves as a beer garden—there are plenty of wines and craft brews—but the menu is unlike a typical biergarten. (You'll find fried calamari and meatballs here, not pretzels and wiener schnitzel.) So my friend and I threw out all expectations and experienced what the restaurant had to offer.
To start, we shared an order of arancini, two perfectly fried rice balls filled with savory ragu, fontina and peas. Growing up with several Italian friends, I've tried many a grandmother's arancini, and Tre Pizza's version brings back those fond and delicious memories. Intrigued by the menu's mozzarella bar offerings, we ordered a light and creamy burrata with a generous portion of mouth-watering proscuitto as our second appetizer.

For a brief moment, I contemplated another round (or two) of proscuitto for dinner, but other selections on the menu were calling. I wrestled with the idea of a pasta dish—the porcini ravioli and salsiccia e rabe (Italian sausage and broccoli rabe) were beckoning—but I knew I'd be filling up on carbs elsewhere. Instead, I went with the maile valdostana, a wonderfully moist pork loin stuffed with hefty amounts of proscuitto (we meet again!), spinach, fontina, mushroom and truffle oil. The meat, palatable on its own, got a boost from the accompanying marsala sauce. "It's the perfect flavor harmony," noted my friend, who coaxed me into surrendering a few forkfuls to her. Good food is meant to be shared, so I didn't mind sliding my plate across the table. That gave me a few moments to dive into the pizza we added to our order.
Tre Pizza offers a variety of classic and experimental pies (the gamberi with shrimp, garlic, oregano and other herbs piqued my interest), along with a list of toppings that runs the gamut. Each is fired up in a wood-burning oven, resulting in a soft and chewy dough with beautifully charred crust. The best part is that Tre's pizzas can be ordered as an appetizer, entrée—or dessert!
To satisfy your sweet tooth, the eatery offers a Nutella pizza, which also comes with strawberries and toasted hazelnuts. We resisted the temptation and sided with more traditional desserts. A plate of chocolate-covered spumoni ice cream hit the spot, as the blend of chocolate, strawberry and pistachio has always been my personal favorite. We also shared a small bowl of panna cotta, the silky smooth (and playfully wobbly) treat topped with hazelnuts and cream.
The verdict? Tre Pizza does more than fit into the rotation of go-to places. The quality and variety of Italian comfort food favorites are addictive and habit forming—in a good way, course. And I'm certain my friends, family and other diners will share the habit.
Tre Pizza, 611 Park Ave., Freehold, 732.751.4422; trepizzanj.com