Revelers' Haven
Atlantic City's newest casino-resort is a splurge, but it's no gamble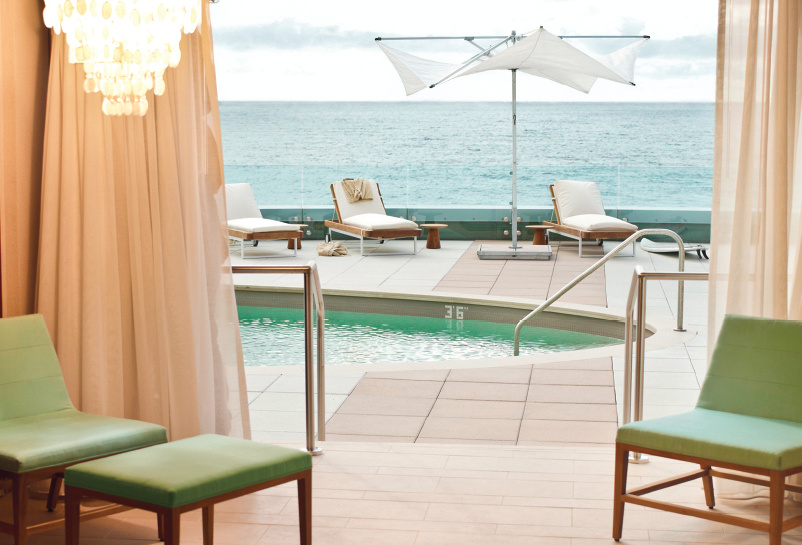 The Jersey Shore 's latest luxe property puts its name to work in the tagline "Revel on a different level," and you can't help counting the "levels" it brings to mind.
First, the physical. Dominating the northern end of the boardwalk, Revel makes use of the limitless Atlantic horizon like no other Shore resort. Whether you're in the two-acre outdoor Skygarden, filled with indigenous south Jersey flora; or in the indoor/outdoor pool, an alluring oval bisected by a glass wall; or in one of the 1,900 ocean-view rooms, what you see is sea and sky. The honky-tonk of the boardwalk below seems far away.
Revel is also at a different level technologically. Instead of brochures, maps, or room-service menus, there are computer tablets loaded with info and interactive screens throughout the resort's main areas. Then there's the customer service. The employees, stationed at frequent intervals in the resort's 6.3 million square feet, are uniformly hospitable.
And the level of room and revelry prices? It's not low. But Revel management would like you to know that this is not just a casino with a hotel attached. It's a full-out resort, a destination, a curated experience. Sure, there's a spacious casino area, but there's also much more to see and do: Ovation theater, inaugurated by Beyoncé at the Memorial Day grand opening. Bask by Exhale, a "well-being" spa with a salt grotto and heated mineral pool. Surfing lessons. Yoga on the beach. Kinect for Xbox tournaments. High-end shops. Two nightclubs. Multiple pools.
The interior design has an over-the-top quality. The City Way lobby boasts towering walls covered with thousands of red textile roses. There's a massive sculptural chrome tree at the Flirt bar and gigantic abstract sculptures above the casino area that evoke various species of sea life.
Amid all this awesomeness, Revel wants you to feel comfy. Everywhere there are places to sit—couches, cushy armchairs. As there's free Wi-Fi throughout, visitors can check e-mail or surf the web anywhere. And, in another first for A.C. casinos, there's no smoking anywhere on the premises.
Of course, man does not live by amenities alone. There are 14 restaurant "concepts" from award-winning chefs and restaurateurs who own their spaces, and are thus literally invested in the resort's success. Revel has brought the works of Iron Chefs, Michelin chefs and James Beard Award winners from New York, Philadelphia and Washington, D.C., in hopes that their cool city fan bases will follow. American Cut is a modern spin on a steak house by "Iron Chef" Marc Forgione; Azure, brainchild of chef Alain Allegretti, is all about seafood, specifically Mediterranean coastal cuisine. And don't miss Amada, the Andalusian tapas restaurant by "Iron Chef" Jose Garces, modeled on his Philadelphia restaurant of the same name. Not only is it out-of-this-world delicious, it's also an adventure in tastes as you share a variety of inventive small plates with your companions.
Even if you're think you're not an A.C. person, Revel is worth the trip—and fall is a prime time to go. The glitches of the opening weeks have been largely ironed out. It's time for the cool-seekers to come out and play—at whatever level they like.
Getting There
Revel
500 Boardwalk
Atlantic City
855.348.0500
revelresorts.com
Driving time: 1.5 hours