'Revolution' in CT Scanning
Saint Barnabas Medical Center is the first hospital in New Jersey to offer this 'best in class' technology.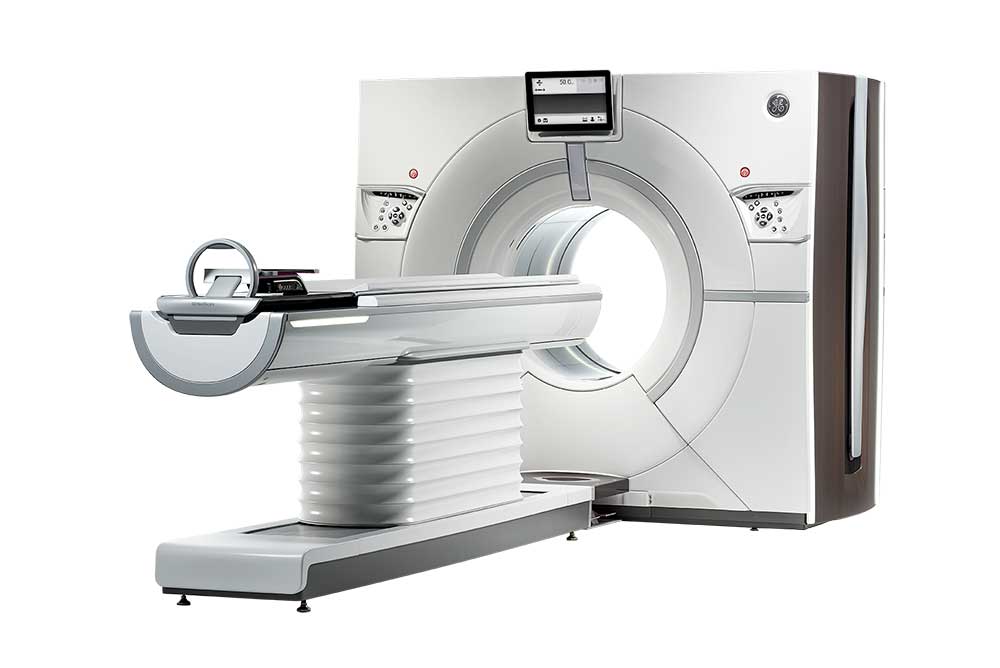 "It's like getting a Tesla!"
That's how Christopher F. Freer, D.O., Chairman of the Emergency Department at Saint Barnabas Medical Center, describes the hospital's acquisition of its newest piece of technology. It's called the 256-slice GE Revolution computed tomography (CT) scanner.
More than 70 million CT scans are done each year in the U.S., helping physicians to provide a fast and definitive diagnosis. This noninvasive and expedient look inside the body at organs, soft tissues, vascular structures and bones uses X-rays to generate very high resolution images of the body. The 256-slice Revolution CT scanner, made by GE Healthcare, takes such scans to new levels of speed, accuracy, comfort and safety for patients. "It's the latest and the greatest," Dr. Freer says.
The machine is technically known as a 256-slice CT scanner. The more "slices," or images, the scanner takes, the more quickly and effectively it reveals the area of the body being examined. "This scanner is able to take images of the entire body within seconds, greatly reducing the time of the scan," says Alan Garten, M.D., chairman of the Department of Radiology. In fact, it can take an image of the entire heart in one heartbeat, says Gary Rogal, M.D., chief of Cardiology "And it does so with the lowest possible exposure to radiation, reducing the dosage significantly with the same image quality," he says. "We are now able to diagnose more patients with, for example, erratic or high heartbeats because of its speed and precision."
Speed is especially important when a patient is thought to be having a stroke. Stroke specialists like to say, "time is brain"—the longer a stroke remains untreated, the more brain tissue is potentially lost. For many strokes, administering the clot-busting drug tPA (tissue plasminogen activator) can restore blood flow and preserve brain tissue, but the drug must be given within about three hours of the stroke's onset to work. "A fast diagnosis means that we can make decisions more quickly about recommended treatments," says Danielle Haskins M.D., medical director of the Saint Barnabas Comprehensive Stroke Center. "Even a couple minutes can mean the difference between life and death, or between living independently and living in a nursing home."
To further enhance speed, the new scanner is located in the Emergency Department."That alone can shave several minutes off our time to administer tPA," Dr. Haskins says. "That can have a significant impact on recovery potential."
Along with speed, the quality of the images is substantially better for a quick look at how blood is flowing to various parts of the brain, she adds. "Blood flow imaging is typically our biggest difficulty. It determines if the patient needs to go to the catheterization lab for surgical clot removal or if it can be treated with medication alone," she says. The ED sees numerous patients each week for evaluation of an acute stroke that occurred within the previous few hours. "We are very excited to get this scanner," says Dr. Haskins. "It increases our efficiency and improves the potential for helping people. We're always working to improve speed and access to care, and this will be a tremendous asset."
It will also make a difference for patients with other medical issues. The scanner allows healthcare providers to scan, along with the heart and brain, other organs such as the liver and pancreas, in 0.28 seconds. It gives pediatric patients the option of low-dose scanning without the sedatives often required to relax them for longer scan times. The CT Scanner can produce detailed bone imaging, even for patients with metal implants.
Patients will be more comfortable during scans as well. "Because of this scanner's speed, patients may not be required to take special medication to slow their heart rate for a diagnostic cardiac exam," Dr. Rogal says. Those with claustrophobia or anxiety issues will be in and out much faster. In addition, the scanner is significantly quieter than previous scanners. The Revolution CT provides soft ambient lighting and personalized displays within the machine. It is big enough to comfortably accommodate individuals up to 675 pounds. "As a bariatric center, when we had patients over our previous weight limit, we had to send them elsewhere, so this is a great benefit," Dr. Freer says.
"We are proud to be the first medical center in New Jersey to offer this advanced and revolutionary CT scanner," says Stephen P. Zieniewicz, FACHE, president and CEO of Saint Barnabas. "The addition of this superior technology emphasizes our commitment to ensuring that our physicians and patients have access to the most innovative technologies that facilitate the safest quality care for our patients and their families. It's important for our whole RWJBarnabas Health system. I'd like to thank Ms. Helene Kosloski, a generous donor, for her support of this important technology."
To find out more about Saint Barnabas Medical Center, please call 973.322.5000 or go to barnabashealth.org/sbmc.