Ripe Red Wonder
As luscious as it is legendary, the Jersey tomato is packed with powerful nutrients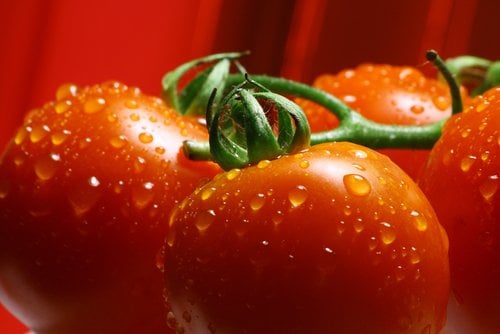 Did you know?
Can New Jersey claim the tomato? In truth, it originated in South America and is grown in greatest quantity in China, with California the top-producing U.S. State. But connoisseurs of the Jersey tomato think of this plump red fruit (considered a vegetable in culinary terms, and known to scientists as Solanum lycopersicum) as their own. This is, after all, the state where Rutgers University released its namesake hybrid tomato in 1934 and where the Campbell Soup Company used that flavorful food over succeeding decades to make oceans of soup. Today Campbell's has switched to a less expensive (and, some say, less flavorful) West Coast variety, but there are still a number of farms growing celebrated varieties of Jersey's best, and Rutgers has a program in place to bring hybrid species created here back to the market.
Powers
Studies touting the health benefits of tomatoes are numerous, and their ranks are growing. The fruit is well known for its role in supporting heart health—lycopene, an antioxidant, can help prevent blockages and improve the regulation of fats in the bloodstream, decreasing cholesterol and triglycerides levels. Some research also indicates that lycopene may promote bone health and help prevent cancer. Tomatoes are also rich in phytonutrients linked to heart health and are chock-full of vitamins C and E, beta-carotene and manganese.
Buy · Store · Grow
You can buy authentic Jersey tomato hybrid seeds from Rutgers (njfarmfresh.rutgers.edu). Ideally, seeds should be started in early April, four to six weeks before the last frost. in a container full of seed-starting soil mix, dig out lines about one-fourth inch deep and sow seeds one-half inch apart. Lightly cover with soil, water gently and place in a warm spot. As soon as stems show, transplant to a bright, sunny location. keep moist. once true leaves sprout, transplant seedlings to their own container. Build up their tolerance to the sun a few hours at a time before leaving the plant in full sun all day. Seedlings can be planted outdoors when they have strong roots and the average temperature is 55 degrees. Set up your tomato wire to help branches support the weight of the fruit. whether harvesting from your backyard, a farmers' market or the grocer, pick tomatoes that are fully ripe for best flavor and avoid storing in the refrigerator—they're optimal at room temperature and eaten within two or three days.
Recipe
Jersey Tomato Gazpacho
From Chef Bruce Lefebvre, The Frog and the Peach, New Brunswick
Ingredients
5 lbs. ripe Jersey Fresh tomatoes, about 12–15, cored
1 large Jersey Fresh cucumber, peeled
1 med. Jersey Fresh green pepper, ribs and seeds removed
½ Jersey Fresh red pepper, ribs and seeds removed
1½ celery ribs
½ jalapeño pepper
4 Jersey Fresh garlic cloves, peeled
½ red onion
½ bunch Jersey Fresh basil
½ bunch Jersey Fresh parsley
1 can tomato juice
1 ciabatta roll or peasant-type bread, cut into large cubes
Red wine vinegar, to taste
Extra virgin olive oil, to taste
Salt and pepper, to taste
Tabasco, to taste
Preparation
Coarsely chop the vegetables and herbs and put into a large pot. Add the tomato juice and bread. Cover with plastic wrap and place in the refrigerator. Allow the mixture to marinate at least 2–3 hours—overnight is even better. Puree the mixture in a blender in batches until smooth. Season to your own taste with the red wine vinegar, salt, pepper and Tabasco.
Related Read: Meet the Kiwi