River Rhapsody
All eyes are on the Navesink as two designers team up to showcase its grandeur with big windows and bold colors.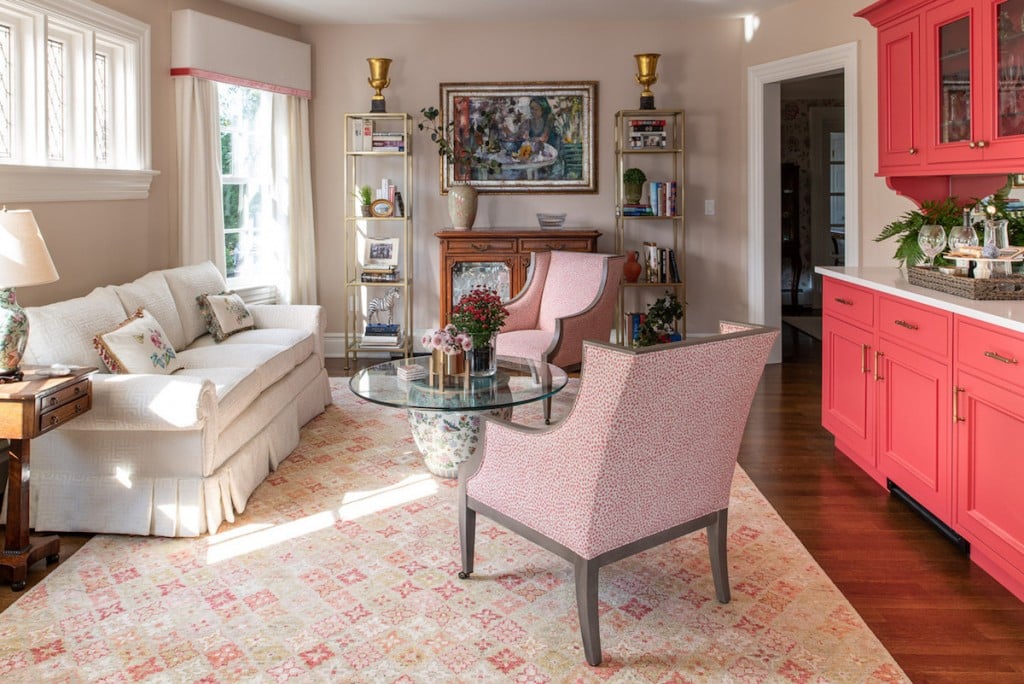 For a couple of empty nesters, there's nothing like living on the Navesink River with its rich blue hues to evoke a spirit of serenity. When they downsized into a riverfront colonial, it was a no-brainer that they'd upsize the windows to drink in nature's masterpiece from every angle. But the couple didn't stop there; they worked with two Monmouth County-based designers: Joan Norkus of Boxwood in Colts Neck and Kaila Williams of Town & Country Kitchen and Bath in Red Bank. Their mission? Create a soothing and fun décor with pinks and florals reflective of the vacation-like setting and open the floor plan to, as the homeowner says, "optimize this beautiful view."
"We wanted something we thought was special," says the homeowner, who while downsizing hoped to hold onto that connection she previously enjoyed with the river. Though their 80-to-90-year-old Middletown colonial is sized right for two, "virtually every room has river views," she says—a situation created by knocking down a wall that shut the living room off from the tranquility so near. The pièce de résistance was creating one easy-breezy, larger space that marries the living room with an open sunroom (expanded by five feet), kitchen and dining area. "With the large windows, it's almost like we're on the water," she declares.
Once small and off the beaten path, the relocated kitchen became a key part of this design. But the homeowners posed a challenge to Williams, who took on that room: Design a space that didn't look like a kitchen at all. Impossible? Not for Williams, who tapped into the room's inner chameleon with stained-oak cabinets quarter-sawn for a linear look that breaks with tradition, as well as a pink undertone, also seen in the cabinetry hardware and plumbing brass, "to play on the fact that she does love pink," the designer explains.
The homeowner also adores flowers, and once she saw the floral marble tile from Downtown Tile in Belmar with its glistening metal elements "she was set on that" for the backsplash, says Williams. From its star position under a custom hood with a bronze metal finish, a chevron mosaic in polished Calacatta gold and brushed gold aluminum creates just the right accent, while the countertops in mystery white marble combine pale gray, white and cream with subtle veining. You won't find cabinets by the sink, and that's deliberate, to let the homeowners' vintage brass sconce lighting stand out against the Calacatta gold marble brick, while dual pendants from Hudson Valley Lighting grace the island. (The homeowner had many accumulated treasures that took on new life in this redo.)
The lavender-hued island stools with brass legs are a cool find the homeowner herself contributed to the mix. Her husband let her have the kitchen of her dreams—even with a blush of pink—as long as his home office was masculine.
The remodel, which called for gutting much of the house in February 2019, combined the warmth of a fireplace decked in two- inch-square Calacatta gold tiles with the warmth of conversation in a cozy grouping punctuated by two aquamarine swivel chairs from Shrewsbury's The Store from River Road—another Navesink tie-in. With entertaining in mind, the dining room table from Shore Casual was custom-designed with a pedestal base sturdy enough for its sizable stained-wood top, while the chairs are upholstered in floral both front and back. From the homeowner's collection came the oil- rubbed bronze chandelier and antique mirror.
Because the start of any social gathering is often a drink, the couple packed a punch of bright color in their transitional sitting room, striking a happy note with a bar by Town & Country in raspberry soufflé. Norkus and Williams joined efforts on this sanctuary, playing up the pink with its hand-knotted-wool Kravet carpet in fuchsia, and tailored valences by M. Silberstein in Shrewsbury. The Chinese vase- based glass coffee table provides its own pop of color and comes from the homeowners' collection, as does the painting between the two glass-and-brass towers. Even the entryway offers something grand with a Circa Lighting chandelier from the gilded Aerin Collection and another pop of raspberry in the Greek key pattern and blossoming wallpaper.
"I feel like so many homes are sterile—lots of grays and white," says the homeowner. "Color makes me happy."