Road Trip: Visit NJ Dairy Farms
Get a closer look at how cheese is made.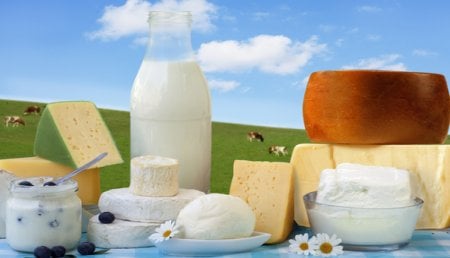 Bobolink Dairy
Bobolink owners Nina and Jonathan White last year moved their Vernon farm to Milford, where their cows have plenty of room to roam and munch on grass. From the cows' milk the Whites produce a variety of cheeses, including the Brielike Baudolino, a cave-ripened cheddar and the bold, firm Frolic. Their cheeses are sold at the farm and at a variety of farmers' markets including Union Square in New York City. Hands-on classes limited to four people are taught by Jonathan White, and each Saturday when the weather allows there are one-hour walking tours of the farm to view the milking parlor, creamery, cheese caves and bakery.
Cherry Grove Farm
Kelly Harding has worked at dairy farms since he was 13, and eight years ago he took over Cherry Grove, where cows graze on the pasture in summer and eat hay in winter so they can produce the milk that is used to make a variety of cheeses. Those include the raw, cheddar-like Havilah, a hard-aged Alpine-style cheese; creamy Shippetaukin Blue; Camembertstyle Buttercup Brie; and the tangy Toma Primavera, made using a recipe from the Piedmont region of the Italian Alps. Cheeses are sold at the farm store, gourmet shops and local restaurants. Visit the farm any day and watch the cows being milked at 4 p.m. On Mondays, Wednesday and Fridays, the cheesemaker is usually at work, and you can watch him too.
Rainbeau Ridge
Bedford Hills seems like an unlikely setting for a farm, but Lisa and Mark Schwartz have created Rainbeau Ridge on 35 acres there, selling Lisa's award-winning goat cheeses while offering seasonal cooking classes taught by local chefs and hands-on programs for children. Lisa's cheeses are sold at local shops and can be found on the menus of a dozen restaurants including Gramercy Tavern in New York City and the Culinary Institute of America at Hyde Park. They include the ash-coated Meridian, pyramid-shaped Mont Vivant and cups of soft cheese curds. Check the calendar on the website for days when visitors can see this working farm in action, and also for information on festivals in May and October.
Valley Shepherd Creamery
Children and adults enjoy visiting New Jersey's only rotating sheep milking parlor at Valley Shepherd. They also can watch the milk being used to make a variety of cheeses, including the Pyrenees-style Oldwick Shepherd, truffle-laced Tartuffo Shepherd and Smokey Shepherd, which is smoked over applewood embers. Mixed-milk cheeses, which combine sheep's milk and jersey cows' milk, include Babaloo, a caveaged blue; the softer Crema De Blue; the flavored Nettlesome made with stinging nettles, and Carameaway made with caraway seeds. The cheeses are available at farmers' markets, in gourmet shops and some local restaurants. Tours of the farm are offered on Saturdays and Sundays in July and August, and cheesemaking classes are held one Sunday each month from April through November.
---
Getting there
Bobolink Dairy & Bakery
369 Stamets Road
Milford, N.J.
908.864.7277
cowsoutside.com

Cherry Grove Farm
3200 Main St. (Route 206)
Lawrenceville, N.J.
609.219.0053
cherrygrovefarm.com

Rainbeau Ridge
> 49 David's Way
Bedford Hills, N.Y.
914.234.2197
rainbeauridge.com

Valley Shepherd Creamery
50 Fairmount Road
Long Valley, N.J.
908.976.3200
valleyshepherd.com